December 14, 2005
Mommy in Motion
Last month, Jason's sister and I were e-mailing back and forth about a variety of holiday things. Out of the blue, she added this at the end of one of her e-mails:
Can't wait, btw, wearing your mommy sweater today! xoxo
At Thanksgiving a few weeks later, I snapped a picture of her wearing her long-sleeved tee again as she paused briefly in the kitchen to give John and baby Sydney a smooch. That's Rachel, always on the move!
Posted by shannon at 3:05 PM | Comments (0) | For related posts: For Rachel, Long-Sleeved Chocolate Tee
November 22, 2005
Like Mother...
Remember the Mommy sweater I knit for Jason's sister, Rachel? No? Let me jog your memory...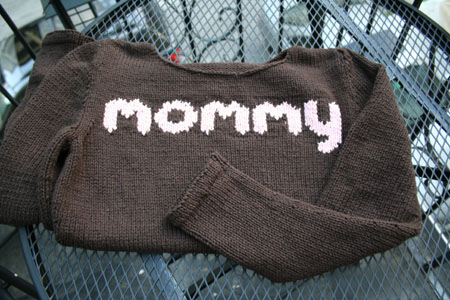 The rest of the story is here

You may also remember that Rachel is mommy to Syd, who despite being born at under four pounds is an adorable butterball as she approaches her first birthday. An adorable bald butterball, that is. Much to Rachel's chagrin, and despite the fact that she dresses her in the girliest of girly clothes, Syd is routinely referred to as "he" and "him" by strangers. (Rachel to a supermarket employee: "She's wearing a tutu for God's sake -- she's a GIRL.")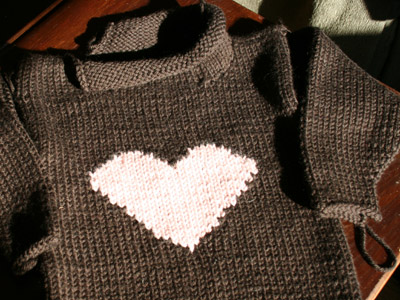 So is it any surprise that when Rachel decided that Syd needed a handknit sweater for Christmas, it would (1) involve a pink heart, and (2) incorporate Rachel's favorite color combo of pink and brown? The pattern is from Knitting for Baby and the yarn is the super-soft Cashmerino Aran. I had to make some adjustments for gauge difference, but the sweater went very fast (cast on in Granada, finished before we got to Seville!). The only thing keeping me from the seaming -- besides laziness, of course -- is trying to decide if the roll-neck is too long. I knit it exactly as long as the pattern calls for but it seems awfully bulky, especially for Syd, whose sensitivity to animal fibers is still an open question.
There's enough yarn left for an accessory, and I have just the thing in mind. I'll post it once I'm sure it's going to work -- but if it does, it's going to be so fabulous.
Posted by shannon at 11:52 AM | Comments (0) | For related posts: Christmas Knitting 2005, For Rachel, For Sydney, Long-Sleeved Chocolate Tee, Roll-Neck Heart Sweater
August 18, 2005
To a Tee
When we last saw our long-sleeved tee, I had just ripped out the intarsia section because I had somehow created a pucker underneath the "o". I'm glad I redid it -- seems like with intarsia, the fifth time is the charm! After a fair amount of math and sketching, I knit the sleeves. They seemed to knit up very fast, but that could just be the Calmer talking.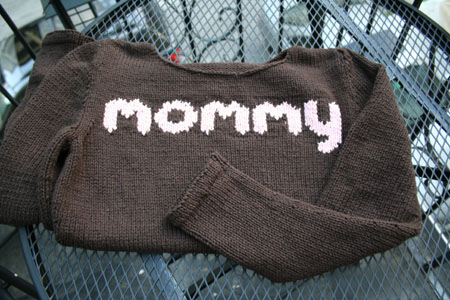 When I slipped it on to check the sleeves, I noticed something surprising. I really liked the shape of the neck, which was still collar-less, exactly as it was. I decided that since Rachel and I had taken out so many of the original "tee-like" elements already, leaving off the ringer collar wasn't too much of a stretch. So instead, I just picked up stitches and bound them off purlwise to give the neck a finished look. Voila!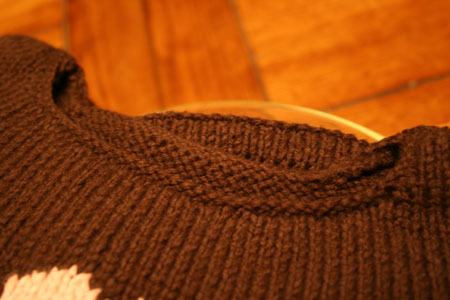 I brought the shirt with me to New York last weekend to give to Rachel. She slipped it on right away, and looked at herself in the mirror: "'Mommy'. That's me!", she said. As soon as those words left her mouth, Syd started yelling from the next room -- and since Syd had been projectile vomiting just a half hour before, Rachel wisely slipped the tee off before going to fetch her. In other words, so perfect is this shirt for Rachel that there wasn't even time to take a picture of her in it!
Posted by shannon at 2:59 PM | Comments (6) | For related posts: For Rachel, Long-Sleeved Chocolate Tee
July 14, 2005
Drastic Measures
We were in New York (yes, again) for Jason's sister's birthday last weekend, and had a fabulous time. Her husband John had arranged a sunset boatride around Manhattan, which gave us a great opportunity to play with our new camera.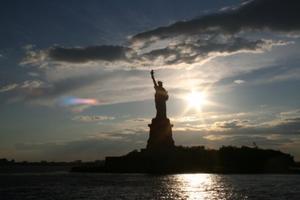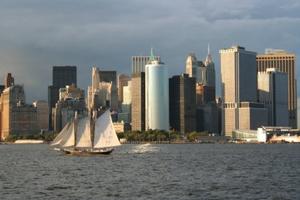 It also gave me an opportunity to give Rachel her birthday present, which was supposed to have been a completed long-sleeved tee-shirt with the graphic she picked out. Well, at least she got the graphic.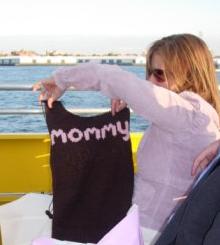 I'd say my knitting speed is about average in general, but my intarsia speed is positively glacial. Note to self: if you are doing an intarsia pattern, you will have to do it at least twice. And that's just for general "this looks awful!" do-overs, and does not incldue the times you'll have to rip back or start over because of counting errors.
The night before Rachel's birthday celebration, I was up late finishing up the lettering so that I could give her the front piece at dinner as an indicator of progress. It looked great except for a little stitch looseness around the "o", so I started tugging on the surrounding stitches to tighten it up a bit. Next thing I knew, it looked like crap. (Second note to self: don't do intarsia after midnight.)
I managed to clean it up a bit in time to give it to her the next day, but it still wasn't quite right. Jason assured me that he couldn't even see what I was talking about but it still bugged me. I kept knitting and tried to ignore it, but it was no use. Every time I thought of this otherwise delightful project, all I saw in my mind's eye was the puckered section I'd created next to the "o".
Last night I decided it was time to deal with the problem. Despite the fact that intarsia is slow as Christmas and nobody else seems to see the mistake at all, I ripped back and started the lettering again. I don't want to regret not doing everything I could to get this just right -- Rachel, gift-giver and party-thrower extraordinaire, deserves nothing less.

P.S. -- Happy birthday, boys!
Posted by shannon at 11:15 AM | For related posts: For Rachel, Long-Sleeved Chocolate Tee