August 19, 2003
Photographic Evidence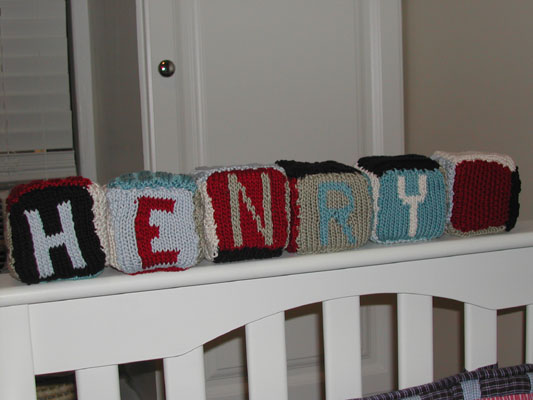 I finally got some pictures of the baby blocks I made for Jason's nephew and as promised, I'm posting them here. I put a close-up in the"more" section, in that shot you can see how the knitted covering tends to drift around the cubes of foam. You can also see some other imperfections, but my mother always told me that every masterpiece has a flaw!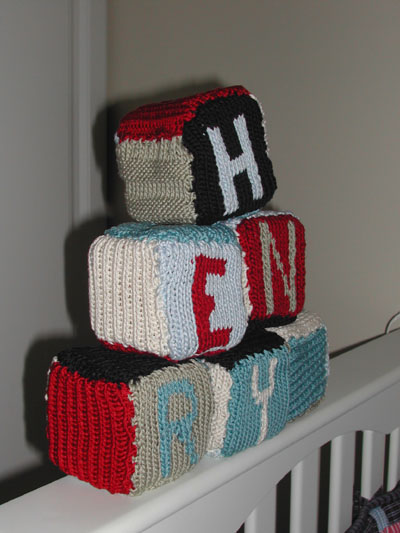 Posted by shannon at 10:26 PM | Comments (4) | For related posts: Henry's Baby Blocks
August 1, 2003
Doh!
I finished the baby blocks -- and not a moment too soon! They were presented to Jason's nephew (well, his parents really) on Sunday and they seemed thrilled. And my memory had served me well, the colors that I picked matched his nursery nicely.
It wasn't until I was back in Boston, feeling quite smug for the my success with the blocks, that I realized that I hadn't taken a picture of them once they were finished. I e-mailed Jason's sister and asked her to snap one for me and I'm sure she will... just as soon as Baby H. stops being a fussbucket for most of his waking hours!
Oh, and thanks to everybody who gave advice on the puckering problem I was having -- I managed to do a better job on the last three letters and all of them looked better once they were blocked. In the future, I'll either do the letters through duplicate stitching or intarsia. Thanks for the help!
Posted by shannon at 12:03 AM | For related posts: Henry's Baby Blocks
July 23, 2003
Blockhead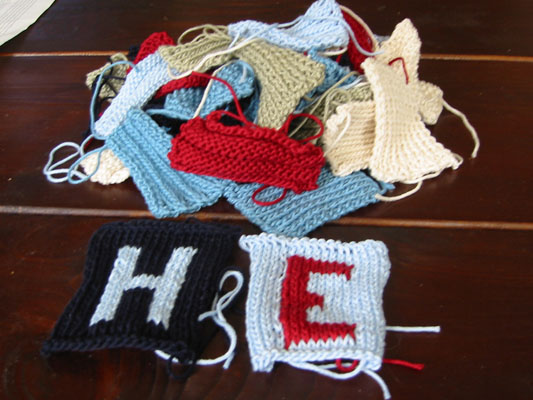 In a comment below, Dava asked what I was working on now. Some of you may remember the last set of baby blocks, and at the Knitsmiths on Sunday I was knitting the tiny swatches necessary for making this next set.
This set is for Jason's brand-new nephew, and my fingers are crossed that the colors I picked match his nursery. I 've decided to knit the letters of his name into the stockinette swatches, and this time I'm trying really hard to avoid the puckering that I ran into previously. (Ironically, I discovered my propensity to pucker while making these blankets for this very same baby.)
I've done two of the letters, and while there is some improvement, there is still some puckering. Look: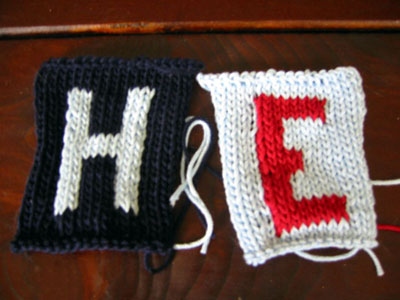 So I'm asking for some help here. And because I am so committed to getting this right I'm willing to post pictures of *gasp* the BACKS of these squares. It's embarassing, but I'm a good tia and I want to get these squares perfect.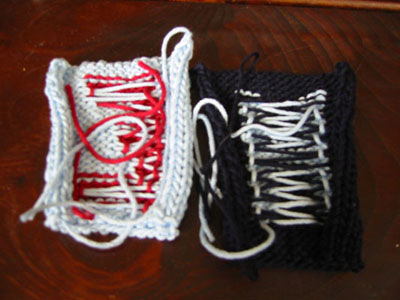 Suggestions?
Posted by shannon at 1:45 PM | Comments (5) | For related posts: Henry's Baby Blocks