March 26, 2003
Little Man, Big Dog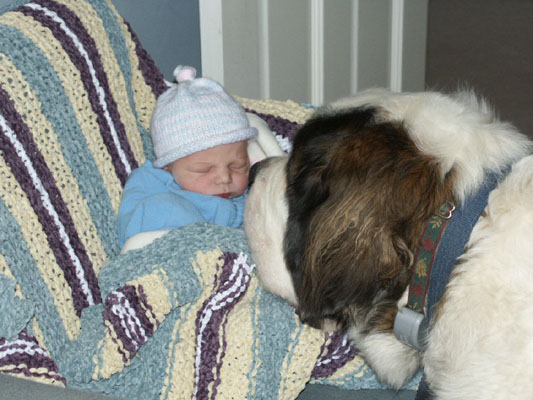 "Here's a picture of the baby wearing the hat you made, sitting on the blanket you made. The hat is much nicer than the one they gave us at the hospital, but it is almost too small already! He's taking after his father by having an enormous head (and red hair and skinny ankles). Luckily, he has [his mother]'s personality - he sleeps about 18 hours a day, never fusses, and he doesn't cry about anything, not even giant dogs barking in his face."
Priceless.
Posted by shannon at 11:14 PM | Comments (1) | For related posts: Seattle Baby Blanket
March 3, 2003
Chenille!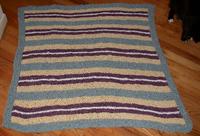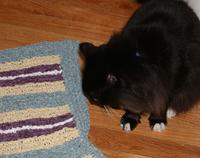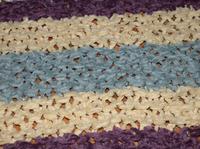 (Click on photos for bigger versions.)
So, I finished another project! I mailed this one out last week, and I'm pretty sure that it's arrived by now so I can post some pictures and it won't ruin the surprise.
This blanket was knitted for friends of mine who are expecting a baby boy any minute now. It was knitted with double-stranded chenilled on size 13 needles. It's all garter stitch, which makes it good TV-watching knitting.
It's this pattern from my LYS. When they printed out the pattern for me, it said that I should use size 13 needles instead of size 11 (like it says on the website). As you can see the stitches are pretty big, especially given that it's for a tiny baby with tiny fingers and toes. If I had to do it over again, I'd use the smaller needles.
Also, I didn't use Crystal Palace for the blue and yellow yarn. I didn't notice any real difference between the two brands of yarn, except that in the pictures that used a flash the blue and yellow yarns appear to be glitter-y.
I hope they like it!
Posted by shannon at 11:36 PM | Comments (1) | For related posts: Seattle Baby Blanket