« Free patterns! | Main | Perfect in Pink, Indeed »
November 24, 2002
Perfect in Pink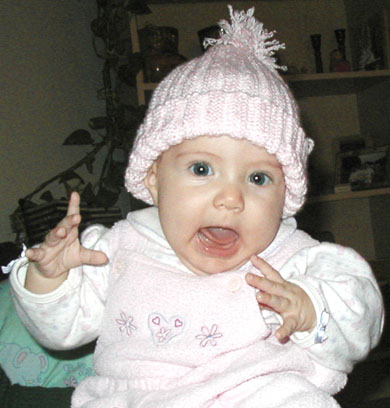 This is a project that I finished ages ago -- I didn't take a picture of it before I sent it off so I never mentioned it here. I used this pattern*, and a pretty pink yarn.
Most importantly, this is a picture of the oft-mentioned Bulis (a.k.a., the Cutest Baby Ever), who is making her first photographic appearance here in gringa-land. Being this far away from her for this long makes my heart hurt.
*This link wasn't working tonight, so I went to the cached version, and copied the pattern into the "more" section of this post.
Tea Cozy Hat
A Free pattern from The Knitting Fairy
Sizes: preemie (newborn, 6 months, 1 year)
Materials:
150 yards (150 yards, 300 yards, 300 yards) sport weight yarn
US #5 needle
Tapestry needle
Gauge:
6 sts = 1 inch on #5 needles
Hat:
CO 36 (42,48,54) sts LOOSELY, leaving a 12 inch tail
Row 1: Knit
Row 2: Purl
Row 3: Knit
Repeat rows 1-3 until piece measures 11 (14,16,18) inches slightly stretched.
Bind off loosely.
Whip stitch cast on and bind off edges together.
Thread tail onto tapestry needle and gather top tightly and secure tail.
Weave in ends.
Add a pom-pom or other topper to really make your hat unique!
We at the Knitting Fairy hope you have enjoyed working with this free pattern. You are welcome to copy and distribute it to your friends so long as this copyright notice remains attached.
Copyright 2000, The Knitting Fairy.
The Knitting Fairy / JTI
P.O. Box 540279
Grand Prairie, Tx 75054-0279
www.knittingfairy.com
Posted by shannon at November 24, 2002 10:10 PM | For related posts: Baby Hats, For Juli
Comments
Posted by: Alaina at November 25, 2002 7:14 AM