« Generic No More | Main | SO Pink! »
September 21, 2003
Boo-berry!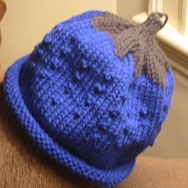 Since making a strawberry hat when I found myself without anything major on the needles worked so well last time, I did it again last week. This time, blueberry! I'll likely give this one to Jason's nephew Henry.
Posted by shannon at September 21, 2003 10:01 PM | For related posts: Baby Hats
Comments
It is soooo cute. Henry is going to have the coolest little collection of handknits ever!
Posted by: alison at September 22, 2003 9:40 AM
Henry's collection of hand knits may be pretty cool, but it's not even close to as cool as Stefan & Benny's!
Posted by: shannon at September 22, 2003 9:51 AM
aaawwww! That hat is berry, berry cute! LOL! ;)
Posted by: ~Jo~ at September 23, 2003 1:29 PM