« Boo-berry! | Main | An Embarassment of Riches »
September 21, 2003
SO Pink!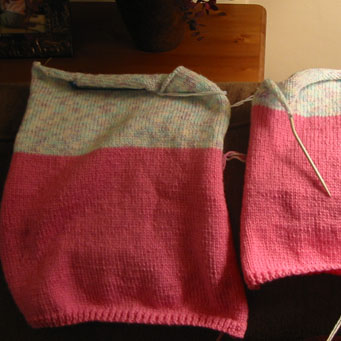 We had a yarn swap last week at the KnitSmiths, and I picked up a bunch of Bebe Lang Superwash in pretty baby colors. I decided to use it to make a Christmas sweater for Bulis, my best friend's baby girl. Well, she'll be 18 months old by Christmas... making her my best friend's toddler I suppose.
Anyway, I'm using a derivation of the Sirdar pattern that I used for Henry's sweater. I've taken out the ribbing, and have added some stitches width-wise to make up for the stretchiness that I've lost by knitting it all in stockingette.
It's going pretty well, I made a small mistake and didn't decrease enough on the armholes but I don't think it will matter. I'm planning to use the pink again for the roll-neck, and perhaps for the ribbing on the sleeve cuffs. This is my first attempt at "designing", we shall see how I fare!
Posted by shannon at September 21, 2003 10:37 PM | For related posts: For Juli, Miscellaneous Small Projects