« Doubts | Main | Cozy Ears »
October 30, 2003
Consumer Therapy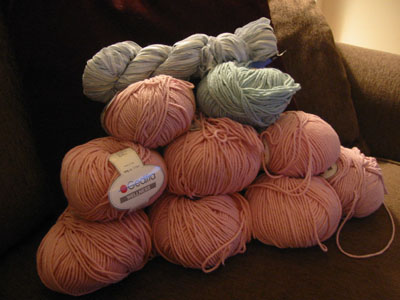 Discovering that Cherry Mango was a total bust the other night left me in a deep blue knitting funk. Since I was unwilling to give up on the patterns just yet, and since I also needed to get some yarn to whip up something for Jillay's birthday next week, I decided that a trip to the yarn store was just the thing to cure my blues.
As I mentioned in my eulogy for Cherry Mango, I'm still not sure if it was the yarn or the combining of patterns that doomed the project. So, I'm changing both to be sure. Since I had so much luck substituting Gedifra's Wellness for All Season's Cotton when I made the original Mango Negro, I decided to make that substitution again for this project, this time in Rose.
Instead of trying to combine Mango with Cherry Picking, I'm just going to make Cherry Picking without the Cherry Boobs (i.e., all one color, no intarsia). And since it's still going to be a nice pink color, I'm calling it Cherry Mango Part Deux even though there's no Mango left in it. Cross your fingers!
**If You Are Jillay, Read No Further!
Did I say I had the blues? Icy, silvery blue is more like it! I'm planning to use these two skeins (Berroco's Zen in Mushi Gray and Rowan Calmer in Calmer [no, that's not a typo!]) to make an ear warmer like this for Jillay for her birthday, only a little more classy and a little less sporty. I haven't had much success combining the two yet, but I'm optimistic. Ideas are, as always, welcome. It's a small project, so I have time to rip it out and start over if I don't like how it's progressing. Any excuse to keep knitting with Calmer -- so soft!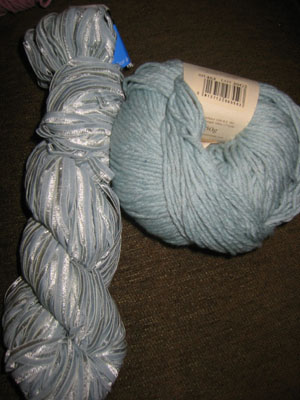 Posted by shannon at October 30, 2003 2:29 PM | For related posts: Knit Gringa, Knit!
Comments
Great choices! I'm so glad you found yarn you're excited about. The Cherry Picking sweater has a nice shape to it and will look lovely in the pink yarn. I'll keep my fingers crossed for your Cherry Pinking and you keep your fingers crossed for my Sooty Mango, okay? Bad knitting karma be gone!
Posted by: alison at October 31, 2003 5:16 PM
Looks like your consumer therapy visit was very successful indeed. Hope to see you soon!
Posted by: Kerstin at November 2, 2003 7:30 AM
I know what you mean about Calmer... Ahhhhh!
Posted by: Marie at November 5, 2003 12:21 PM