April 27, 2005
Right on Target
Some kind of cosmic alignment has occurred.
According to Ann at Mason Dixon Knitting, Target -- which I was pretty certain could not possibly get any better -- now carries knitting kits. As it turns out, I recently saw that the Target on-line store sold the Suss Baby Blanket and Hat Knit Kit, but I had no idea they had the sort of selection that Ann reports after doing recon at her local Target.
If the reports are true, Target (never a safe place for my wallet) has just reached new levels of peril.
Posted by shannon at 9:52 AM | For related posts: Knit Gringa, Knit!
January 18, 2005
I'm Not a Scofflaw, Really!
Apparently, I'm not the only one who has been asked to stop knitting during takeoff and landing!
For the record, I have absolutely no problem with obeying safety- and security-related rules as they relate to air travel. I like rules, particularly ones that make sense. The Transportation Safety Administration's take-over of airport security screening was the best thing to ever happen to knitters who fly, as far as I'm concerned. Security had previously been paid for by the airlines, and each airline was only responsible for the security at its own terminal -- so it was possible to have several different contractors running the checkpoints at a single airport, each of which had its own rules about the admissability of knitting needles. Now that the TSA people are the only game in town, and they've included knitting needles on the Permitted and Prohibited Items List, we have a rule that applies to all flights that originate in the United States. And like I said, I like rules.
A lot of you commented that you thought it was because knitting needles would be dangerous in the event of a crash or serious turbulence, and that both of those things were more likely at takeoff and landing. I hinted in my last entry that I suspected that was the reason, but it begs two questions: Why did she fixate on my knitting, and ignore other potential projectiles (books/pencils/pens) sitting all around me? And if my knitting needles are at risk of becoming dangerous airborne projectiles, why on earth is this the first time I've ever been asked to stow them during takeoff and landing? As I mentioned in my last entry, I travel by air frequently (8-12 trips per year, I'd estimate) and this has only ever happened once. In fact, Jason and I flew this past weekend and my knitting during takeoff and landing got no attention whatsoever.
I have one more travel-related story, but I'll save it for later. In fact, I hope to post some actual knitting content -- pictures and everything -- before boring you with another text-only entry about air travel! Stay tuned.
Posted by shannon at 1:01 PM | Comments (2) | For related posts: Knit Gringa, Knit!
October 18, 2004
Llama, Alpaca and Sheep, Oh My!
Nothing like a trip to Rhinebeck to get me back on track knitting-wise! More content to come this evening.
In the meantime, go check out Alison's report (permalink) on our weekend. And keep your eyes peeled for the llama in a sun visor!
Posted by shannon at 11:39 AM | For related posts: Knit Gringa, Knit!
September 14, 2004
California Dreaming
Jason and I are off tomorrow to San Francisco for a looooong weekend (a short week?) with Alaina and Anil. It's my first ever (!) trip to California, and it couldn't come at a better time.
Two things before I go:
1. Who's got the goods on must-visit yarn stores in San Fran? Leave your wisdom in the comments!
2. My apologies to those of you who commented recently only to have your comments disappear into thin air. Once I noticed it today, my MT Superhero got it cleared up right away. So knock yourselves out!
Posted by shannon at 5:19 PM | Comments (2) | For related posts: Knit Gringa, Knit!
September 7, 2004
Que pasa aqui?
Welcome to the new and improved gringa.org!
What started out as some minor changes to my knitting blog this weekend morphed into a complete overhaul of all things Gringa. Jason patiently coded features, imported entries, and somehow managed to not only understand what I wanted ("You know, separate entries that only show up on the Project list thingy but don't show up in the normal place.") but to actually implement it. Let there be no doubt about it: I am marrying an MT Superhero.
Here's what's new:
The gringa.org blog and the knitting blog (La Gringa Tejedora) have been combined, and all archives from both blogs are now in one place. I wasn't really posting to the gringa.org blog anymore, but I wasn't quite ready to kill all of my archives (especially entries like these).

Going to the old knitting blog URL will now redirect you here. Go on, try: http://www.gringa.org/knit. Back already, aren't you?

The Projects Lists on the right side are automated now, which will make updating them much, much easier.

Comments will be automatically closed on entries older than 60 days. And not a moment too soon, since I spent the better part of a morning last week dealing with a comment spamming attack that posted about one vile, disgusting comment per minute.

It's pink!
Here's what's left to be done:

Enter all projects onto the nifty new automated Projects List.

Fix the myriad broken links and missing images.

Fix the whatever-you-call-it so that people who were reading the knitting blog through an aggregator will be redirected to this site. (Obviously, given my not-so-profound understanding of this process, Jason will be doing this.)

Update!
Posted by shannon at 11:25 AM | Comments (2) | For related posts: Knit Gringa, Knit!
September 3, 2004
Pretty in Pink?
Some big changes here at Casa Gringa del Queso -- thanks for bearing with me as we work out the kinks!
Posted by shannon at 9:41 PM | Comments (3) | For related posts: Knit Gringa, Knit!
August 29, 2004
Not Empty Handed
As I promised in my last entry, I made it to Knit New York on Saturday morning. I know it's not a popular opinion, but I was a little disappointed. The space was beautiful and I enjoyed a tasty bagel, but the yarn just didn't do it for me. Perhaps it had something to do with the abundance of wool and the 100% humidity, but I ended up only buying a single pattern pamphlet.
I fared better at Downtown Yarns, and enjoyed it much more. They were very nice and had a wonderful selection. Even still, I left only with 2 skeins of Cascade 220 -- hardly the yarn purchasing extravaganza I had planned.
But don't worry, I didn't leave New York empty handed.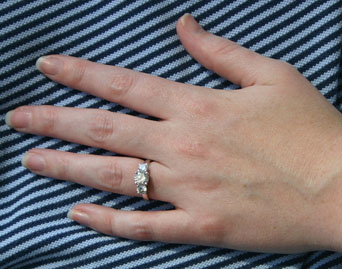 Posted by shannon at 11:00 PM | Comments (3) | For related posts: Knit Gringa, Knit!
April 14, 2004
A Friend Indeed
Amy, of Seam Stressed and the happy homewrecker, and her husband have found themselves in bad spot. Money can't solve all problems, but in this case it sure would help.
I've been reading Amy practically since I started reading on-line journals back in the 90s, so I feel pretty confident saying that her situation is proof positive that bad things can happen to good people.
But whether you "know" her or not, it's a fact that Amy's very good with needles -- sewing needles, knitting needles, you name it. If you're a knitter, you should check out her needle cases. (Martha Stewart sells needle cases for $49, but Amy's largest case is only $26... and you get to pick the fabric!) If you're not a knitter, but like the look of knit caps for your little ones, you should certainly peruse Amy's Tiny Toppers store.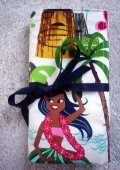 &nbsp&nbsp&nbsp&nbsp&nbsp&nbsp&nbsp&nbsp

Oh, and if you have any web design needs, Amy can do that, too!
Posted by shannon at 12:01 PM | Comments (1) | For related posts: Knit Gringa, Knit!
Any Guesses?
By the way - do you know why I gave myself permission to cast on for Smooch? Here's a hint: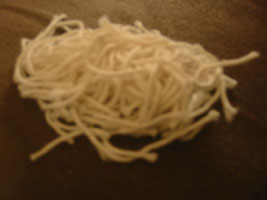 Posted by shannon at 9:30 AM | Comments (2) | For related posts: Knit Gringa, Knit!
April 2, 2004
All Coming Up Roses...
A new Vogue Knitting and a new Knitty in under 48 hours?! The mind reels!
And look what Alison did!

Go look at the gorgeous pattern, and then
congratulate her
!
Posted by shannon at 9:28 AM | Comments (1) | For related posts: Knit Gringa, Knit!
March 31, 2004
As If I Needed More Knitting Ideas...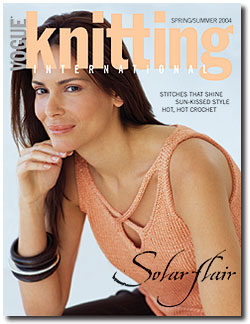 Yeehaw! New Vogue Knitting arrived today! Comments to come!
Posted by shannon at 11:24 PM | Comments (1) | For related posts: Knit Gringa, Knit!
March 11, 2004
An Ode to the Knitsmiths
When we arrived in Boston last June, Jason started working two days after we unloaded the moving truck. We had moved into an apartment that needed a ton of work, so I spent the summer days mostly on my own: spackling, priming, painting, scraping, measuring, hanging, building and... oh yeah, looking for a job. Now I love time to myself as much as the next gal, but it is possible to have too much of that good thing.
By August I was climbing the freshly-painted walls. I did something that I'd be meaning to do for a while: I e-mailed Alison to inquire about the Knitsmiths. I went along that very week and had a blast. Sunday evenings were soon a welcome break from the week's regimen of spackling, priming, painting, etc. Alison and I learned we lived near each other, and next thing I knew I was joining her and the boys on walks in our neighborhood. My escape from isolation was complete!
Since I (finally) started working, I had to miss a few Knitsmith-ings due to work-related travel. I missed a few more because of illness, the holidays and personal travel -- most notably my truly extraordinary five out of six consecutive weekends spent traveling. (2004 will be known as "The Year I Lived Out of a Suitcase". Oi.) Anyway, I've probably missed more than I've attended -- which is a total drag.
But there is good news! When Alison made her move to a new server, she also bought the knitsmiths.us domain. So while Dava is responsible for the roof over our heads on Sunday evenings, Alison has given us an on-line home... and what a luxurious home it is! It's a great way to keep up with everybody's work when I can't make it, and it's terrific knitting portal for Knitsmiths and non-Knitsmiths alike. La Gringa Tejedora dice: bien hecha!*
In honor of this new site, and in gratitude to Alison for making it, I present my first ever button:

Feel free to grab it, but save the image to your server, por favor!

Note: Our vacation starts tomorrow, so I'll be missing the next two Knitsmiths (weekends 5 & 6 of the five-out-of-six weekend stretch mentioned above). But I've declared the month after our return the "Month of We're. Not. Going. Anywhere.", so I'll be back soon. In the meantime, I'll be keeping up via The Knitsmithy -- and posting here if I can!

*The Knitting Gringa says: well done!
Posted by shannon at 3:04 PM | Comments (1) | For related posts: Knit Gringa, Knit!
February 20, 2004
You are "turbo" charged.

You are "turbo" charged. Fast moving and classy, you get things done with
power and grace. Your expensive tastes can be
deceiving, since what you really value is
quality and efficiency. As you're careening
around those corners in life, finishing a dozen
knitted objects each month, stop and smell the
roses. Don't miss the beauty of process!

What kind of knitting needles are you?
brought to you by Quizilla

Right on the money -- not only are Addis my favorite needles, but I'm never happier than when I'm "careening around those corners in life".
Posted by shannon at 10:26 AM | Comments (1) | For related posts: Knit Gringa, Knit!
January 1, 2004
Hello?
Here I am!
As the holidays approached, I got into a time crunch that too often meant that I could knit or I could blog. I suppose I probably could have squeezed a few posts in here and there, but bad habits quickly become hard to break.
My end-of-2003 slackage notwithstanding, I'm back now! The Cherry Mango for Mom was a huge hit -- she wore it at our traditional Christmas Day Orphan's Brunch. Starting when I was little, my family has invited other family friends who do not have extended family in the area, to spend part of Christmas Day at our house. It has typically included a core group of about five or six other families, all of whom have children around my age. It was initally a Christmas Day Orphan's Breakfast since we little people would have the grown-ups out of bed at the crack of dawn and all of the presents opened not long after that. As we've grown up (and let our parents sleep in), the whole thing has gotten pushed back to noon, and now it's a brunch. ANYWAY, my mom wore her pink sweater and got tons of compliments -- which kept me blushing most of the afternoon.
Though I never blogged about it, I also made the Strike Vest for my dad. I used the Rowan Wool Cotton in Deepest Olive, and I (like Alison) made the V-neck version. Because my dad is a big, barrel-chested Scot, I had to add some stitches to the XXL size to make it broad enough. It's possible that I over-did it a little bit, but there are just too many stitches in that dang vest for me to even consider ripping. My dad loved it -- I was really worried that he wouldn't like it, but he kept asking everybody on Christmas day if they had "seen my vest?" He made sure that I sewed one of my "Hand Made by Shannon" labels into it, too. Awww....
Remember Henry's cute little sweater and socks (another picture here)? There's good news and bad news. The good news is that Henry (and his parents) came to visit a few weeks before Christmas. The bad news is that I took one look at baby Henry and realized that the sweater was going to be much too small. It was about a week before Christmas. when I started ripping! I realized that part of the problem is that my gauge had been off, so I went up a sweater size and a needle size. It wasn't done in time for Christmas but the good news is that it will be done before I see him this weekend. (Bad news? I'll be sacrificing the socks and harvesting the yarn from them in order to finish it. *sigh*)
So there's the wrap-up of the most important Christmas knitting projects. The hand-knit dishcloths were also a hit with the older woman who rents me a parking space (and, I recently learned, is/was a knitter!) and I still have one left-over Christmas scarf to finish. Then I'm getting back to something for ME ME ME!
Posted by shannon at 2:55 PM | Comments (2) | For related posts: Knit Gringa, Knit!
October 30, 2003
Consumer Therapy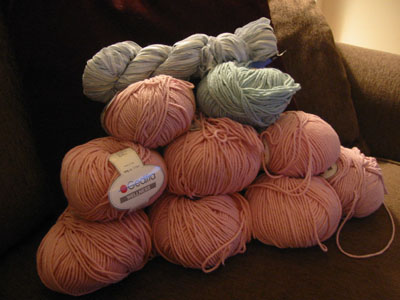 Discovering that Cherry Mango was a total bust the other night left me in a deep blue knitting funk. Since I was unwilling to give up on the patterns just yet, and since I also needed to get some yarn to whip up something for Jillay's birthday next week, I decided that a trip to the yarn store was just the thing to cure my blues.
As I mentioned in my eulogy for Cherry Mango, I'm still not sure if it was the yarn or the combining of patterns that doomed the project. So, I'm changing both to be sure. Since I had so much luck substituting Gedifra's Wellness for All Season's Cotton when I made the original Mango Negro, I decided to make that substitution again for this project, this time in Rose.
Instead of trying to combine Mango with Cherry Picking, I'm just going to make Cherry Picking without the Cherry Boobs (i.e., all one color, no intarsia). And since it's still going to be a nice pink color, I'm calling it Cherry Mango Part Deux even though there's no Mango left in it. Cross your fingers!
**If You Are Jillay, Read No Further!
Did I say I had the blues? Icy, silvery blue is more like it! I'm planning to use these two skeins (Berroco's Zen in Mushi Gray and Rowan Calmer in Calmer [no, that's not a typo!]) to make an ear warmer like this for Jillay for her birthday, only a little more classy and a little less sporty. I haven't had much success combining the two yet, but I'm optimistic. Ideas are, as always, welcome. It's a small project, so I have time to rip it out and start over if I don't like how it's progressing. Any excuse to keep knitting with Calmer -- so soft!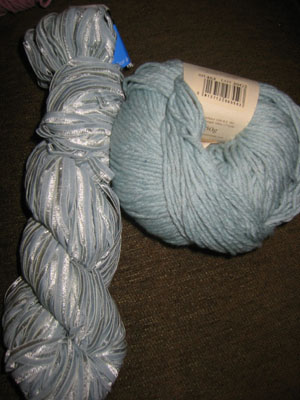 Posted by shannon at 2:29 PM | Comments (3) | For related posts: Knit Gringa, Knit!
September 21, 2003
An Embarassment of Riches
As I mentioned in the last entry, we had a yarn swap last weekend at the Knitsmiths and boy did I make out like a bandit. It's taken me this long to even mention my haul because I can't get over the feeling that I ended up with way more than I should have. It's pretty embarassing, really.
In an attempt to assuage my guilt, I've promised myself that I'm going to be extra-special careful to put all of this great yarn to really, really good use for Christmas gifts. Well, most of it anyway. ;)
Posted by shannon at 10:52 PM | For related posts: Knit Gringa, Knit!
Generic No More
After months of complaining about having a generic MT template as my design, I finally got off my behind and made some changes.
The good news? The front page now looks just like my gringa.org page, and that was no small feat.
The bad news? Pretty much everything else is broken, and I've essentially exhausted my abilities. I'll likely have to wait for Jason to help me, but he's on call this weekend.
Hang in there folks, I hope to get this fixed soon!
Posted by shannon at 2:06 PM | Comments (3) | For related posts: Knit Gringa, Knit!
August 28, 2003
Knitting for Sanity
I had gotten into a good system of regular updates here when *blam!* -- real life hit. Lots of decisions, arrangements and purchases to be made and this space got pretty darn quiet.
This is not to say that I haven't been knitting. As always I have been knitting my way through stress. El Mango Negro is knit and sewn, but waiting for finishing. And I chose, started, knit and seamed an entirely new project since I last posted here. I may even have a solution for poor, neglected (traitorous) Francine.
Now that things are a little more settled, I hope to get back on the horse a little. Expect pictures today!
Posted by shannon at 2:00 PM | Comments (2) | For related posts: Knit Gringa, Knit!
August 13, 2003
Nicer with Two
I had never really noticed it, but knitting has always been a fairly solitary activity for me. I've dragged most of my friends and my mom -- even poor Jason! -- to yarn stores, but the most they'll usually do is opine on colors. Since starting to go to the KnitSmiths on Sunday afternoons, I've slowly been realizing how helpful it can be to have fellow knitters with whom to talk things over.
Then, yesterday, Alison and I walked up to A Good Yarn. It was so fun to browse with a fellow knitter. So often I leave the yarn store frustrated and overwhelmed with empty hands or an empty wallet and the wrong yarn. Not this time! I went in planning to get some substitute yarn to make the cable hooded jacket (scroll down!), but after a few minutes with the calculator (followed by a few moments of hysterical laughter) I knew that I couldn't afford to make this sweater just yet.
Did I give up like I normally do, and leave with nothing? Did I throw up my hands and throw down my credit card and buy the yarn anyway? Heck no! With Alison to bounce ideas off of, I rebounded from the disappointment. I ended up with seven balls of Wellness in black and she offered to loan me the All Season's Cotton book so that I could make Mango. And I didn't break the bank!
P.S. - Thanks, Alison, for lending the book... and moral support!
Posted by shannon at 1:58 PM | Comments (3) | For related posts: Knit Gringa, Knit!
August 6, 2003
Yaaaaaaaaaaaarn
I walked out of the KnitSmiths on Sunday evening chanting "The Fabric Place, The Fabric Place, The Fabric Place" so that I would remember the name of a store that of which many of the ladies had spoken so highly. I went home to have dinner with my parents (who were in town on their way to Vermont for the week), and in the chaos of their visit, I promptly forgot all about The Fabric Place.
Two mornings later, my parents left for Vermont. I printed out their directions, pointed them in the direction of 95N and off they went. Less than an hour later, my mother called, all excited and breathless.
"Shannon! Your dad and I just stopped for lunch at McDonalds before getting on 93 North, and I just found the most amazing fabric store. And guess what? It has lots and lots and lots of great yarn -- and not the cheap stuff, either! You'll have to come up here...."
"Cool! What's it called?"
"Um, lemme look. I got you a brochure about their classes and events too. Let's see... here it is. It's called The Fabric Place."
Posted by shannon at 12:56 PM | For related posts: Knit Gringa, Knit!
August 1, 2003
Odds and Ends
Two knitting things that are making me happy right now:
1. I got Debbie Bliss: Cotton Knits for All Seasons from the library, and I'm thinking of making the Cable Hooded Jacket next.
2. I'm back in the Bay State for this weekend so I can go to the KnitSmiths!
Posted by shannon at 12:59 AM | Comments (3) | For related posts: Knit Gringa, Knit!
May 6, 2003
Can't Knit. Studying.
La Gringa Tejedora has turned into la gringa estudiante. My last final is May 16th and until then I'll be dreaming about international crises and the rupture of the Anglo-American alliance in 1956 instead of how great my next project will turn out.
Please bear with me.
Posted by shannon at 1:15 PM | Comments (2) | For related posts: Knit Gringa, Knit!
January 19, 2003
Categories
You might notice that there's something new at the bottom of each post -- the "For related posts:" link. I've decided to start using my categories as a way to organize posts about the same project. For example, if you want to see all of the posts about the Baby Blocks, you can.
The system is imperfect for two reasons. First, some projects are small and only have one post, so creating a category just for that one post seems a little silly. For the time being, I'm dealing with that by making some general categories like Baby Hats and Christmas Scarves.
The second problem is that my "Knit Gringa, Knit!" category is a sort of catch-all category (like this post), so using the "For related posts:" link would give you a collection of posts that are, well, unrelated
Ideas?
Posted by shannon at 11:09 PM | For related posts: Knit Gringa, Knit!
January 18, 2003
Vintage Patterns
On New Year's Eve, Jason and I were making some last minute purchases at the grocery store when I spotted Knit It! magazine on the check-out rack. Jason bought it for me, and I've gotten a lot of use out of it. In fact, it taught me how to cable! Anyway, on the last page there is a great historical tibit: it's a reproduction of a WWI poster imploring women to knit for the troops overseas.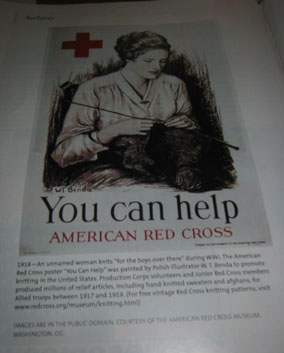 The caption ends by saying that you should visit this Red Cross Museum page for vintage knitting patterns. Even if you're not interested in making a Navy Watch Cap or military-standards socks, it's interesting reading!
Posted by shannon at 6:12 PM | For related posts: Knit Gringa, Knit!
December 29, 2002
Merry Christmas to Me!

Turns out Santa Claus is a fan of knitting!
From my mom:
Hollywood Knits
Knitting for Baby
RedHeart's Twice as Nice
Knitting Bracelet
Cablestitch Holder
Stitch Count Markers
Knit Check
Knit Tally Set (haven't had time to figure out how these things work yet)
Point Protectors
Stitch Holders
From Jason:
Knitting Stitch Bible
The Knitting Goddess
From Jill M:
RedHeart Light & Lofty in Cloud (upper right hand corner)
From my grandmother:
All the rest of the yarn!
If you don't hear from me for a few weeks, it's because I'm lost in knitting delirium. :)
Posted by shannon at 8:40 PM | Comments (1) | For related posts: Knit Gringa, Knit!
November 24, 2002
Free patterns!
Knitting compelled me to do something that I've wanted to do for ages: get a library card so that I can use the New York Public Library. See, this is what happened. I really wanted to make one of the Christmas Tree hats (they can be seen here, compliments of Amy) for the Bulis Baby to wear for the holiday season, and I also wanted to make some cute knitted baby blocks as her Christmas present. The problem was that I don't have the books that contain the patterns, and I'm a little short on funds.
On a whim, I checked the New York Public Library's card catalog on line, and both of the books that I needed (Too Cute! by Debby Ware and Vogue Knitting on the Go: Baby Gifts by Trish Malcolm, ed.) were in there!
The very next day, I went to the library and got my card. Then I went online and requested that both of those books be sent to my neighborhood branch, and that I be notified by e-mail when they arrive. According my "Patron Info" page on the library's site, both of the books are "In Transit".
Isn't technology great?
(Note: A few hours ago I went online and reserved Vogue Knitting: The Ultimate Knitting Book as well. I'm out of control.)
Posted by shannon at 5:48 PM | For related posts: Knit Gringa, Knit!
November 18, 2002
Caught In the Act
Knitting provides a perfect study break when I'm toiling away at home. When I knit, I can simultanesouly rest my frazzled brain and let my subconscious keep working on some schoolwork-related complexity.
This semester, I've often wanted to bring my knitting to school to provide that sort of meditative study-break. You see, right now I have really long days with huge breaks in the middle -- often four or more hours between next classes. I usually stay at school and study during that time, and there are times where I would kill for 10 minutes of mindless relaxation.
The primary reason is that I'm afraid that I'll give into the siren song of knitting and won't study at all. The other reason has to do with the environment of school -- the general feeling is that if you are in the school building, you should be working. It would feel... weird to knit here. [Keep in mind that other than school, I'll knit just about anywhere.]
Today, while in the middle of a four-hour gap between classes, I was sitting glassy-eyed in the main hall of the library. I couldn't decide if I should read more for my War, Peace and Strategy class, or if I should write more of my Intelligence and Foreign Policy paper. After rubbing my eyes and blinking for a few minutes, I looked across the vast library and could have sworn that I saw a woman sitting, and knitting. I put my glasses back on to double check. Sure enough, surrounded by her books, backpack and winter coat -- she was knitting a small blue swatch.
I was green with envy.
Posted by shannon at 5:50 PM | For related posts: Knit Gringa, Knit!