« Companion Cap | Main | ...And All to Goodwill »
November 16, 2003
Hail to the Redskins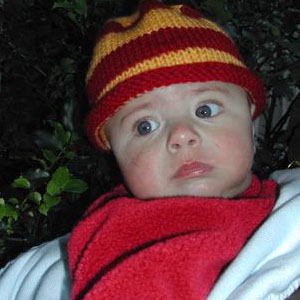 Long-time readers of La Gringa Tejedora may remember that I made Jason's brother-in-law a Redskins hat last Christmas. When I learned that his wife (Jason's sister) was preggers, I made a baby hat to match even though Henry was seven months from his arrival. In the frenzy of other things I've made him since then, I had almost forgotten about this little cap until Jason's mom sent us this picture!
Hopefully, it's not the hat that's making him look so distressed!
Posted by shannon at November 16, 2003 12:16 PM | For related posts: Baby Hats
Comments
Yay, a Henry picture! What a cutie. Am I crazy or does he look a little like his (f)Uncle??
Posted by: alison at November 17, 2003 12:15 AM
Those are Harry Potter colors. Henry needs a lightning bolt on his forehead. ;)
Posted by: Kerstin at November 17, 2003 5:12 PM