« Holy Smokes, a Completed Project! | Main | You are "turbo" charged. »
February 20, 2004
Luck o' the Irish
Babies, babies, everywhere!
It's happening again -- I'm backlogged with baby gifts! I managed to get one done (the hat in the previous entry), and now I'm working on a sweater for the brand new daughter of a high school friend. I hate that not only did I miss her shower, but I didn't get her this sweater before the baby was born. Ugh!
Anyway, I'm trying my hand at the Bulky Baby Bibby (scroll down!) in Dance by Artful Yarns. I'm using the color Jig. I had planned to use Berroco's Pronto since Alison had enjoyed it so much, but the yarn store I went to didn't have it. I was rushed and didn't have time to go to another store, so I was happy when I found the Dance on sale -- half price!
I started out with the Bigger Bulky Baby Bibby (charmed by the picture, as Alison was!), but by the time I got to the split for the neck, it was obvious that I didn't have nearly enough yarn. So I ripped it all out and started in the smaller size -- I'll have plenty of yarn, even enough to make a matching hat, I think.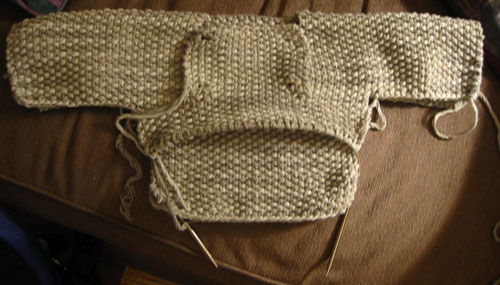 The baby's name is Colleen, and her parents are very Irish. I'm hoping to find some four-leaf clover buttons for the bibby and get it to them in time for St. Patrick's Day. Wish me luck! ;)
Posted by shannon at February 20, 2004 12:15 AM | For related posts: Green Bulky Baby Bibby
Comments
Posted by: alison at February 23, 2004 10:07 AM