« Long Story, Little Tank! | Main | Haste, Waste, etc... »
March 3, 2004
Pushing My Buttons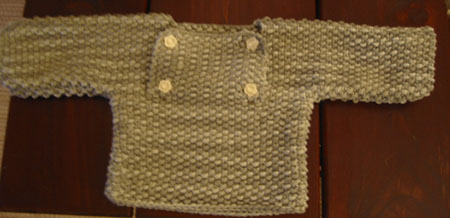 Alas, there were no four-leaf clover/shamrock buttons at Windsor Button. I settled on these little white flower buttons instead, and I think that they look really cute on the sweater. Here they are up close: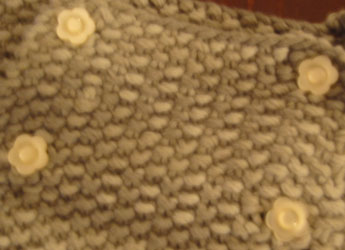 The buttons are more white than they appear in these pictures, I took these without the flash so everything looks "warmer" than it really is.
Posted by shannon at March 3, 2004 11:57 PM | For related posts: Green Bulky Baby Bibby
Comments
Oh, the buttons are so sweet! They're just perfect for the sweater. (I went to the Button Box in Needham yesterday - didn't see any clovers there either.)
Posted by: alison at March 4, 2004 10:37 AM
The buttons you found works well with the sweater. I'm sure the white buttons bring out the variegated sweater.
Good job!
Posted by: Lynette at March 4, 2004 10:51 AM
The buttons are really cute, so I hate to tell you this, but....JHB has shamrock buttons. Can't tell the size, though. You can see their entire catalog at www.couturebuttons.com, I think you'll be interested in Novelty, page 27.
Posted by: Sonja at March 6, 2004 6:28 PM
Sonja:
I had actually found that exact button selection and more (with the sizes listed!) at the Button Drawer -- none of them were the right size (5/8").
The irony is that when I took the sweater to Windsor Button I ended up getting 3/4" buttons anyway because my buttonholes were too big. Which means that the pewter shamrock button called "Lucky Day" (http://www.buttondrawer.com/Novelty_Products.asp?SC_id=85&offset=0, bottom of page) at the Button Drawer would have been PERFECT.
*sigh*
Posted by: shannon at March 8, 2004 11:51 AM
I love that drop bib sweater, I've made it several times and have gotten so many complements on the ones I've given away. Really one of the few baby sweaters that gets worn over and over and over!
Posted by: Amy at March 8, 2004 4:20 PM