« Pushing My Buttons | Main | An Ode to the Knitsmiths »
March 8, 2004
Haste, Waste, etc...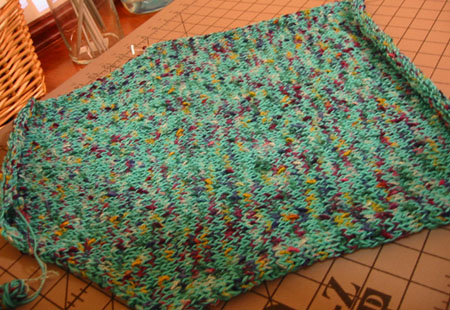 We've spent three of the four last weekends in New York. We always drive, and in a strange way I've started to enjoy the four-hour trip. We've gotten in the habit of listening to books on CD and Jason, the doll, doesn't mind if I keep a light on to knit by. It can't be just any knitting though -- if I stare at any fixed point in the car for a long period of time I start to turn green, so detailed knitting or anything that requires frequent referral to a pattern is out. This last weekend, I decided to work on my mom's Waikiki Tank on this trip -- lots of straight stockingette to keep the carsickness at bay.
After we got onto the highway and started our book, I got out my knitting. After looking at the pattern and then starting to knit, I realized that I had forgotten quite a bit about this pattern and project -- some of it good and some of it bad. Here's the current tally.
The Good
1. Speed: this project just zooms along. It's knit with No. 9s and there's just not a lot to it -- especially compared to my only other on-going project.
2. Yarn: the colors are extraordinarily vivid, and the drape of the fabric they create together is (for lack of a better word) sexy.
The Bad
1. Size: When my mom asked me to make her this tank, I had her try mine on for sizing purposes: it fit perfectly. The problem? I cannot, for the life of me, recall what size I made mine. No problem, I figured -- I know my measurements, so I'll just check the pattern. Unfortunately, the Yarn Girls don't provide any measurements-based guidance for picking a size (bust size, etc). Next I tried to guess based on the amount of yarn I had purchased, but I had enough yarn for either the small or the medium.
&nbsp&nbsp&nbsp&nbsp&nbsp The only way, then, to know for sure was to get my Waikiki tank out of winter storage and measure it and/or count stitches. I know, I know, I should have put off starting the tank until I solved this riddle. But had I done that, I wouldn't have had any car knitting -- and I'll always chose ripping later over being idle now. (I cast on for the medium.)
2. Needle Size/Gauge: When I finished the back, I glanced at the pattern schematics and saw right away that it was too long. From the armhole decreases to the top, it should have measured 5.5" -- instead it was around 7". I ripped back and knit it again -- still too long. I ripped back one more time and re-knit, using a different interpretation their (poorly worded) instructions for the decrease intervals-- still too long. After some deep breaths, I took out the tape measure and confirmed the obvious: my gauge was way off.
&nbsp&nbsp&nbsp&nbsp&nbsp I'll admit, I didn't swatch for this tank, but -- here's the rub -- I'm pretty sure that I didn't swatch for my tank, either. Was my tank "wrong", too? Or did I make adjustments in needle size? Again, only a trip into our dungeon, I mean, basement, to paw through our storage bins will solve this mystery.
3. The Yarn: While I love the colors and the drape, I had forgotten how "tangly" the Waikiki yarn was. It's especially annoying if you have to rip anything out (see #2).
The Lesson
I need to make better notes on my projects. I'm going to try to develop a "form" that I can fill out at the end of every completed work with the essential information. So far, I have:
Project Name:
Pattern Source:
Size:
Name of Yarn Used:
Amount of Yarn Used:
Needles Used:
Other notions used:
Deviations from the Pattern:
Other Comments (what I wished I'd known before I started this project):
Suggestions are welcome for refining this!
Posted by shannon at March 8, 2004 10:40 PM | For related posts: For Me!, Mom's Waikiki Tank
Comments
I don't keep any notes on my projects except for what I write in the blog. Wish I could get my act together to get all the details posted for my projects. But I know I won't. ;0)
Waikiki looks beautiful! I hope it all works out to the right size. Good luck working your way through the pattern details a second time!
Posted by: alison at March 8, 2004 11:35 PM
Don't take this wrong, but it seems like you got your lesson. ;) You really went through all possibilities with this sizing business and your conclusion "make notes in the future" is very wise. I have little note pads everywhere (knitting basket, knitting bag, between the sofa's cushions, in the coffee table drawer...) just in case.
Posted by: Marie at March 11, 2004 10:30 AM
Just bought Waikiki but couldn't find a pattern so I'm adapting. dkid you use a single strand and if so, what sze needle did you use? I started with 9 but thought it was too "holey."
Posted by: Joy at March 17, 2004 11:53 AM
Joy:
This tank is knit with Waikiki and MilleFilli Fine together. You can read more about the yarn selection process here: http://gringa.org/knit/?archives/000556.php#000556. The pattern is from the book "The Yarn Girls' Guide to Simple Knits", and it's referenced here: http://www.theyarnco.com/knit_display/186. On that webpage, the authors suggest using MilleFilli Fine or Mystik as your solid-colored yarn. I'm sure that you could subsitute any yarn with a similar gauge (5.75-6.5 stitches per inch), or even a different gauge using a different needle. The possibilities are endless!
Good luck!
Posted by: shannon at March 17, 2004 12:02 PM