« If Lovin' You is Wrong... | Main | How the Gringa Got Her Groove Back »
March 22, 2004
Spring Fling!

Jason and I are back from vacation, and boy do I have a lot of knitting-related news to post about! Since Saturday was the first day of Spring, we'll start with my Spring Fling project. Some of you may remember Francine, the cute halter top that went so very wrong. If you missed the saga, the short story is that after several attempts to "alter the halter", I frogged the whole thing (long story here). I went on to use the yarn (Berroco's Denim Silk) to make Lindsay, which was a significantly less stressful endeavor and turned out just fine.
End of story, right? Not exactly. For whatever reason, Lindsay has fallen into the "eh" category of my closet -- she's just hung there, unworn. It bugged me endlessly ('What a waste of good yarn!'), but I still didn't wear it. One day, I think it was in Alison's comments, somebody mentioned that Berroco had a free tank pattern posted on-line. Never being one to pass up something free without at least a look, I rushed over and checked it out. Whattayaknow, it was cute, potentially flattering, and, most importantly, made out of Denim Silk!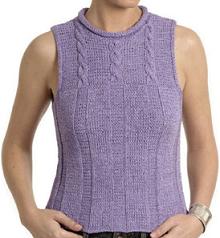 Needless to say, Lindsay is no more. I had hoped that the yarn would be useable as-is, but no such luck: it needs washing. Luckily for me I had a skein and a half of unused Denim Silk left over from Lindsay -- so I swatched and cast on with that.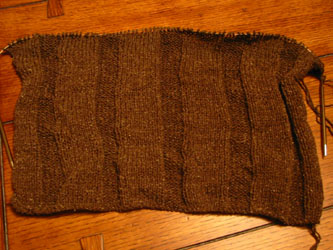 Keep your fingers crossed that the third time is the charm!
Project Name: Tina
Pattern Source: Berroco web exclusive pattern
Name of Yarn Used: Denim Silk in Chocolate
Amount of Yarn Used:
Needles Used: No. 8 Addi Turbo circulars
Other notions used:
Deviations from the Pattern:
Other Comments (what I wished I'd known before I started this project):
Posted by shannon at March 22, 2004 12:48 PM | For related posts: Tina (neé Lindsay, neé Francine)
Comments
Oh my, you're ripping out Lindsay now? You crazy! I hope this is the tank that will finally do stop your denim silk ripathon.
Posted by: alison at March 23, 2004 10:57 AM