« Spring Fling! | Main | Zooooooom! »
March 23, 2004
How the Gringa Got Her Groove Back
This winter, I hit my first-ever knitting slump: my rate of knitting fell precipitously and no projects -- in-progress or potential -- seemed appealing. Heck, I even walked past open yarn stores without going in. (Tragic, I know.) By the beginning of February, I was worried that I had lost the zeal for knitting.
I'm happy to report that it was a false alarm. As soon as the days started to lengthen, it seems, my urge to knit returned. I knew I was really back in the game when I followed Alison's link to the Mason-Dixon Knitting tutorial on log-cabin knitting -- and could think of nothing else for days.
Last week in Austin, Alaina and I were strolling down South Congress exploring the fun shops and... hey! what's that? A yarn store?! And not just any yarn store, but the Yentala's yarn store! (Who me? Plan our route that way? Never!)
Hill Country Weavers is a charming establishment, complete with front porch seating for knitters and an elderly black lab wandering the aisles "assisting" customers. (Sadly, they do not have a web site that I can find. Happily, Yentala did a virtual tour in December!) I already knew what yarn I wanted (Mission Falls 1824), and Alaina helped me pick colors. This is the epitome of mindless knitting, and I'm loving it!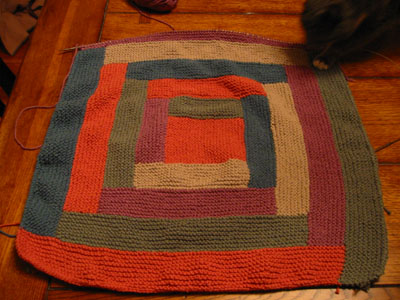 Sammie likes it too.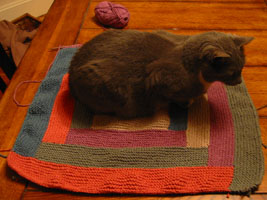 Project Name: Log Cabin Blanket
Pattern Source: No pattern needed, but tutorial on long cabin knitting found at Mason Dixon Knitting
Name of Yarn Used: Mission Falls 1824 Cotton
Amount of Yarn Used: 2 balls each of Sand (104), Coral (201), Phlox (405), Sea (402) and Fennel (301)
Needles Used: No. 6 Addi Turbo circulars (the balls band calls for No. 7s but I couldn't find mine and my No. 6 circulars are longer [40"], which is necessary when making a blanket of indeterminate size!)
Other notions used: n/a
Deviations from the Pattern: n/a
Other Comments (what I wished I'd known before I started this project):
*Don't forget to do a loose bind-off to avoid the "gathered" effect at the top of every stripe.
*I love the colors that I picked, but looking back I sort of wish that I had chosen colors that contrasted each other more. Also, I should remember to try to be more daring next time -- I only chose five colors and I've been using them in the same order. Next time, go crazy!
Posted by shannon at March 23, 2004 10:36 AM | For related posts: Log Cabin Blanket
Comments
Very pretty! How big is it going to be? And who's it for? Sammie?!
Posted by: alison at March 23, 2004 10:59 AM
Alison:
I'm just going to knit until I run out of yarn -- I don't think it will be much bigger than lap-sized. I don't have an intended recipient in mind yet, but if I end up keeping it I'm sure that Sammie will get good use out of it. :)
Posted by: shannon at March 23, 2004 12:58 PM
Pretty! The design makes much more sense now that I can see it!
Posted by: Alaina at March 23, 2004 5:39 PM
Glad to see you're back. Lucky Sammie! I like the tank you are working on as well, great start for Spring (if it gets here). See you soon?
Posted by: Dava at March 24, 2004 8:07 AM
Dava, this is the month of WE'RE NOT GOING ANYWHERE so I'll be a Knitsmiths regular for at *least* that long! :)
Posted by: shannon at March 24, 2004 10:06 AM