« A Friend Indeed | Main | It Just Keeps on Giving! »
April 18, 2004
The Half-Year Sweater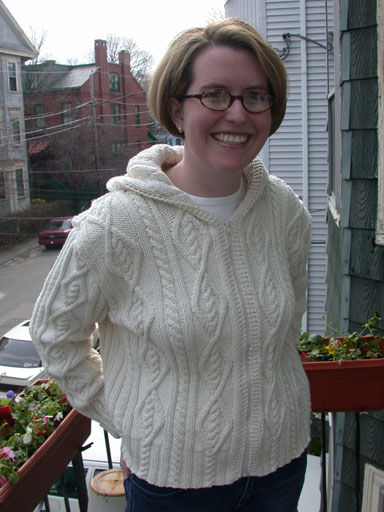 Bet you didn't think I'd ever finish it... I sure didn't! This jacket took much longer than I thought -- the cabling was pretty tedious, so it was easy to put this aside when other projects caught my attention. But I stuck with it, and I'm glad I did.
Here's a picture of the cable pattern which, despite being tedious, is very pretty. Putting in the zipper wasn't so pretty -- it took several frustrating tries before I got it right.
There are a lot of things that I wish were different about this pattern*, but one of the parts I really like is how the pattern continues from the front panel up onto the hood.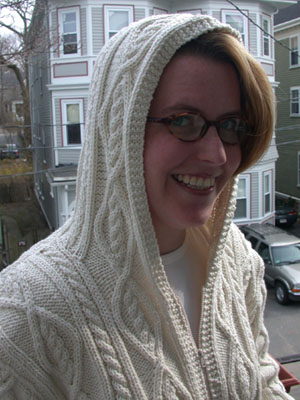 *I'll write them up soon and add them to this entry!
Posted by shannon at April 18, 2004 10:13 PM | For related posts: Cable Hoodie
Comments
GREAT JOB on the sweater!
Posted by: monica at April 18, 2004 10:35 PM
Oh my goodness, that is a fantastic sweater, great job! You look amazing.
Posted by: Amy at April 19, 2004 9:01 AM
Awesome, awesome, awesome! And I'm so glad that you were able to take some outside pics with good lighting. That sweater deserves to be seen right! Congratulations. It looks goooood on ya (I'm chanelling the "Big Red" guy).
Posted by: alison at April 19, 2004 10:00 AM
Oh wow. It's gorgeous! What a great job! I can't believe you made that - wait, not that I can't believe you actually knitted it, but that it looks so complex and perfect I can't believe it's the end result of two sticks, some string, and a zipper. I am in awe!
Posted by: Zabet at April 21, 2004 9:17 AM
Posted by: Cindy at April 21, 2004 10:48 AM
Thanks, guys! Now that I've had about two weeks since Zipper Hell, I can definitively say that it was worth it. :)
Posted by: shannon at April 23, 2004 9:27 AM
congratulations!!! It looks maavahhalous.... Perfect timing with the weather too :-)
Posted by: Terri at April 23, 2004 1:33 PM
Wow! That is a beautiful sweater - you did a fantastic job on it. Even if it took "half a year", the finished product is certainly worth it.
Posted by: Terri at April 26, 2004 2:50 PM