November 22, 2004
The Most Wonderful Time of the Year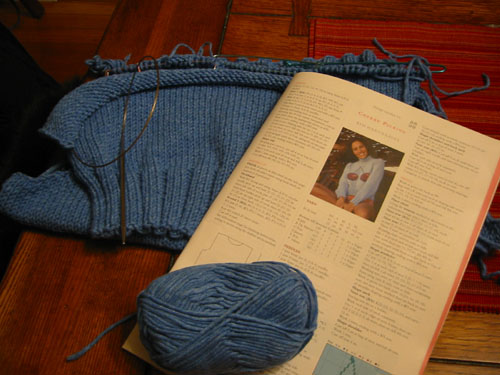 A few months back, I showed my mom a picture of Cherry Picking
-- the pattern that her Cherry Mango is based on. My mom -- ever the classy dame -- fixated not on the "cherry boobs", but on the blue.
"Ooooh. You could make me another one of those in blue, if you wanted."
So began Holiday Knitting v.2004.

Posted by shannon at November 22, 2004 10:17 PM | For related posts: Blueberry Mango, For Mom
Comments
Oooh, I'm so glad that you posted a picture. I love that yarn. Tell us again what it is. The blue is one of those perfect blues that seem to continue into the depths forever when you look at them.
Posted by: Colleen at November 23, 2004 11:03 AM
Colleen -- it's All Seasons Cotton in True Blue, a discontinued color that I got for a song on Ebay!
Posted by: Shannon at November 23, 2004 1:13 PM