« Holidays (Extended Play Version) | Main | »
January 28, 2005
Socks? What Socks?
My general perspective on socks is the same as Alison's: I can't want to make the socks.
I had tried numerous times to overcome this prejudice, but all previous attempts left me with nothing more than half a sock. I'd grow tired of the fiddliness, get bored with the slow progress and cast it aside in favor of something, well, less annoying.
How, then, did this happen?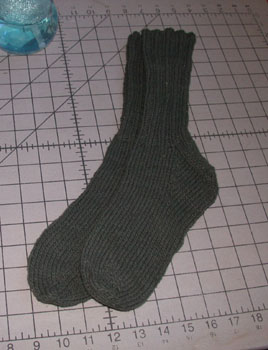 Who are they for? I'll never tell.
I don't know if it was the pattern (Ann Norling's Adult Basic Sock), the yarn (Morehouse Merino 3-strand), or the needle size (6) but I managed to get through two whole socks this time. And it wasn't that bad!
Don't get me wrong, I'm not saying that all of a sudden I can want to make the socks. But after this turn of events, who knows?
Posted by shannon at January 28, 2005 8:03 AM | For related posts: For Jason, Socks
Comments
Oooh, very thick and warm socks! Who are they for?
Posted by: Johanna at January 28, 2005 9:08 AM
Johanna -- shhhh! It's a secret!
Posted by: Shannon at January 28, 2005 9:27 AM
They look great, Gringa, but I worry about the fiber content. Socks usually need a bit o' acryllic or nylon to extend their lifespan, and the wool is generally superwash so that you don't start with socks for your dad and end up with socks for your new preemie niece after a go in the washer.... I looked at the page you linked to, but did I miss something? Is there something on the label to assuage my fears?
Posted by: Zabet at January 28, 2005 10:55 AM
You're right, they won't hold up to normal wear and tear. Fortunately, these socks are not meant to be worn normally (i.e., in shoes), they're meant to be worn around the house and to bed on cold winter nights. (And as for washing, they'll have to be dunked in some warm soapy water every once in a while -- but they're so soft, they're worth the extra work!)
Posted by: Shannon at January 28, 2005 11:20 AM
Great looking socks! Like you, I still can't really want to make the socks, but somehow I got some made anyway. It's a mystery.
Posted by: alison at February 2, 2005 8:42 AM