July 23, 2007
Knee Socks, Again!
We recently went to Cape Cod for a wedding, and took advantage of our presence in the Bay State to visit some of our friends! Flight schedules prevented me from attending Alison's book signing at Webs, but I did get to see her for a few minutes before she dashed out the door.
And look what she had for me!
That's right, it's the yarn from the dearly departed knee-socks! I had forgotten that she also snagged a skein for herself, and thanks to her largesse, the knee socks will live again! Long live the knee socks!
Posted by shannon at 6:10 PM | Comments (2) | For related posts: For Me!, Kneesocks, Socks
July 22, 2007
Socktastic!
I'm a Sockapaloozer. Though I've been through several yarns, and a number of different patterns trying to find the perfect combination for my sock pal, I haven't blogged a bit of it! Here's the winning combo, though:
It's Claudia's Handpainted yarn knit up in Conwy from Knitting on the Road. Though I would have loved to try one of the lacy patterns currently popular (like Monkey or Pomatomus), my pal suffers from perpetually cold feet. Can't have that! Conwy is all about mock cables and dense, cozy fabric. I hope she likes them!
Posted by shannon at 5:58 PM | Comments (4) | For related posts: Sockapaloooza, Socks
June 14, 2007
A Requiem for Kneesocks
I loved these socks.
Alison enabled the purchase of the yarn (even spotted me the cash to buy it!) from fellow Knitsmith Reese. It sat in my stash for a bit while I was waiting for inspiration when one day it hit me: I needed knee socks. Red ones. With cables.
The cable up the back of the leg was based on a cable I found in the Stitch Bible. I sort of made up the calf shaping as I went.
I loved these socks as soon as they were done. The yarn was so soft that even I, the Great Allergic One, could stand to wear it next to my skin for brief periods of time. These pictures don't really do the colors justice, either -- a bright, clear red with a petal pink. They were perfect for commuting on public transportation on a cold winter's day -- I would wear them on my way to work to keep my legs warm, and take them off when I got to the office.
I'm sad to report that these socks were recently lost in a felting incident. I'd happily make myself another pair, but both Reese's blog and Etsy store have been dormant for some time, so I think the chances of getting any more yarn like it is pretty slim.
A moment of silence, please, for the Kneesocks.
Posted by shannon at 3:48 PM | Comments (5) | For related posts: For Me!, Kneesocks, Socks
May 10, 2007
Market-ing
For the last week and a half, Jason and I have been filling up all of our free time on our newest blog ('cause three isn't enough!): Save Eastern Market. The good news is the market will be rebuilt and we're meeting tons of neighbors and making new friends. The bad news is that the meetings, researching and blogging has cut into my knitting and knit-blogging time. (Let's just overlook the fact that I'd been posting infrequently before the Eastern Market fire, hmmm?)
Last night, however, it finally occurred to me: why am I not knitting my way through these meetings?
I'd say I made 2.5" inches of progress during last night's market-related meeting.
If you're in the DC area, come suport the market merchants and vendor this weekend and in the weeks to come --you might see me working at the Capitol Hill Community Foundation table!
Posted by shannon at 3:54 PM | Comments (5) | For related posts: Socks
May 6, 2006
Labor of Love
It's a blast from the past: Jason's Black Watch Plaid socks! You might recall that these were originally gifted at Christmas, but turned out to be a bit big. A "bit big" was a bit of an understatment, and I ended up re-knitting them entirely. I added some ribbing, knit them from the toe-up and, hey, they only took four months!
So why a labor of love? When both socks were finished a few weeks ago, I held them up and realized one was much wider than the other. How could that be? My knitting is crazy loose, but consistently so. Closer investigation revealed that I had knit the first sock in a 2x2 rib, and the second in a 3x1 rib. Idiot!
I was not about to rip out the entire second sock. Well, I could have, but it would have annoyed me so much that I would have had to banish them to the bottom of my pile of knitting until I forgave them (and by "them" I mean "myself"). Goodness knows how long they would have languished. So, I improvised. On the 3x1 sock, I went around and one at a time dropped every third stitch all the way back to the beginning of the rib. Then I used a crochet hook to pick up the stitch and turn it from a knit into a purl all the way back up to the cuff (toe-up, remember). Twelve times I did this, cursing my inattention to detail all the while. It was tedious and the dark yarn almost make me go blind, but it was he's worth it!
Posted by shannon at 10:19 AM | Comments (5) | For related posts: Christmas Knitting 2005, For Jason, Socks
May 2, 2006
Buen Viaje!
I tucked those pretty purple-y socks into a pretty matching box...
...included some goodies...
...and sent them off!
Thanks, Alison, for being such a great hostess -- and not telling any of us to go... well, you know.

Posted by shannon at 10:09 AM | Comments (3) | For related posts: Sockapaloooza, Socks
April 18, 2006
Dooone!
My Sockapaloooza socks are all done -- blocked, ends woven in, and photographed!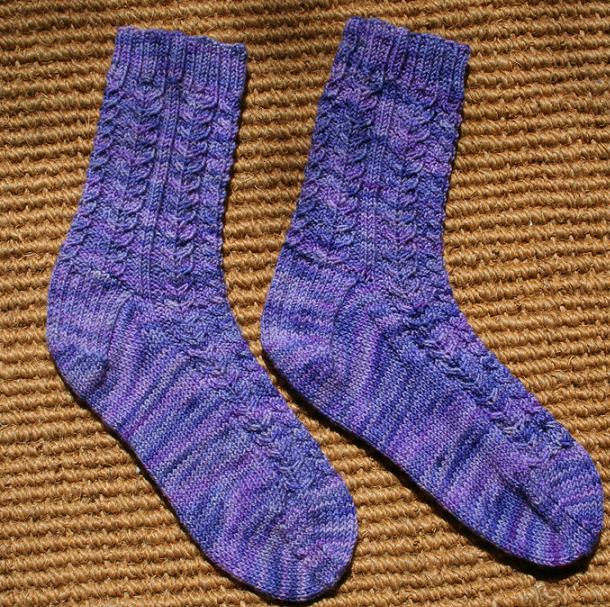 This was my first time using Koigu, and will certainly not be my last. In fact, I already have another pair of socks on the needles. (So. behind. on. blogging.)
These socks went really fast, and the pattern was easy to memorize. And how about this for a bonus: there's enough of that yummy Koigu left over for a pair of baby booties!
My next fun task is gathering some treats to put in my pal's box. I'm enjoying this so much! Remind me why I waited until round three to become a Sockapalooozer?
Pattern: Denmark from Knitting on the Road
Yarn: Koigu, 2 skeins (I don't have the labels here, but if I had to guess I'd say the colorway is 439. If I remember to check, I'll update this!)
Needles: US2s
Posted by shannon at 1:19 PM | Comments (9) | For related posts: Sockapaloooza, Socks
April 13, 2006
Candy Colors
The picture's a bit fuzzy (taken with my phone while Jason was out of town with the "real" camera), but you can just make out the fact that my Sockapaloooza socks are (1) done!, and (2) blocking on sock blockers! I used this tutorial to make them myself out of wire hangers -- it was very easy, and a good way to get wire hangers out of my closet where they spend their time putting unsightly bumps in the shoulders of my favorite tops.
Once on the blockers, I sprayed the socks down with water and a tiny bit of Eucalan and hung them up on the shower rod to dry overnight. (Reason #3 I love the homemade sock blockers: the hanger hooks can be used to keep the socks out of the reach of our feline companions, to whom the un-woven ends are irresistible.)
I'll take better pictures this weekend so you can really get a sense of the purple-y goodness of this colorway. And as if the candy colors of Sockapaloooza socks and my shower curtain weren't enough, I leave you with a picture my mom took for the digital photography class she's taking at a local community college. I think she gets it!
Posted by shannon at 10:30 AM | Comments (6) | For related posts: Sockapaloooza, Socks
March 24, 2006
La Media Borracha*
The real color. Sort of.
I am loving this yarn (Koigu) and this pattern (Denmark from Knitting on the Road) so much! I really hope my sock pal loves it too -- she didn't give any color preferences, but said that she loved cabled or lacy socks. When I picked out the colorway, I tried not to fall into the trap of picking the same colors I always pick for myself -- reds, pinks, oranges, browns. I think I succeeded! (I realize that the colorway looks very blue in the only other picture I posted, but it's not -- it's all shades of purples and periwinkles.)
When I went looking for an object around the house to include in a picture for scale, I ended up at our "bar". It's actually a child's dresser that was my dad's as a child, then mine. It's been painted and repainted several times, and does quite well as a bar. Anyway, the late afternoon light is good at the bar and Jason was already in the kitchen cooking Mexican food, soooo the sock posed with a bottle of tequila. Which I then grabbed and went into the kitchen to make margaritas.
Que rica vida!
*The Drunken Sock. Though much of the Spanish-speaking world uses the word calcetin for sock, in Quito it's almost exclusively media. One of those idiosyncratic things that marks me as somebody who learned Spanish in Quito. I love it.
Posted by shannon at 8:28 AM | Comments (11) | For related posts: Sockapaloooza, Socks
March 16, 2006
I'm Wondering
Note: This was actually written on Wednesday (yesterday), but I encountered technical difficulties and couldn't publish until this morning!
This Wednesday, I'm wondering:
Is there such a thing as a too-stiff sock?
Pattern: Denmark from Knitting on the Road
Yarn: Koigu
Needles: US 2s
Pictured here are my Sockapaloooza socks (version 2.0) -- you'll notice that I've switched Koigu colorways since this entry -- and I'm quite pleased with the way the pattern and the colors are working together.
Now, a new worry: I had to make adjustments to accommodate my absurdly loose knitting, and now I fret they may be a bit stiff. (Notice, above, that the sock is standing without support!) Is this a problem? If I call a do-over and restart on bigger needles I'm almost certain it will be way too big -- it stretches out to fit nicely now when I slip it on. Any words of wisdom?
On this Wednesday, some of you might be wondering where the heck the promised Olympic wrap-up entry -- complete with pattern! -- is. Two things have been slowing me down: a maddening lack of sunlight this week for taking nice pictures and something we'll call "Hey! This pattern-writing thing is hard!" It's coming soon, I promise!
Posted by shannon at 7:27 AM | Comments (3) | For related posts: Sockapaloooza, Socks, Wondering Wednesday
March 9, 2006
All the Socks Fit to Print
Thank you for your compliments and well-wishes yesterday! I'm happy to report that I am already much improved in the health department -- far less of that not-quite-a-sneeze-but-enough-to-make-your-eyes-water feeling, thank goodness. I'm looking forward to getting home and working on the official Olympic sweater round-up entry, but to answer the two most common questions: (1) yes, I will be writing up this pattern, and (2) yes, I am thrilled with the way the sweater came out!
WIth the Olympic sweater finished, I've got a rip-roaring case of startitis. I'm trying to be good, though. With sweater weather drawing to a close for the year, I still have two big sweaters on the needles I'd like to get done before it's springtime in Boston: Pam and Zippy. So they are first on my knitting to-do list.
Still, the urge start something new is strong. So I'm dealing with it by allowing myself to start only the smallest projects I can think of: socks. And the first step toward new socks is... new sock yarn! When I last saw Alison, I walked away from our visit with a bag of it!
The Regia on the left is Regia Cotton India Color in the Bombay colorway, which Alison kindly brought back for me from Germany. I love the browns and oranges, and the hint of blue will make them perfect jeans socks. Can't wait. I also nabbed the Regia Canadian colors (Manitoba) on the right and the black and white Lorna's Laces Sheperd Sock in the back when she pruned her sock yarn stash -- I got 'em for a song! I think I might finally make some Jaywalkers from the Lorna's.
A few days later I went hunting for some Sockapaloooza sock yarn. Having decided on the Conwy socks from Knitting on the Road, I thought I'd treat my pal right and use some Koigu. Since the sock in the book is knit up with a variegated yarn, I figured I could go crazy colorful. I definitely love this colorway, but the jury's still out on whether this colorway might be just a little too crazy colorful for cables.
Maybe too much?
This isn't new sock yarn, but I should still include it in my current sock round-up. This is the second of Jason's Christmas socks, which I insisted on re-knitting when I saw how big they were on him. After a two-and-a-half month post-Christmas break, I'm back on track with these.
I'll be home tomorrow night, so look for the Olympic sweater round-up this weekend!
Posted by shannon at 5:21 PM | Comments (2) | For related posts: For Jason, Sockapaloooza, Socks
March 2, 2006
Sock Daze
I got a camera phone. Guess what my first public picture was.
Taken with my normal camera.
I love knitting, and I especially love baby girl knitting. But you can forgive me if I was less-than-overjoyed about this project, since it was the third deadline-knitting project I've worked on in the last week. (Score: two deadlines made [the sweater above and this one], one missed.) When I finished this little number I looked at Jason and said, "all I want to do is sit down and knit mindlessly on a sock for a while."
Lucky for me, I had materials on-hand. When we were in New York last weekend for a birthday celebration, I managed to carve out an hour to explore Knitty City. It's a small store, but well laid out and friendly so you don't feel squashed or unwelcome. (This is a nice contrast to the other yarn store on the UWS. If you know what I mean.) I was greeted but then left blissfully alone to browse and fondle yarn. Help was readily available to those who needed it, though. The owners are a married couple, and I watched him help a customer struggling with the swift and ball winder (they'll wind your yarn, or you can do it yourself!) and later listened to her gently guide a novice knitter to a better color combination without the customer even realizing how narrowly she'd escaped color disaster. They were quite a team.
The two non-sock yarn brands that stand out in my memory are Lily Chin and Cascade, but I spent most of my time in front of their sock yarn selection. There was ArtYarns Supermerino, lots of Regia (including some Nations!), Trekking, Opal, Cascade Fixation... the variety was quite good.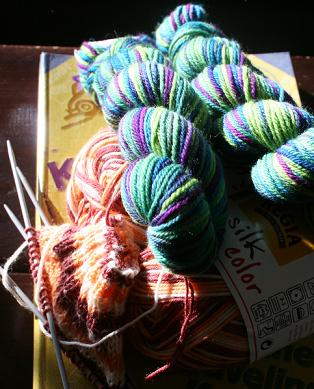 Armed and ready for sock knitting!
My need to touch all yarn under consideration for purchase is well documented, and I must say that when I grabbed a ball of Regia Silk Color I was blown away by how soft and smooth it was. Suddenly, two balls jumped into my basket -- all on their own, I swear! Two skeins of Supermerino in this colorway -- which I may use for my Sockapaloooza pal, all depending on finding a pattern -- leapt in right after them.
Speaking of Sockapaloooza, I haven't uttered a word about it since I signed up! I didn't totally neglect it during the Olympics, I promise. My pal has indicated that lace or cables would be good, and since my socks have heretofore been limited to plain stockinette or ribbing (if I'm feeling adventurous), I've invested in Nancy Bush's Knitting on the Road to broaden my horizons a bit.
But for now, just for today, I'll take my horizons just where they are thankyouverymuch. Me and my aching fingers are going to go round and round on a Regia Silk sock and not worry about deadlines or medals or shipping cutoffs for at least 24 hours.
See you on the flip side!
P.S. -- Have you seen the new Rowan magazine? I like it!
Posted by shannon at 4:56 PM | Comments (0) | For related posts: Miscellaneous Small Projects, Sockapaloooza, Socks
February 15, 2006
I'm Wondering...
This Wednesday, I'm not really wondering about anything at all.
Actually, that's not true. I'm intensely wondering (i.e. worrying) about a number of things on my Olympic Sweater. But those wonderings aren't ready for prime time -- no pictures, for example -- and since the Olympic Sweater is all I'm working on these days, I don't have any other questions burning a hole in my blog.
So, instead, I'll show you how a previous Wednesday wondering helped me finish a project:
I'm still perfecting my tubular cast-off. One of the socks has a
much tighter edge than the other. I told Jason that we must
have been watching something really gripping on TV when I did that one.
They're speckled! I love the colors of these socks so much that I found a way to wear them to the office last week with dress pants. Everytime I got glum about the dreary winter day, I just looked at my socks. Instant mood improvement!
Yarn: ArtYarns Supermerino (107)
Needles: US 3s. (Next time, try 2s. Or twist the first knit stitch after purling.)
Pattern: 3x1 ribbed version of Wendy's toe-up sock (with short-row technique modifications)
Posted by shannon at 5:59 PM | Comments (3) | For related posts: For Me!, Socks, Wondering Wednesday
January 24, 2006
Asked & Answered
A pretty and stretchy cast off -- it's a miracle!
It will come as no surprise to most of you that the answer to last week's question (what's the best way to bind off a toe-up sock?) was the tubular bind-off.
In my own defense, I had tried it on this sock before throwing myself on the mercy of the blogosphere. At the end of the sock I dutifully pulled out my Knitter's Handbook, girded myself for Montse's somewhat (*ahem*) didactic style, and gave it a shot. Verdict? Too tight.
I now know that the problem was that the book recommended doing at least two rows of tubular knitting (k1, sl1 on one row, then sl1, k1 on the next) before the bind off. In retrospect, I'm sure the bind-off itself had been plenty flexible, but all those slipped stitches made the cuff too tight. When I consulted the links that people kindly left last week, I saw no mention of the pre-cast-off tubular rows.
Last night I gave it one more shot, this time knitting the 1x1 rib normally up to the cast-off row. I used this tutorial combined with what I already knew of grafting, and it worked like a charm. Now I can finish the second sock (I've been dawdling on it until I figured out the cast off) and chase away the winter grays with this fabulous turquoise colorway. Success!
Which reminds me...

In the midst of my sock-related euphoria, I signed up for Sockapaloooza -- my first sock exchange and my second knitalong in as many weeks. It's gonna be a busy February!
Posted by shannon at 10:56 AM | Comments (3) | For related posts: Sockapaloooza, Socks, Wondering Wednesday
January 5, 2006
Christmas 2005: My One and Only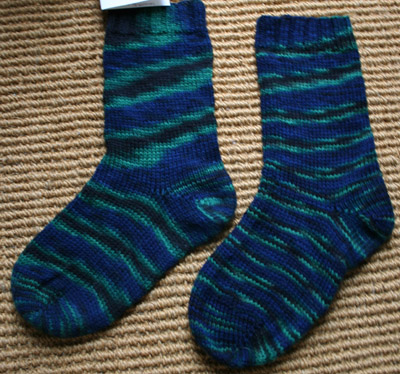 Isn't the variation between hanks amazing?
These socks were the one and only handknit gift I gave on Christmas Day. They're for Jason, made in Lorna's Laces Shepherd Sport in the Black Watch colorway. Black Watch plaid* has a special place in our family's Christmas tradition. Many years ago, my mother gave the family Black Watch plaid flannel pajamas as Christmas Eve gifts -- naturally, we all wore them that very night. Ever since, everybody wears their Black Watch flannel pjs for Christmas morning.
Jason and I were already engaged last Christmas, so my mother bestowed upon him his very own pair of Black Watch flannel pajama bottoms. Since this was his first Christmas as an official member of the family, I wanted to add something else. I managed to knit these socks without him knowing (thanks to the Knitsmiths, my office's cafeteria, and an unusually long hair appointment the day before we left town for Christmas!), so he was really surprised.
Unfortunately, they turned out a bit big so they are currently being reworked. No matter. I've got a year before it's Black Watch time again!
*Here I shall digress. My family is Scottish and I spent a semester there in college, so I've accumulated some general knowledge about tartans and clans and the like. While I was knitting these socks at Knitsmiths, lots of people were curious about the term Black Watch and the more I explained the more questions they asked. So here's my general primer on the Black Watch and its plaid (tartan).

The traditional blue, green and black tartan of the Black Watch.

The last great Scottish revolt against England was in 1745. After the Scots were defeated, the English took steps to pacify the wild Scottish Highlands, where both tartans and rebellion were most prevelant. Highlanders were forbidden to bear arms or to wear tartans or kilts, though Scottish military units loyal to the crown were exempt from these laws. The Black Watch was just such a force; made up of local clansmen to police the Highlands on behalf of the British. A popular theory claims that the regimental name comes from the darkness of its tartan, but nobody's really sure.

It wasn't a good time to be a Scottish Highlander -- "pacification" efforts by the British were brutal and many were pushed off their land. It's a bit ironic that Black Watch plaid is so popular among Americans (LL Bean, Lands End), some of whom are Americans only because their Scottish ancestors fled the brutal repression and starvation of the post-1745 Highlands for the New World. (Not to mention that the Black Watch fought on the "wrong" side in the American Revolution!) In any event, I'd bet it's the easiest tartan to find these days -- certainly easier to find than my own family tartan (seen here as a part of our wedding decorations). And today's Black Watch, now formally known as the 3rd Battalion of The Royal Regiment of Scotland, is very different from its 18th century ancestor. It has distinguished itself fighting in both World Wars and keeping the peace in places like the Balkans. From what I can tell, they are currently either back in the UK or doing a six-month tour with the UN peacekeepers in Cyprus after two tours in Iraq. And that's the current state of my knowledge on the Black Watch!
Posted by shannon at 1:33 PM | Comments (1) | For related posts: Christmas Knitting 2005, For Jason, Socks
December 30, 2005
Christmas 2005: Last Things First, Vol. III
You'll be relieved to hear that this entry marks the the halfway point of the Christmas knitting re-cap, and that my goal is to have it all wrapped up by January 1. Without further ado, then, let me tell you about...
Doc's Socks
Of everybody in Jason's family, his dad (aka, Doc) seems to be the one most fascinated by my knitting. He's a process guy, more likely to comment on the speed or prolificity of my knitting than on the final product. (Actual quote from his toast at our rehearsal dinner: "...and she knits for everybody in the family!" ) If he thinks I'm fast normally, he should have seen how quickly I churned these out:
3x1 ribbed socks in Lorna's Laces Worsted
When I went looking for sock yarn for Doc's Socks, I knew I wanted heavier than usual gauge. After quite a bit of fruitless searching, I found a plastic bag of Lorna's Laces Worsted in Charcoal hidden in the back of a low shelf at a LYS. It was a little heavier than I had initially wanted, but the browny-blackish color was just so perfect I couldn't resist. I bought two skeins (225 yards each), but hoped that I would only need one. I didn't want to make him too-short socks, after all.
I knit them on size 5s, and they just sailed. I barely remember knitting them, though that might have been the hypnotic trance I entered each time I laid my hands on that heavenly-soft yarn. Here's the best part -- when I finished the second sock a week before Christmas, I had a ton of yarn left over... from the first skein. Considering how fast the socks went, I evenly divided the remaining yarn in half, ripped both of the socks back to just before the heel began, and added at least three inches of sock to each one using half of the remaining yarn. Then I did the heels and feet again. And I still had plenty of time to give them to him for Christmas.
A very blurry picture, but the only one that shows that I
really did get two normal-size socks out of one skein of yarn!
Oh yes, I will be using this yarn again.
Posted by shannon at 4:25 PM | Comments (1) | For related posts: Christmas Knitting 2005, For Doc, Socks
December 13, 2005
Sanity Socks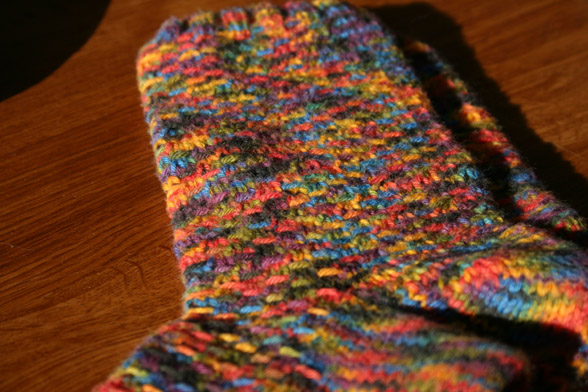 Help, I'm stranded!
With Christmas breathing down my neck quickly approaching, and more family members than ever visiting La Gringa Tejedora, I'm forced to be be more tight-lipped than normal this year about what the elves are working on around here. But that's just as well, since I have some catching up to do!
I bought some Fortissima Cotton Colori back in May and searched off and on for a pattern for it all summer. I finally settled on Crusoe from Knitty, though you'll see that I opted to forgo the roll cuff in favor of some simple 2x2 ribbing. (full-sock picture) For once, I managed to find a pattern and a yarn that worked well together -- the stranding technique really shows off the bright colorway that drew me to the yarn in the first place.
Better yet, the pattern is deceptively simple -- so simple, in fact, that it was these socks I picked up frequently in the 48 hours before the wedding when my whirling brain needed to focus itself on something more soothing than trying to will the rain to stop! falling! already! I'm also happy to report that the Cotton Colori not only survived machine washing and drying, but came out of it even softer than before.
I hereby declare these socks a success!
Posted by shannon at 11:42 AM | Comments (1) | For related posts: For Me!, Socks
May 9, 2005
All Thanks to Mom
Happy Mother's Day!
I actually finished my mom's socks up right under her nose. I told her that they were for me, and when she asked if she could try them on I said no. Isn't that evil?
I'm sure I've mentioned before that my mom taught me to knit. She hadn't picked up a knitting needle in around fifty years, so she had to brush up on her skills a bit before giving me my tutorial. After I got the hang of it, I asked her if she thought she'd keep knitting and she said that she doubted it. Apparently three years of watching me knit has changed her tune -- she's back at it, cranking out baby hats at a mile a minute! To celebrate her return to the world of string and sticks, I added some knitting goodies from her local yarn store to her Mother's Day gift bag -- some Sol Lastic yarn (discontinued for so long, apparently, it is scarcely mentioned on the web except in one lonely eBay auction) and a set of her own circular bamboo needles.
While we're on the subject of my mother's local yarn store, I should share a description. In addition to knitting and crochet supplies, it also has cross-stitch, framing and some sewing supplies as well. I'd wager that just over half of the store is devoted to yarn, but I'd swear I've never seen such an ecclectic selection of fibers in all my days. She has everything from Lion Brand and acrylics to Lorna's Laces, Cherry Tree Hill, and boutique hand-dyed yarns from Uruguay (not Manos).
Such a wide-ranging selection is wonderful, except for the fact that it is it was all mixed together -- in baskets, on shelves, on the floor, everywhere. If you concentrate extra hard, there does seem to be a vague organization-by-yarn-weight going on -- but even that has pretty much broken down. It was pandemonium. It was overwhelming for me, somebody who knows yarn fairly well, so I can only imagine a how a brand new knitter might react. ("Retreat!") I talked to my mom later and she said that the owner ran the store as a hobby, and was content not to grow her customer base outside that which she had always had -- experienced, older knitters. In fact, when my mom told her recently that knitting has become very popular with the younger set the owner was surprised. So sad to see such potential under-utilized!
Despite these hardships, I did manage to find something for myself at this yarn store (I know you're all shocked!), something I'd been meaning to try for some time: Fortissima's Cotton Colori sock yarn. My allergy to wool is well-documented and while I don't mind wearing sock liners when I want to show off my hand-knits during the winter, it's just not going to happen in the spring. This stuff is unbelievably soft, and on the needles it feels like... well, like it has wool in it. I got the Autumn colorway, which is best displayed in Sarah's post here -- she used it for her Sockapalooza socks!
So thanks, Mom. For the knitting skills, the wedding planning, and the piles and piles of chocolate cake you "forced" on us this weekend. You're the best!
Posted by shannon at 11:59 AM | Comments (1) | For related posts: For Mom, Socks
May 3, 2005
Baby Socks for Mom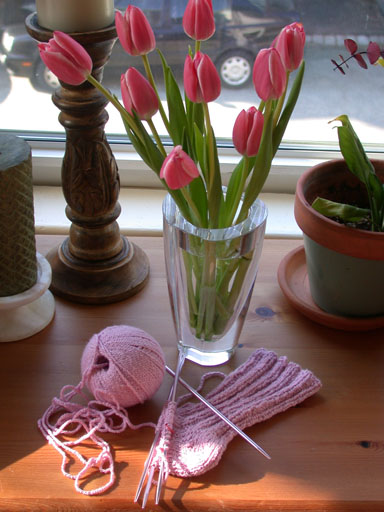 Pink socks, to match Cherry Mango!
I'm knitting madly on the Mothers' Day socks, hoping that I'll be able to give them to my mom this weekend when we see her. The yarn is Sock It To Me! from Elann, and the color is Orchid Pink. The pattern is... well, the pattern is a hybrid.
I started out following my favorite, old stand-by pattern and knit happily along in a 2x2 rib until I felt like the leg was long enough. Just as I was about to start the heel flap, I happened to be browsing the on-line table of contents for the summer issue of Interweave Knits. More specifically, I was looking at the Better Than Booties Baby Socks (PDF!) pattern, which is posted in its entirety.
The introduction to the baby sock pattern mentions that the socks "feature Priscilla Gibson-Robertsís short-row heel and toe". I skimmed a bit further down, and saw that all of the sock variations started by casting on forty-four stitches, a number very close to the sock I had in my hands at that exact moment. Since I've long wanted to try short-row heels I threw caution to the wind, added four stitches evenly around the sock on the last round of ribbing, and dove into the heel using the instructions in the baby sock pattern. And it worked like a charm! I can't wait to try the short-row toe.
I know things have been fairly sparse around here, we've been flitting around the East Coast again. Last weekend we were in New York, where Jason's parents threw us a lovely engagement party. (One of the gifts was the vase you see above -- isn't it pretty?) Being in New York also means that we saw nieces and nephews, and that means that you can expect baby knitting pictures up next!
Posted by shannon at 1:21 PM | Comments (1) | For related posts: For Mom, Socks
April 18, 2005
Hello, Good-bye
Even though I fear that saying so will instantly bring on a freak April blizzard, I can no longer restrain myself: spring has arrived in Boston. Mercifully, gloriously, FINALLY -- we have survived another winter!
Past springs have seen increased activity here at Casa Gringa, and I'm hoping that I can get back in the swing of things this year as well. Let me start by introducing you to two projects I've been working on without bothering to blog about.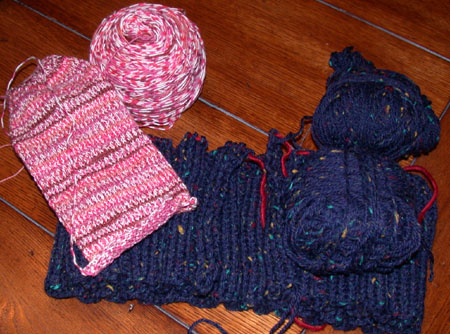 Pinky Socks: When I finally decided that I can want to make the socks after all, I immediately became enamored of self-patterning socks. After I finished these little numbers, I started surfing around for new options. I stumbled upon Sweet Georgia's gorgeous pink, red, and orange-y socks and had to have them, stat. It took some sleuthing, but I finally found the yarn: it's Regia Jubilee 4-ply and the colorway is India. (It's hard to find -- the place I bought it no longer carries the colorway!) And Georgia wasn't kidding about being able to make at least three socks from a skein; I'm planning to make a matching pair for a baby or toddler with my extra.
Jason's Zip-Up Raglan: During the Wild & Woolly sale in January, I picked up a big bag of Smart Superwash in Navy Tweed. I didn't have a particular pattern in mind, but I did know that it would be a sweater and that it would be for Jason. It turns out that if you knit two strands of Smart together on US10s, you get the exact gauge called for in Men's Zip-Up Raglan in Last Minute Knitted Gifts. Zip-up sweaters are Jason's favorite kind, so it was a perfect match.
So now that I've introduced you to those two lovely projects, I'm taking them away. Yep, just like that. These woolly, heavy, cold-weather projects are going on the back burner while I enjoy spring and summer. Bring on the cotton!
Posted by shannon at 1:46 PM | Comments (1) | For related posts: For Jason, For Me!, Socks, Zippy
March 8, 2005
Sock Show-Offs
In the comments of this entry, both Johanna and Sandy said that they were going to order some Land's End clogs of their own, for orthopedic and sock-displaying purposes, I presume.
As we were leaving Knitsmiths two weeks ago (I know, I know -- bad blogger!), Johanna and I realized that we were both showing off our socks in our new kicks. Alison did us the favor of snapping a picture.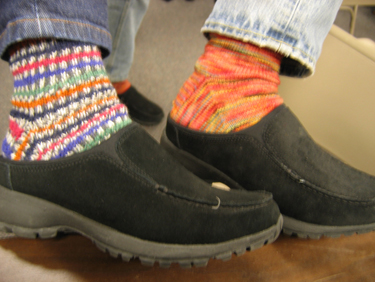 "Sock twin powers, activate!"
P.S. - Hope to see you back at Knitsmiths soon, Johanna!
Posted by shannon at 8:16 PM | Comments (1) | For related posts: For Me!, Socks
March 2, 2005
Y lo que es bueno es doblemente bueno...*
I know, it's been over two weeks since Valentine's Day and here I am posting about it. But after two crazy weeks at work, I've finally found a moment to show you this: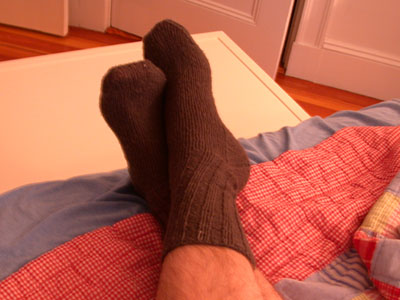 Jason enjoying his Valentine socks
Now do you understand why I couldn't tell you who the Morehouse Merino socks were for?
The socks aren't really meant for wearing outside the house, the merino is so soft and lightly plied that without reinforcement those heels wouldn't survive a day in shoes! But he wears them to bed every night, and seems to genuinely love them. Good thing, since now that he's making an honest woman out of me, the curse has expired and I'm free to knit for him at will. Yee-haw!

*From Pablo Neruda's Oda a los calcetines ("Ode to My Socks"), the last bit of which reads:

Y es esta la moral de mi Oda:
Dos veces es belleza la belleza,
y lo que es bueno es doblemente bueno,
cuando se trata de dos calcetines
de lana en el invierno.

So this is the moral of my tribute:
Beauty is beauty twice over,
and good things are doubly good,
when you're talking about a pair
of wool socks in winter.
Posted by shannon at 3:00 PM | Comments (3) | For related posts: For Jason, Socks
February 8, 2005
Famous Last Words
God help me, I made myself a pair of socks. And I'm considering another pair. What's happening to me?!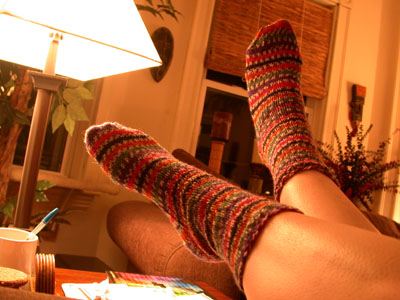 The colors of the sock are truer when I use the flash, but unfortunately so is the
blindingly white color of my my skin. So you only get this little peek.
These socks make me happy for a reason unrelated to knitting. You see, I have the feet of an eighty-year-old woman. As my feet have gotten worse over the last few years, I've embarked on a seemingly endless quest for the Perfect Shoes. Such shoes would (1) not do any additional damage to my bone structure, (2) allow me to wear my special, made-just-for-me inserts, and (3) not be hideously ugly. Of those requirements, the third is by far the most difficult to meet. Anyway, after having had some success with Land's End shoes, I just invested in a pair of Land's End Hand-sewn Clogs (on sale!), my first ever foray into the world of clog-like shoes. I cannot deny that they are comfortable and good for my feet, but I've never been a huge fan of the way clogs look so it's a bit of an adjustment. Wearing crazy-colored, hand knit socks that peek out the back of my shoes, however, is helping!
Posted by shannon at 11:12 AM | Comments (6) | For related posts: For Me!, Socks
January 28, 2005
Socks? What Socks?
My general perspective on socks is the same as Alison's: I can't want to make the socks.
I had tried numerous times to overcome this prejudice, but all previous attempts left me with nothing more than half a sock. I'd grow tired of the fiddliness, get bored with the slow progress and cast it aside in favor of something, well, less annoying.
How, then, did this happen?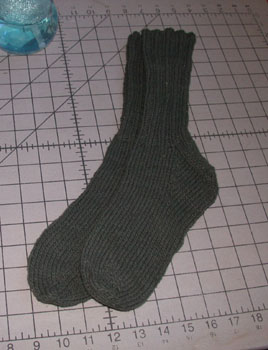 Who are they for? I'll never tell.
I don't know if it was the pattern (Ann Norling's Adult Basic Sock), the yarn (Morehouse Merino 3-strand), or the needle size (6) but I managed to get through two whole socks this time. And it wasn't that bad!
Don't get me wrong, I'm not saying that all of a sudden I can want to make the socks. But after this turn of events, who knows?
Posted by shannon at 8:03 AM | Comments (5) | For related posts: For Jason, Socks