« Knitsmiths PSA | Main | »
March 8, 2005
Sock Show-Offs
In the comments of this entry, both Johanna and Sandy said that they were going to order some Land's End clogs of their own, for orthopedic and sock-displaying purposes, I presume.
As we were leaving Knitsmiths two weeks ago (I know, I know -- bad blogger!), Johanna and I realized that we were both showing off our socks in our new kicks. Alison did us the favor of snapping a picture.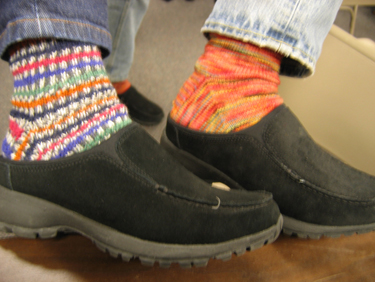 "Sock twin powers, activate!"
P.S. - Hope to see you back at Knitsmiths soon, Johanna!
Posted by shannon at March 8, 2005 8:16 PM | For related posts: For Me!, Socks
Comments
Awe, don't we have cute feet! Okay, so we have great socks that cover our feet. (How can anyone really think that feet are cute?)
I was planning on going to Knitsmiths this week (I try to never miss more than two in a row), but alas... Cinemasmith is killing those plans. Le sigh! See you soon though!
Posted by: Johanna at March 9, 2005 8:25 AM