« | Main | E is for Elephant »
May 3, 2005
Baby Socks for Mom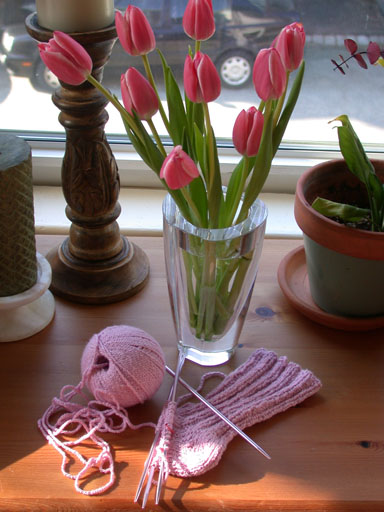 Pink socks, to match Cherry Mango!
I'm knitting madly on the Mothers' Day socks, hoping that I'll be able to give them to my mom this weekend when we see her. The yarn is Sock It To Me! from Elann, and the color is Orchid Pink. The pattern is... well, the pattern is a hybrid.
I started out following my favorite, old stand-by pattern and knit happily along in a 2x2 rib until I felt like the leg was long enough. Just as I was about to start the heel flap, I happened to be browsing the on-line table of contents for the summer issue of Interweave Knits. More specifically, I was looking at the Better Than Booties Baby Socks (PDF!) pattern, which is posted in its entirety.
The introduction to the baby sock pattern mentions that the socks "feature Priscilla Gibson-Roberts's short-row heel and toe". I skimmed a bit further down, and saw that all of the sock variations started by casting on forty-four stitches, a number very close to the sock I had in my hands at that exact moment. Since I've long wanted to try short-row heels I threw caution to the wind, added four stitches evenly around the sock on the last round of ribbing, and dove into the heel using the instructions in the baby sock pattern. And it worked like a charm! I can't wait to try the short-row toe.
I know things have been fairly sparse around here, we've been flitting around the East Coast again. Last weekend we were in New York, where Jason's parents threw us a lovely engagement party. (One of the gifts was the vase you see above -- isn't it pretty?) Being in New York also means that we saw nieces and nephews, and that means that you can expect baby knitting pictures up next!
Posted by shannon at May 3, 2005 1:21 PM | For related posts: For Mom, Socks
Comments
So how do you like the Sock it to Me yarn? That's the elastic/cotton one, right? Ain't the short row heels the best?!
Posted by: alison at May 14, 2005 6:49 PM