« | Main | The Wisdom of Mothers »
July 14, 2005
Drastic Measures
We were in New York (yes, again) for Jason's sister's birthday last weekend, and had a fabulous time. Her husband John had arranged a sunset boatride around Manhattan, which gave us a great opportunity to play with our new camera.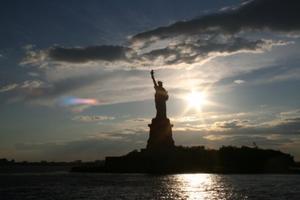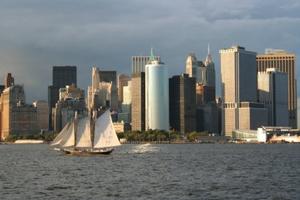 It also gave me an opportunity to give Rachel her birthday present, which was supposed to have been a completed long-sleeved tee-shirt with the graphic she picked out. Well, at least she got the graphic.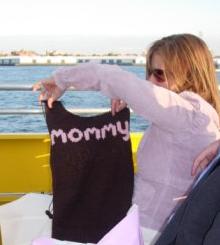 I'd say my knitting speed is about average in general, but my intarsia speed is positively glacial. Note to self: if you are doing an intarsia pattern, you will have to do it at least twice. And that's just for general "this looks awful!" do-overs, and does not incldue the times you'll have to rip back or start over because of counting errors.
The night before Rachel's birthday celebration, I was up late finishing up the lettering so that I could give her the front piece at dinner as an indicator of progress. It looked great except for a little stitch looseness around the "o", so I started tugging on the surrounding stitches to tighten it up a bit. Next thing I knew, it looked like crap. (Second note to self: don't do intarsia after midnight.)
I managed to clean it up a bit in time to give it to her the next day, but it still wasn't quite right. Jason assured me that he couldn't even see what I was talking about but it still bugged me. I kept knitting and tried to ignore it, but it was no use. Every time I thought of this otherwise delightful project, all I saw in my mind's eye was the puckered section I'd created next to the "o".
Last night I decided it was time to deal with the problem. Despite the fact that intarsia is slow as Christmas and nobody else seems to see the mistake at all, I ripped back and started the lettering again. I don't want to regret not doing everything I could to get this just right -- Rachel, gift-giver and party-thrower extraordinaire, deserves nothing less.

P.S. -- Happy birthday, boys!
Posted by shannon at July 14, 2005 11:15 AM | For related posts: For Rachel, Long-Sleeved Chocolate Tee