« Drastic Measures | Main | Two by Two »
July 18, 2005
The Wisdom of Mothers
When Jason was a kid living in Texas, his mother once brought him with her as she scoured local antique sales looking for furniture. While the very idea of such an outing would strike fear in the heart of an average kid, young Jason had a blast exploring these places and things of old. He and his mother decided that Jason would tell his brother and sister that antiquing with mom was a dreadfully boring excercise to be avoided at all costs. That way, it could always be the Special Thing They Did Together (STTDT), just the two of them. (The STTDT approach was one that his mom used with all three kids, and I think it's sheer genius.)
Jason developed quite an eye for antiques during these trips with his mother, and helped her pick out a number of pieces that they still have today. One of them was this cabinet, which he originally picked out for his own room. Later, it became an end table in his parents' family room. When they recently embarked on some renovations and found that the cabinet needed a new home, his mom and dad gave us first dibs.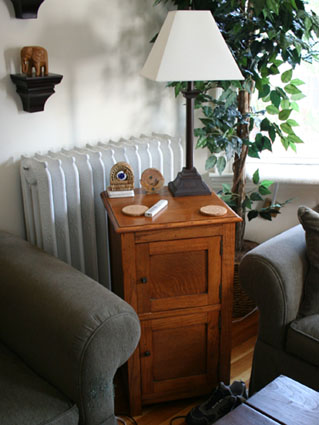 Generally speaking, we need more furniture like we need holes in our heads. But I had a plan for this cabinet. Since we moved here, I've used a large basket in the living room to store my "current" stash. I did this in blatant violation of two of my mother's rules of organization:

Items to be used for storage should not be open. Whether it's a door or a lid, always make sure that you can hide your inevitable disorganization inside from the world outside.


Beware the law of gas. This law states that gas will expand evenly to fill any space. Getting a bigger closet, for example, will lead to acquiring more clothes to fill it up. I don't think I need to explain how this relates to yarn, hmmm?
In other words, my basket was unsightly and too big for my needs. Out it goes! The cabinet is perfectly suited to hold between four and six projects worth of yarn, as well as my needles, notions and a few books. The metal baskets are my addition, they make it easier to see what's in the cabinet and save me from having to pull everything out to find something buried in the back.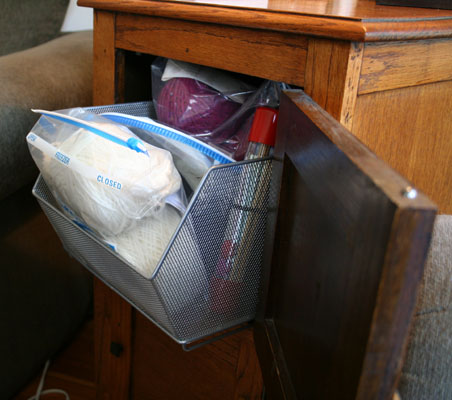 What's the white yarn, you ask? What am I working on now? Patience, my pretties, patience.
Posted by shannon at July 18, 2005 11:38 PM | For related posts: La Gringa Habla
Comments
Looks like a great idea for storage. So what's the white yarn . . .?
Posted by: Wanda at July 31, 2005 1:50 PM