« Catching My Breath | Main | Knitting in Paradise »
October 28, 2005
Flower Girls
For the last few months, I've had "A bouquet of flowers for some special people" in the Projects in Progress list on the right hand side of this page. The vagueness was intentional, I was knitting the flower washcloths for my bridesmaids -- some of whom read this site on occasion!
Instead of getting the girls one big gift, I spent the last year or so picking up little things here and there for each of them. They did so much for me that I loved doing something little for them, and it turned out to be a tried-and-true stress reliever. (Everybody wins!) An on-call notebook for Lauren, a votive candleholder that Jillay had been coveting, a new pop-up brush for Ñaña, and so on. To each girl's washcloth I also added a matching scented soap. I remember laying them all out in my parents' basement the night before I gave them away, and loving the way the colors looked. Yet, despite the fact that I had been reminding myself to do it for about three months before the wedding, I forgot to take a picture of them. Oh, the humanity.
So you'll just have to take my word for it: they were very pretty all laid out and ready to be given away. And since I can't show you the girls' flowers, I'll show you the flower girl (wearing her capelet!) instead: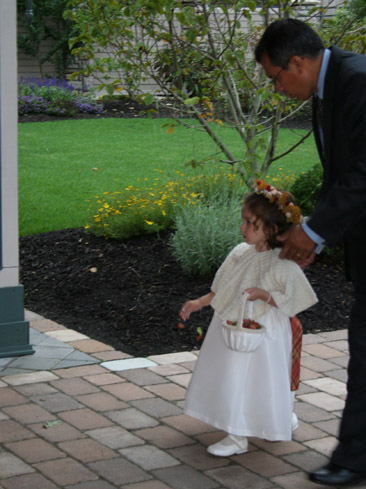 Juli was escorted to the beginning of the aisle by her daddy*.
You've never seen a flower girl carry out her duties with such dramatic
flourish and showmanship as did ours. Brava!
*Juli's Daddy is Tony, the recipient of the paisano gloves. As predicted, he was a hero the whole weekend!
Posted by shannon at October 28, 2005 4:53 PM | For related posts: For Juli, Nuptial Knitting
Comments
Adorable flowergirl! What a lovely capelet, too. I'm sure it was an amazing day.
Posted by: Julia at October 28, 2005 5:32 PM
What a beauty and the capelet was lovely as well. :-)
Posted by: Wanda at October 29, 2005 3:07 PM
What an adorable picture! She looked so sweet in that capelet and sash. Say "Juwi!" :D
Posted by: alison at October 31, 2005 11:18 PM