« Radio Silence | Main | »
December 13, 2005
Sanity Socks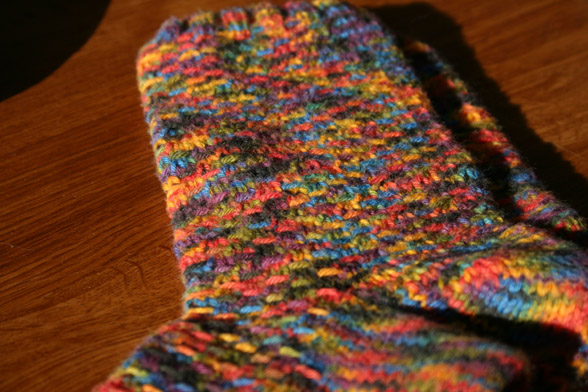 Help, I'm stranded!
With Christmas breathing down my neck quickly approaching, and more family members than ever visiting La Gringa Tejedora, I'm forced to be be more tight-lipped than normal this year about what the elves are working on around here. But that's just as well, since I have some catching up to do!
I bought some Fortissima Cotton Colori back in May and searched off and on for a pattern for it all summer. I finally settled on Crusoe from Knitty, though you'll see that I opted to forgo the roll cuff in favor of some simple 2x2 ribbing. (full-sock picture) For once, I managed to find a pattern and a yarn that worked well together -- the stranding technique really shows off the bright colorway that drew me to the yarn in the first place.
Better yet, the pattern is deceptively simple -- so simple, in fact, that it was these socks I picked up frequently in the 48 hours before the wedding when my whirling brain needed to focus itself on something more soothing than trying to will the rain to stop! falling! already! I'm also happy to report that the Cotton Colori not only survived machine washing and drying, but came out of it even softer than before.
I hereby declare these socks a success!
Posted by shannon at December 13, 2005 11:42 AM | For related posts: For Me!, Socks
Comments
Loverly socks. I really like the Crusoe pattern and the yarn works really well with this pattern. Whomever is the recipient will love these socks I'm sure.
Posted by: Wanda at December 13, 2005 4:16 PM