« Christmas 2005: Last Things First, Vol. IV | Main | Con Mis Propias Manos* »
January 5, 2006
Christmas 2005: My One and Only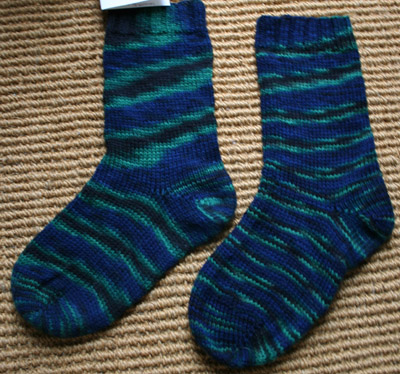 Isn't the variation between hanks amazing?
These socks were the one and only handknit gift I gave on Christmas Day. They're for Jason, made in Lorna's Laces Shepherd Sport in the Black Watch colorway. Black Watch plaid* has a special place in our family's Christmas tradition. Many years ago, my mother gave the family Black Watch plaid flannel pajamas as Christmas Eve gifts -- naturally, we all wore them that very night. Ever since, everybody wears their Black Watch flannel pjs for Christmas morning.
Jason and I were already engaged last Christmas, so my mother bestowed upon him his very own pair of Black Watch flannel pajama bottoms. Since this was his first Christmas as an official member of the family, I wanted to add something else. I managed to knit these socks without him knowing (thanks to the Knitsmiths, my office's cafeteria, and an unusually long hair appointment the day before we left town for Christmas!), so he was really surprised.
Unfortunately, they turned out a bit big so they are currently being reworked. No matter. I've got a year before it's Black Watch time again!
*Here I shall digress. My family is Scottish and I spent a semester there in college, so I've accumulated some general knowledge about tartans and clans and the like. While I was knitting these socks at Knitsmiths, lots of people were curious about the term Black Watch and the more I explained the more questions they asked. So here's my general primer on the Black Watch and its plaid (tartan).

The traditional blue, green and black tartan of the Black Watch.

The last great Scottish revolt against England was in 1745. After the Scots were defeated, the English took steps to pacify the wild Scottish Highlands, where both tartans and rebellion were most prevelant. Highlanders were forbidden to bear arms or to wear tartans or kilts, though Scottish military units loyal to the crown were exempt from these laws. The Black Watch was just such a force; made up of local clansmen to police the Highlands on behalf of the British. A popular theory claims that the regimental name comes from the darkness of its tartan, but nobody's really sure.

It wasn't a good time to be a Scottish Highlander -- "pacification" efforts by the British were brutal and many were pushed off their land. It's a bit ironic that Black Watch plaid is so popular among Americans (LL Bean, Lands End), some of whom are Americans only because their Scottish ancestors fled the brutal repression and starvation of the post-1745 Highlands for the New World. (Not to mention that the Black Watch fought on the "wrong" side in the American Revolution!) In any event, I'd bet it's the easiest tartan to find these days -- certainly easier to find than my own family tartan (seen here as a part of our wedding decorations). And today's Black Watch, now formally known as the 3rd Battalion of The Royal Regiment of Scotland, is very different from its 18th century ancestor. It has distinguished itself fighting in both World Wars and keeping the peace in places like the Balkans. From what I can tell, they are currently either back in the UK or doing a six-month tour with the UN peacekeepers in Cyprus after two tours in Iraq. And that's the current state of my knowledge on the Black Watch!
Posted by shannon at January 5, 2006 1:33 PM | For related posts: Christmas Knitting 2005, For Jason, Socks
Comments
It's also a popular tartan for school uniforms, most notably because it really is a free tartan, not belonging to a specific clan or organization. My school (St. John's-Ravenscourt) used black watch as it's tartan in the kilts.
Posted by: Karlie at January 12, 2006 1:33 AM