« I'm Wondering.... | Main | Wait, Don't Answer That »
February 2, 2006
Holding My Breath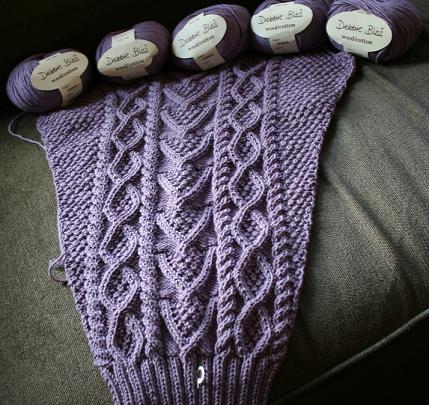 Early morning. Excellent light + groggy photographer = well-lit, cockeyed pictures
So, here's the score on Pam. The back and one sleeve (above) are completely knit, as well as about half of one front. That has used up 6.25 balls of yarn. It's definitely time to start looking for a back-up plan, that's way too close for comfort. Ack, the anxiety!
I'm also holding my breath for...

... my new laptop! It should be delivered to my apartment at any minute, but I won't be able to get my hands on it until this evening. I can't wait!
Posted by shannon at February 2, 2006 12:46 PM | For related posts: Pam
Comments
That's one beautiful sleeve! I hope you manage to find more yarn in your dye lot; it'd be a shame for all that hard work to be stymied.
Posted by: Mintyfresh at February 2, 2006 1:14 PM
I have 6 balls of what I think is the same yarn in the same color -- if it's the same dyelot (or if you don't care about dyelot), I'd be happy to send it to you. Just let me know.
Posted by: J Strizzy at February 2, 2006 4:16 PM
Shannon, how beautiful! I love the color and the pattern, can't wait to see the rest - hope the yarn works out for you - although it seems J Strizzy may just be your savior above here...
Posted by: thea at February 5, 2006 4:24 PM