« Mixed Feelings | Main | »
February 14, 2007
Second Time Around
When there's a new niece or nephew on the way, I try to knit one sweater for them before they are born. When I asked Jason's sister what sweater she wanted for not-yet-born Cal, she asked for the the same star sweater that I made for Robbie before he was born. She even wanted the same colors!
In an effort to add something new into the knitting of this sweater, I knit it with Dale of Norway Stork instead of the Rowan 4-ply cotton called for in the pattern. The yarn was a delight to knit with - stitches came out even and it's so soft.
I finished it and gave it to Cal at Christmas, and waited for the knitting boomerang. This week, it arrived!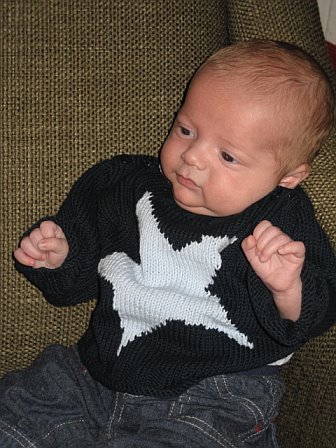 Baby Callum, fat and happy in his Tia sweater.
Speaking of Robbie, we're off to see him in New York this weekend. Hmm, I wonder if I can get some yarn shopping in while we're there...
Posted by shannon at February 14, 2007 4:20 PM | For related posts: For Callum
Comments
Oooh, he looks like he's doing great. Filling out that sweater nicely! Way to go Tia!
Posted by: Johanna at February 16, 2007 6:17 PM
Are you going to knit blocks for Callum, too? Ouch.
Thanks so much, by the way, for knitting the Child's Placket Neck Sweater, and making us all aware of the errata. I knit it for my first niece, and it went without a hitch. Just posted it this week.
Posted by: Mandy at February 16, 2007 10:08 PM
I love the term! I think I'll adopt it. I'm still waiting for a boomerang, but I recently posted a few to my blog.
Posted by: Kim at February 19, 2007 7:27 PM
so cute! That photo almost looks like he was about to do a little dance before the camera snapped him.
Posted by: Juls at March 6, 2007 5:16 PM