« August 2007 | Main | November 2007 »
October 25, 2007
And the yarn color is...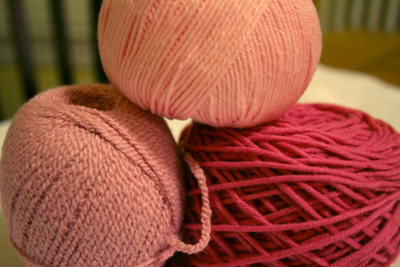 PINK!
Cheezit's a she! Let the knitting commence...
Posted by shannon at 9:49 PM | Comments (19) | For related posts: Cheezit
October 17, 2007
Kneesocks, version 2.0!
Posted by shannon at 12:16 PM | Comments (0) | For related posts: Projects To Come
October 14, 2007
A Long Time Coming
Those of you who have been reading this blog for a while know about my dear, long-time friend Jillay. When Jillay got engaged last year, I told her that I would make her a shawl for her early fall wedding -- you might remember that I inquired about beads for the shawl in this post. She and I picked out the yarn together and I chose the pattern -- Eunny Jang's Print O' The Wave Stole (opens a PDF!).
I added pearl beads to the pattern repeat and got to knitting back in March. And knitting, and knitting. As is my usual, I finished up at the last minute, in this case the day before the wedding. It ended up blocking in the hotel room during the rehearsal dinner... check out Jason helping pin it out!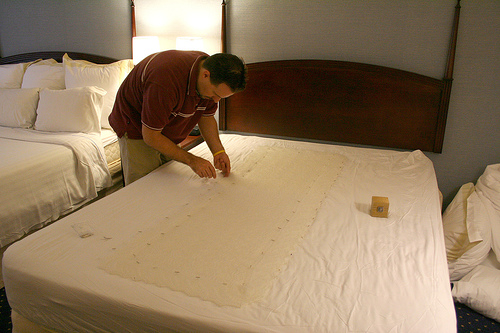 He's a quick study!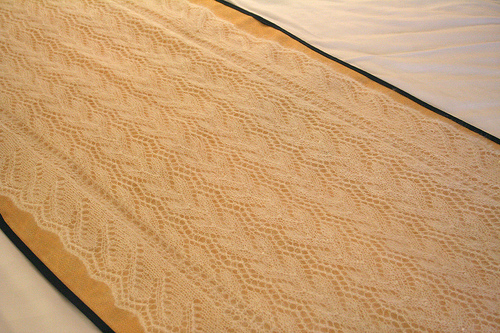 Blocked and un-pinned.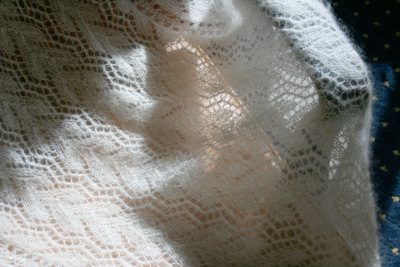 Of course, it was 85 degrees on her wedding day... so a portable air conditioning unit would have been more useful to her than a wool/silk blend shawl. But Jillay is a good friend and a good sport, so she graciously posed for some pictures on her big day.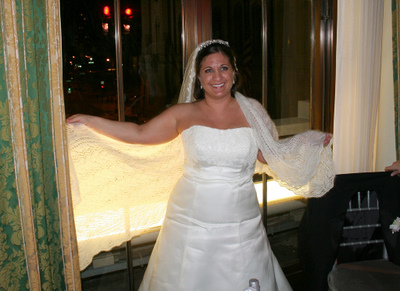 With the beautiful bride.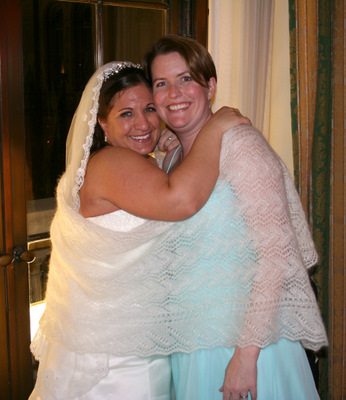 I have been knitting this shawl exclusively since August, and since Jillay has been known to check on this here weblog I haven't been blogging about it. But I've also been working on another super-secret, off-blog project that's been absorbing a lot of my attention.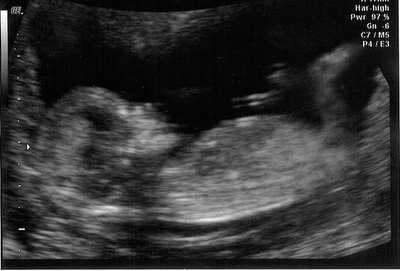 Project Cheezit: still in progress
This project -- known around here as Cheezit -- should be "done" around March 19, 2008, putting me in the very good company of fellow knit-bloggers Cara and Sarah. We'll find out if it's a Miss Cheezit or a Mr. Cheezit on October 25... feel free to put your guesses in the comments!
Posted by shannon at 9:49 PM | Comments (23) | For related posts: Cheezit, Jillay's Wedding Shawl
October 7, 2007
Jillay's wedding shawl (Print O' The Wave)
Posted by shannon at 12:06 PM | Comments (0) | For related posts: Finished Projects