« August 2008 | Main | September 2009 »
November 19, 2008
Posted by shannon at 10:36 AM | Comments (0) | For related posts: Finished Projects
Hey, I Knit Something!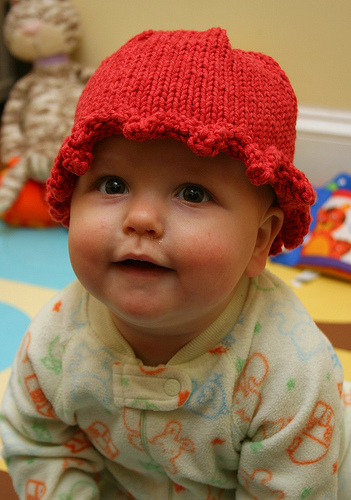 Nobody's more surprised than me, but I started and finished an entire knit object last week. The arrival of cold weather meant Annabelle was wearing the knit hats friends had knit for her quite a bit, and I was fielding a lot of "did you knit that?" questions. I just couldn't stand saying "nope!" all the time, so I went looking for a cute hat pattern. I settled on the Lilly Hat (Ravelry link) and used leftovers from my Very Necessary Sweater.
I made it a bit longer than the pattern calls for so it would cover her ears a bit. I actually think I went a bit overboard on the length, but I'm trying not to over-focus on the imperfections. The pleasure I get from answering the "did you knit that?" in the affirmative makes it much easier -- as does the extremely high cute quotient of the model!
Posted by shannon at 10:20 AM | Comments (4) | For related posts: Baby Hats, Cheezit
November 2, 2008
Too Full for a Title
Y'all, my life is full. Full full full. Annabelle is growing like a weed, and a delight most of the time. And I got a new job (which, to those who know me, should read: I GOT A NEW JOB!), so days have a new routine as we figure out daycare pick-up and drop off.
I am, however, knitting a bit. And I finally, finally finished Annabelle's blanket. When I got back to knitting it, I reviewed the rest of the pattern. After finishing the squares, all I really had left was to knit and attach the border, and then embroider the circles. I stalled for a day or two, and then came to a realization: if I wanted to call this blanket done before the cool weather arrived, I was going to have to ignore the pattern. Instead of knitting the border separately and sewing it on, I knit it directly onto the blanket. And this blanket will not have any circles. It's done.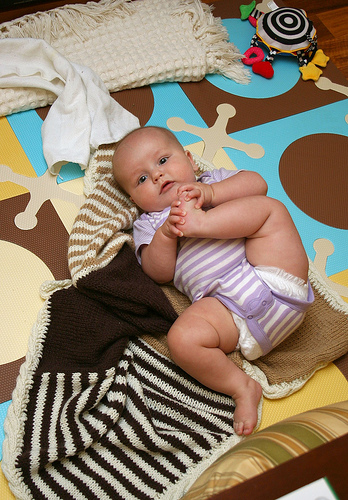 It's not perfect. The attachment of the border is a bit rough, and I'm sure it would look really cute with the circles sewn on. But time passes too fast and my days are already plenty full -- and I'd rather Annabelle had an imperfect blanket to love than no blanket at all.
The only other knitting I've done since then has been a scarf for me, the repair of a hole in a friend's favorite sweater, and several inches on a sock for Jason. There's so much more I want to do, but... did I mention my life is full? Here's two shots from this weekend alone!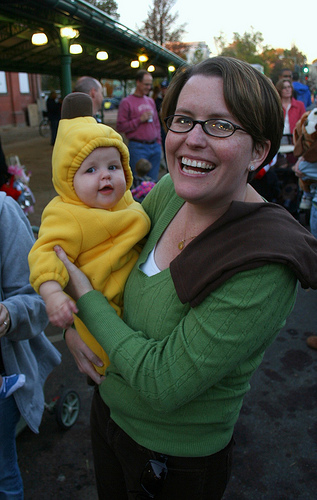 Anna the Banana on Halloween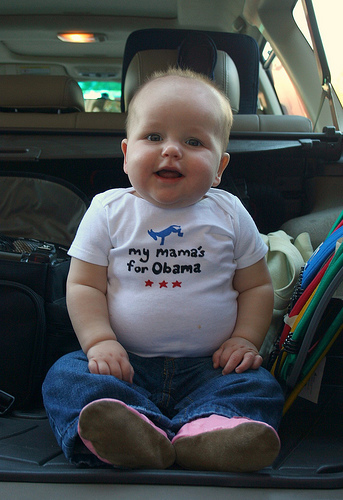 Knocking on doors in Virginia for Obama
I hope your lives are full, too!
Posted by shannon at 8:58 PM | Comments (8) | For related posts: Annabelle's Striped Blanket, Cheezit
Posted by shannon at 10:42 AM | Comments (0) | For related posts: Finished Projects