July 28, 2004
I'm Relaxed Just Looking at Her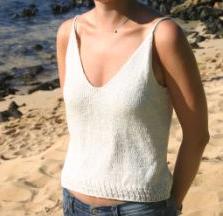 Jason's brother and (brand new!) sister-in-law had been back from their Hawaiian honeymoon no more than three days when an e-mail full of pictures landed in my inbox last night. Both are avid photographers, and the e-mail said that they are still sorting through their hundreds of pictures in an attempt to make a "best of" album to share with us on Ofoto. But Lauren -- knowing that I'm a spaz and dying to see them -- was kind enough to pull out a few pictures of her in the Honeymoon Cami I made her and send them to me!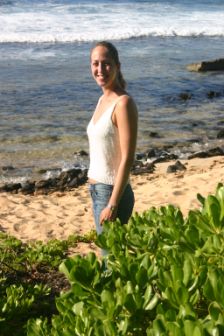 Doesn't she look incredibly relaxed?! I can't wait to see the rest of their pictures. If they are anything like these, I think I'm going to wallpaper my office with them in an effort to reach some kind of Zen-like state of relaxation while at my desk.
More views: View of the back, Scenic view
Posted by shannon at 11:52 AM | Comments (2) | For related posts: Honeymoon Cami
June 29, 2004
Goin' to the Chapel...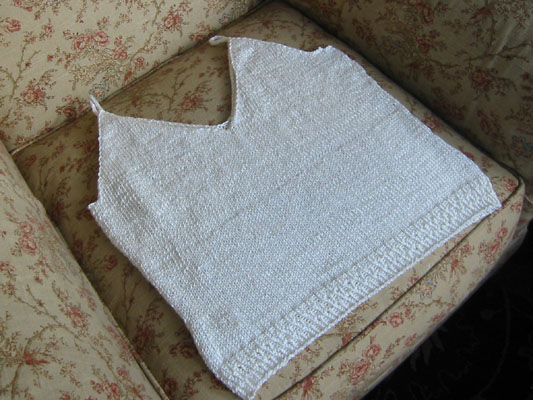 Jason's brother's fiancee was unfortunately not around during the Christmas in which I knit something for every member of the family, so I decided to knit her something for their honeymoon next month. When the Spring issue of Knitty included a tank called the Honeymoon Cami I took it to be a sign... and away I went!
Not so fast. First, gauge problems. So I re-wrote the pattern. Then, math problems. Followed by curly yarn problems, confusion on the pattern problems, sizing problems and an encore performance of gauge problems. I'm really not going to bore you with the details.
It's in (or on the way to) the bride-to-be's hands as I write, and my fingers are crossed that it fits. If not, well, there's still 12 days before she goes to the chapel... I can try something else!
Posted by shannon at 5:31 PM | Comments (3) | For related posts: Honeymoon Cami