October 21, 2004
Poncho Pressies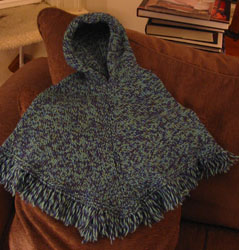 After struggling the spacing on the fringe (fringes?), I finally finished Juli's poncho and it was Tennessee-bound. But wait, what's this? Two ponchos?
Oh yes, that's right. I "forgot" to write about the poncho that I was making for T., Juli's mom. It's essentially carbon-copy of my Francisca poncho, only in blue instead of terra cotta. And since T. is an occasional reader of gringa.org, it's progress could obviously not be documented here.
Both of the ponchos were well-received, I hear, and arrived in time for the slight cooling-off period known as "Autumn" in Tennessee. In addition to being mother and teacher extraordinaire, T. is also the family photographer -- so no pictures of her in her poncho... yet. (*hint, hint*)
Did I mention that Juli's going to be our flower girl? When I told my mom, she wondered aloud whether Juli, because of her young age (she'll be three), might be a bit intimidated by walking down the aisle with everybody looking at her. I have no such worries, I told her, this child was born for the stage. Behold, Juli strikes a pose for her adoring public.

Posted by shannon at 1:48 PM | Comments (1) | For related posts: Juli's Poncho
September 10, 2004
It's Dizzy-ing!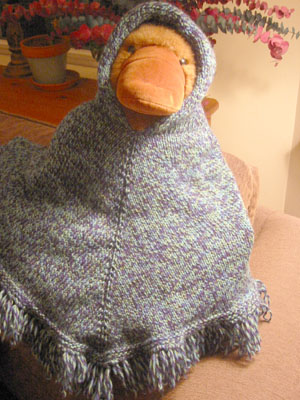 The model? It's Dizzy, the duck-billed platapus!*
Though a mention was buried in the Big News entry, I haven't really posted about the toddler poncho that I'm making for Juli. (Juli is my best friend's two-year-old daughter. She has also been referred to as the Cutest Baby Ever, CBE, and Bulis.)
As you can see, the poncho is all-but-done. I need to finish the I-cord drawstring and sew it into the hood, steam press and trim the fringe, and weave in the ends. In in no rush though, since Juli lives in Nashville and won't likely need a wool poncho for another month or two.
The pattern is Knitting Pure & Simple Child's Poncho and the yarn is Cascade 220 (color #9432). It's my first experience with Cascade 220, which I really like, and the pattern is straight-forward. So far, a winner all around!
*He was given to Jason on the day that Dizzy Gillespie died, and being the jazz devotee that he is, Jason passed the name on to his new stuffed friend as a tribute.
Posted by shannon at 4:46 PM | Comments (5) | For related posts: Juli's Poncho