July 11, 2005
No-Go Lola
Is the suspense of Lola's fate killing you? No? Too bad, you get an update anyway!
Here's a hint. This was Lola as of last night: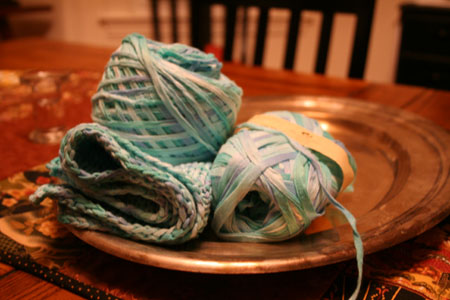 Already ripped
The verdict: too big. It fit OK around the waist, but gapped alarmingly in the bust. I'm not sure when I'll get back to re-knitting this; I'm suddenly faced with a deluge a deadline knitting and it's going to take some re-working* to get Lola right. Since it's a small project, perhaps I'll put it in the "honeymoon knitting" pile!
*When I come back to this, though, I'll be re-reading Claudia's notes on how she finally got this tank right!
Posted by shannon at 8:25 AM | For related posts: Lola
July 9, 2005
Lolita
As I was knitting on Lola a few weeks back, Alison told me a cautionary tale. "Knit it small, 'cause this thing grows like a weed when you wash it." I got out my measuring tape and soon realized that if her experience was any indicator, I was in trouble.
I ripped what I had, and cast on for the smallest size. This made an already fast knit even faster, and soon both pieces were finished!
Hmmmm. Looks awfully small!
Grow, Lola, grow!
Block, Lola, block!
So, do you think she fit? Did I manage to accurately calculate how much it would grow in water? Stay tuned for the final twist!
Posted by shannon at 10:20 AM | For related posts: Lola
April 20, 2005
Grump-elstiltskin
Top Five Reasons I Will Soon Be Emerging from My Brief Fit of Grumpiness*
Reason 1: By sheer luck, I happened to be the first person to comment on Amy's offer to sell the yarn and pattern for the Copacabana tank. It arrived Monday - what says spring more than this?



Thank you, Amy!
Originally uploaded by ShannonC.


Reason 2: It's not pretty, I know. But of the four attempts to do intarsia on this T-shirt, this was far and away the best I could do. Yes I know it's puckering some, but I'm hoping for a minor blocking miracle. I'm now frantically knitting the sleeves. Why frantic? Because I'm perilously close to running out of yarn. *gulp*


Originally uploaded by ShannonC.

Reason 3: Noting improves your mood like a good yarn-buying experience -- which I recently had with Yarnware. I've used them before -- their prices are good and their service prompt. Last week I decided to buy T. (best buddy and fledgling knitter) this afghan kit for her birthday. She's expecting a baby in September, and I thought it would be a great opportunity to graduate her from knitting dishcloths and scarves. Yarnware doesn't have a gift option, which is fine since it probably keeps overhead down. As I was checking out via PayPal, I added a comment at the last minute that it would be great if they would remove the invoice from T's package, and just send it to me instead. Not only did her package arrive on her birthday (I had told her it would be a few days late), but I got the invoice in the mail yesterday. So thanks, Yarnware!
Reason 4: Despite the fact that booking our honeymoon flights was a less-than-ideal experience from a website user perspective, the fact remains: we booked our honeymoon flights. (If you read Jason's post about the Air France site, I should add that this is not the first time I've had trouble with my passport number. My passport was stolen in Ecuador, and I had it replaced at the US Embassy in Quito. Despite the fact that this happened in 1999, the replacement was circa 1970s -- complete with a passport number that doesn't seem to match current-passport number format. The picture is bad, too.)
Reason 5: I mentioned a few days ago that I've been familiarizing myself with Flickr and its various bells and whistles. So you can imagine my excitment when Anil generously gifted me with a one-year FlickrPro account. No limits on storage, bandwidth or photosets -- yeehaw! Thanks, Anil.
*Onset of spring allergies = grumpiness, accompanied by attempts to enucleate myself because my eyes itch so badly!

Posted by shannon at 11:56 AM | Comments (3) | For related posts: Fixin' Vixen in a T-Shirt, Lola