November 3, 2004
By the Book
The last time I was at Knitsmiths, I was knitting away on Melody's Shawl. Everybody was fascinated by the pattern, and at least a little horrified by the idea that upon completion of the knitting that the final step was to cut the shawl in half. I said that I'd be sure to do the cutting at the next Knitsmiths so that we could all share in the anxiety. Of course, I missed the next Knitsmiths and then couldn't wait to cut once I finished the knitting. So, for the benefit of those who also felt a little nauseated at the idea of taking scissors to knitting, here's how it went. (Text in italics are excerpts from the instructions.)
Shawl is knit in the round. After reaching desired width, bind off all but 16 stitches.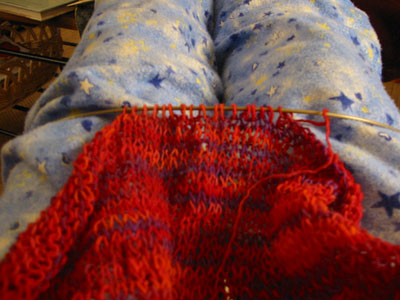 Drop remaining stitches from needle.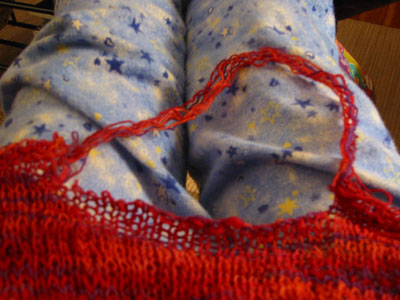 Unravel stitches between bind-off.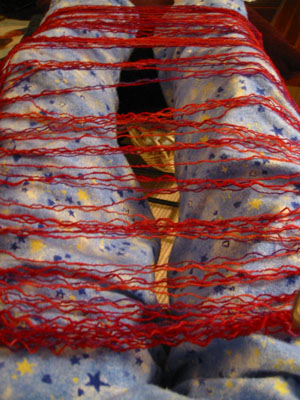 Cut straight through the middle of unraveled stitches.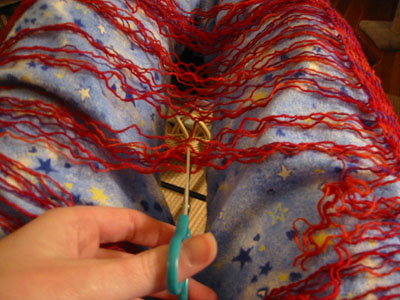 Open shawl. Wash shawl in warm water... [Right. As if I'd do the finishing before I took the pictures.]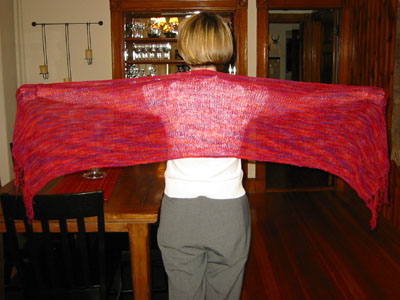 All wrapped up!
P.S. Process pictures were taken during a late-night knitting session with two of my closest buddies. Dig the PJ bottoms? The stars glow in the dark. Jealous, aren't you?
Posted by shannon at 10:03 PM | Comments (6) | For related posts: Melody's Shawl
October 18, 2004
Rhinebeck and Better Than Ever!
My first purchase at Rhinebeck was cotton. There, I said it.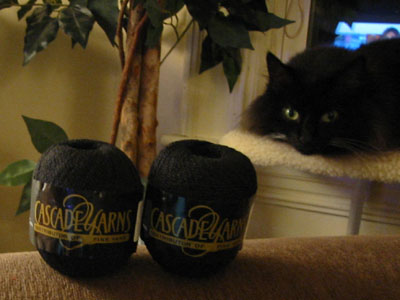 The thing is, I'm allergic to wool. And by "wool", I mean sheep's wool, angora, llama, and alpaca. So while I've been wanting to make myself some socks for a few months, animal-free sock yarn is hard to come by. This Fixation was well priced, and I snapped it up before even realizing that I was probably committing some kind of Rhinebeck cardinal sin.
I quickly atoned for my sin, however. Alison wasn't kidding when she said that we spent a disproportionate amount of time patronizing Morehouse Merino -- both at the fairgrounds and at their store. I bought a few skeins of their 3-Strand yarn for Christmas knitting. My big purchase, however, was a "Melody's Shawl" kit from Morehouse. The pattern isn't on their website yet, but the yarn is variegated lace and I'm fairly sure that the color is "Indian Summer". It's a very cool pattern. It's knit lengthwise in the round and then cut -- yes, I said cut -- to open the shawl and create fringe. Very clever. (How will I wear such a creation, given my anti-animal-fiber immune system? Why, over a turtleneck, of course!)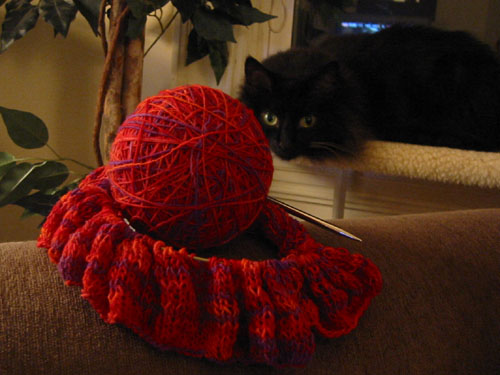 A final note about my companions this weekend. Going to Rhinebeck with Alison is like going to Japan with Hideki Matsui. I met more cool knit-bloggers this way then I ever would have if I had gone on my own! And a special thank you to "the boys" -- both little and big -- for being such great sports while Alison and I touched every single skein of yarn in the fairgrounds.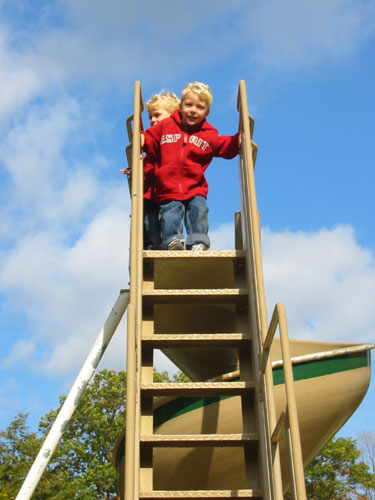 (Little) boys, enjoying a big slide. They were so much fun -- by the end of the second day at the fairgrounds, Benny was heard asking to "go see the yarn". Good boy!
Usually when I take pictures of yarn, Boogie high-tails it out of the frame. Doesn't like having his picture taken without adequate prep-time I suppose. I fully expected that he would do the same tonight, but he stayed put. I think he makes a pretty cute background.
Posted by shannon at 11:03 PM | Comments (1) | For related posts: Melody's Shawl