July 10, 2003
Debut!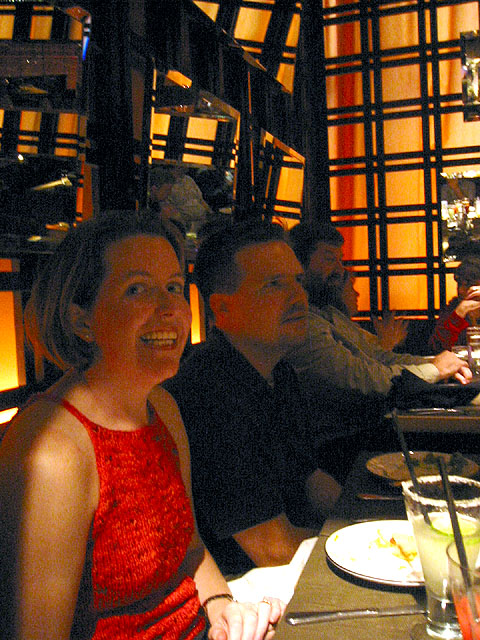 About a week before Jason and I left New York, his family and I threw him a surprise birthday party. In honor of the occasion, I debuted the Waikiki Tank! I got so many compliments on it, one of Jason's friends even said, "If I saw this in a store, I would pay [*pauses to think*]... many, many dollars for it!" My mom asked me to make her one, which is the highest form of flattery, I think.
Picture courtesy of Anil!
Posted by shannon at 1:26 AM | Comments (1) | For related posts: For Me!, My Waikiki Tank
April 8, 2003
Help?
I started making this cute tank top out of Waikiki 2645 for our trip to Puerto Rico. I loved making it, and finished the very day we arrived in San Juan.
Standing in front of the mirror in the hotel, I was forced to admit that it looked pretty silly. The style just wasn't flattering on me, and I think I had some gauge problems (or maybe even a dropped stitch? It's so hard to tell with yarn like this...). In any event, I haven't frogged the whole thing yet because I'm not sure what to do with five skeins of this groovy yarn.
Suggestions?
Posted by shannon at 1:59 AM | For related posts: For Me!, My Waikiki Tank