« | Main | All Buttoned Up »
March 2, 2005
Y lo que es bueno es doblemente bueno...*
I know, it's been over two weeks since Valentine's Day and here I am posting about it. But after two crazy weeks at work, I've finally found a moment to show you this: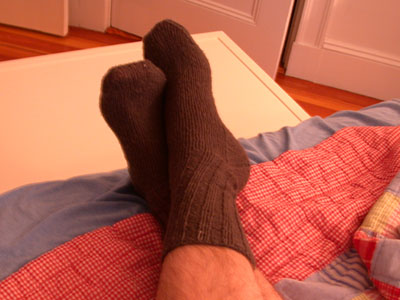 Jason enjoying his Valentine socks
Now do you understand why I couldn't tell you who the Morehouse Merino socks were for?
The socks aren't really meant for wearing outside the house, the merino is so soft and lightly plied that without reinforcement those heels wouldn't survive a day in shoes! But he wears them to bed every night, and seems to genuinely love them. Good thing, since now that he's making an honest woman out of me, the curse has expired and I'm free to knit for him at will. Yee-haw!

*From Pablo Neruda's Oda a los calcetines ("Ode to My Socks"), the last bit of which reads:

Y es esta la moral de mi Oda:
Dos veces es belleza la belleza,
y lo que es bueno es doblemente bueno,
cuando se trata de dos calcetines
de lana en el invierno.

So this is the moral of my tribute:
Beauty is beauty twice over,
and good things are doubly good,
when you're talking about a pair
of wool socks in winter.
Posted by shannon at March 2, 2005 3:00 PM | For related posts: For Jason, Socks
Comments
The socks look great, but Congratulations on becoming an honest woman!
Posted by: monica at March 3, 2005 8:22 AM
They look great! Fit perfectly. Of course he loves them - that's what marriage is all about. :)
Posted by: alison at March 4, 2005 5:25 PM
great socks--my dh wants some socks from morehouse merino so now i'm inspired. and thanks for the beautiful excerpt from the neruda poem.
Posted by: amanda at March 5, 2005 9:28 AM