« Oh, baby! | Main | Ayuda a la Gringa!* »
May 20, 2005
Good Things in Threes
You'll all be happy to know -- 'cause I know you were worried -- that the postal service's package tracking service just informed me that my box o' baby gifts (which includes the most recent Sirdar wrap sweater sweater) was delivered this very afternoon. Good thing, considering that the baby shower for which I knit it is tomorrow!
Speaking of baby showers scheduled for tomorrow, we're heading to New York tonight. Tomorrow is the baby shower for Jason's sister-in-law, for whom I have acquired some of the coolest baby gifts ever. I can't wait to give them to her. I'm hoping that the coolness of the other presents will make up for the fact that there is a very good chance that Mickey (also intended as a shower gift) won't be finished in time. What can I say? Intarsia -- though I've finally got the twisting of the colors down pat -- is just not. my. thing.
In addition to delivering cool baby gifts, I'm also excited to go to New York because we're having dinner at Carne tomorrow night to celebrate my 30th birthday with Jason's family and mine. Carne was where we ate after my graduation and after we got engaged, so it seemed like the right place for this, as well.
Have a great weekend everybody!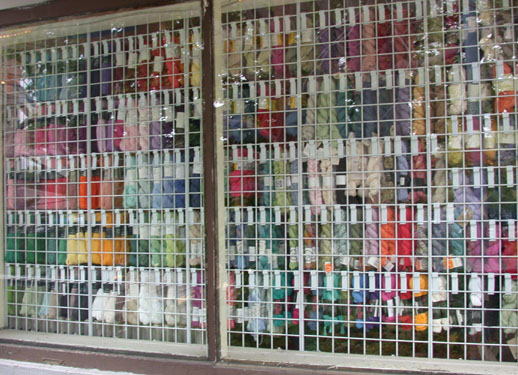 An unrelated good thing: Jason was waiting for me to come out of the post office the other day, and he snapped this picture of my
LYS
from outside. He told me he thought that the symmetry and arrangement of colors was really eye-catching. No kidding; that's how I end up spending so much money on yarn!
Posted by shannon at May 20, 2005 5:35 PM | For related posts: Baby Wrap Sweater, Miscellaneous Small Projects
Comments
Great picture - I love that window! I remember when she first installed the grid and hung up all those cottons. I went in immediately to look at them all from the other side. I think I may actually like the view from outside better!
Posted by: alison at May 21, 2005 9:43 AM