« All Thanks to Mom | Main | »
May 16, 2005
Bridezilla in a T-Shirt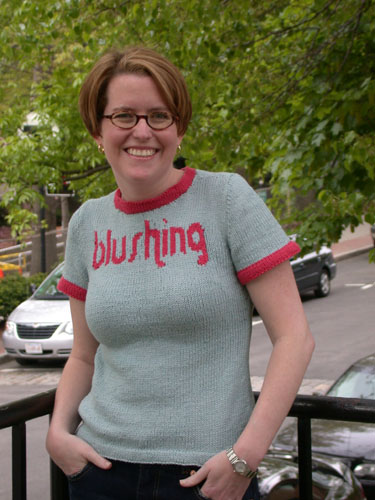 Here's the back. (Notice that it's not laying flat? Blame the photographer -- he didn't tell me!)
My Nothin' But a T-Shirt is done, and I love it. I'm so happy that I found a way to reuse this Calmer, and the pattern gets a big thumbs up from me. I can't wait to make another one!
Why "blushing", you might ask? Well, because I'm about to be a blushing bride. But wait! Before you roll your eyes and decide that I've become one of those women who allows her wedding to dominate every single thing she does, allow me a bit of explanation.
I've been knitting for a few years now, and I really enjoy the fact that looking back at a finished project takes me back to the period of time I was knitting it. Just seeing the Waikiki tank makes me think about the end of graduate school (and Jason's surprise birthday party, of course!), my ChicKami brings back memories of our first weeks in Boston and my first trip to the Knitsmiths, the log cabin blanket reminds me of our trip to Austin for SXSW, and so on.
I know that when I think of making this T-Shirt it will bring back memories of planning the wedding. I knit a lot of it during wedding-related travel -- heck, I bought the original Calmer right after we got engaged, and justified the cost as an engagement present to myself. So why not make the association explicit? Alison kindly provided a chart for the word "blush" in the pattern, so it only took a bit more work on Excel to add the -ing. (Also, I figured it was as good a time as any to induldge the small part of me that enjoys cutesiness, even though my credibility as a no-frills girl will likely suffer as a result. But don't tell anybody, OK?)
So that's two knit-alongs completed at once: the Nothin' But a T-Shirt knit-along hosted by the lovely and funny Nona, and Alison's Feburary Fixin' knit-along. Thanks for letting me join, ladies!
Posted by shannon at May 16, 2005 2:05 PM | For related posts: Fixin' Vixen in a T-Shirt
Comments
Great job. It looks really nice on you.
Posted by: Jessica at May 16, 2005 3:08 PM
Wonderful! I love the sentiment behind it - very well done.
Posted by: Cara at May 16, 2005 3:32 PM
Your NBaT looks great on you. Very comfortable fit.
Posted by: lynette at May 16, 2005 4:12 PM
Posted by: Cécile at May 17, 2005 5:22 AM
Very nice job on the NBaT. You'e very right, we do store our memories that way and I'm sure you'll get more wear out of this than your wedding dress!
Posted by: Elizabeth at May 17, 2005 11:22 AM
That looks great on you! I might need to check that one out for myself.
Posted by: la chica alta at May 17, 2005 5:59 PM
Nothin' But a T-shirt looks great on you. I love the idea of blushing, as in blushing bride. That's such a great idea and you'll always have fond memories of the T-shirt and wear it often, I think. Sorry to bombard you with comments, I just checked your blog today after a few weeks and saw lots of posts. Also the socks for your mom was a very thoughtful gift. Yay for Mom for taking up knitting again!
Posted by: Wanda at May 17, 2005 9:31 PM
just found your blog. very nice. and that t-shirt is great. I really like the idea behind "blushing." very clever. have fun planning for the big day!
Posted by: stacyo at May 18, 2005 8:27 PM
LOVE your t-shirt. It looks fantastic on you. What a great idea to memoralize your pre-wedding days!
Posted by: Jen at May 19, 2005 11:22 AM
the t-shirt looks great! and very appropo, of course. :)
Posted by: melissa j at May 20, 2005 2:03 PM
Ooh yeah! I love it! It came out great. As for the back shot, what are these photographers thinking? One of the best pics of my Mexico top has a manly shadow all over it. Arg! It's like they don't understand... it's all about the knitting!

Posted by: Johanna at May 23, 2005 11:12 PM