July 18, 2005
The Wisdom of Mothers
When Jason was a kid living in Texas, his mother once brought him with her as she scoured local antique sales looking for furniture. While the very idea of such an outing would strike fear in the heart of an average kid, young Jason had a blast exploring these places and things of old. He and his mother decided that Jason would tell his brother and sister that antiquing with mom was a dreadfully boring excercise to be avoided at all costs. That way, it could always be the Special Thing They Did Together (STTDT), just the two of them. (The STTDT approach was one that his mom used with all three kids, and I think it's sheer genius.)
Jason developed quite an eye for antiques during these trips with his mother, and helped her pick out a number of pieces that they still have today. One of them was this cabinet, which he originally picked out for his own room. Later, it became an end table in his parents' family room. When they recently embarked on some renovations and found that the cabinet needed a new home, his mom and dad gave us first dibs.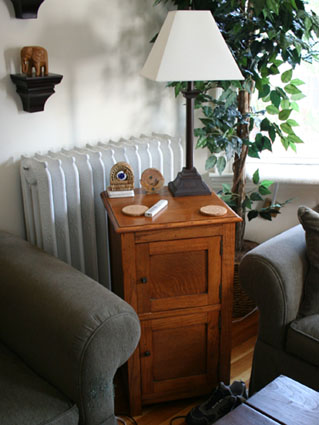 Generally speaking, we need more furniture like we need holes in our heads. But I had a plan for this cabinet. Since we moved here, I've used a large basket in the living room to store my "current" stash. I did this in blatant violation of two of my mother's rules of organization:

Items to be used for storage should not be open. Whether it's a door or a lid, always make sure that you can hide your inevitable disorganization inside from the world outside.


Beware the law of gas. This law states that gas will expand evenly to fill any space. Getting a bigger closet, for example, will lead to acquiring more clothes to fill it up. I don't think I need to explain how this relates to yarn, hmmm?
In other words, my basket was unsightly and too big for my needs. Out it goes! The cabinet is perfectly suited to hold between four and six projects worth of yarn, as well as my needles, notions and a few books. The metal baskets are my addition, they make it easier to see what's in the cabinet and save me from having to pull everything out to find something buried in the back.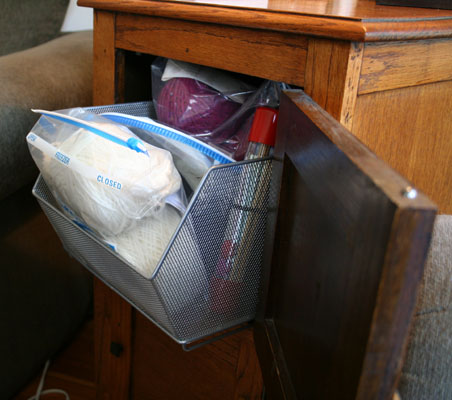 What's the white yarn, you ask? What am I working on now? Patience, my pretties, patience.
Posted by shannon at 11:38 PM | Comments (1) | For related posts: La Gringa Habla
June 9, 2005
Christmas in June!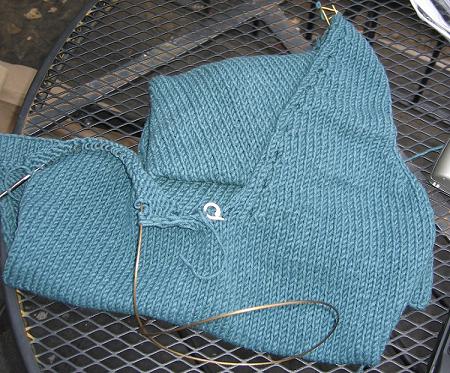 Just in time for the warm weather, it's Smooch!
First, a confession. In addition to the unsuccessful Smooch that I wrote about here, there was another one that I never wrote about at all. I tried again with Classic Elite Spotlight in red (the same used for the Emergency Preemie Christmas Sweater) I picked up at the Wild & Woolly sale this time last year. It, um, didn't work out. Once seamed and finished, the tank was both too loose and too short. More damning, I discovered that while I appreciated the lacy detailing at the bottom as a knitter, I did NOT appreciate it as a wearer -- yuck.
At some point after I failed at Smooch the second time, I mentioned to Alison that the only way I would try the pattern again was if I found the requisite five balls of All Season's Cotton in deep marine. But since it had been discontinued, I figured my smooching days were behind me. Wrong! Alison spotted exactly five deep marine balls in the sale bin at A Good Yarn, and gave them to me for Christmas! Leave it to another knitter to understand that nothing but just-the-right-yarn in the just-the-right-color will do.
As soon as I was sure the snow was really, truly gone I got started. This time I'm being more careful about gauge, style, and fit. I constantly measure the pieces, both with a measuring tape and against the last version (which I found balled up in my stash basket, right where I stuffed it when I realized it didn't fit!). I skipped the scalloped edging and lace pattern at the bottom in favor of a simple hem. I'm also trying something new to combat stretched-out stitches at the V-neck divide (which always happens to me whether I use stitch holders or scrap yarn to hold the resting stitches). I once read that casting on an extra stitch for the middle of the V would allow you to pull those stretched-out stitches tight after blocking. Then you can tack the still-live extra stitch down on the wrong side. You can see my extra stitch on the stitch marker in this picture.
So far, so good!
Now for something totally unrelated. When I was living in New York and at grad school in Columbia, I learned that the arrival of springtime meant that labor actions couldn't be far behind. At least once a year, usually around April, I'd walk out of class on a sunny morning to find a handful of picketing workers and a giant inflatable rat. The first time it happened, I asked Jason (who had been at Columbia for 11 years by then) why there was an enormous air-filled rodent on campus. "Springtime is here!" he responded. Apparently, this has been going on for years.
I can't really put my finger on why, but the rat always cracks me up. Don't ask me to explain, because I can't. Occasionally, we catch a glimpse of the rat on an NYC-based television show and I howl with laughter. One morning the rat was positioned down the street from my office building and I nearly drove off the rode in a fit of giggles. So you can imagine the levity that ensued when I woke up this morning, and gazed upon this through our back window: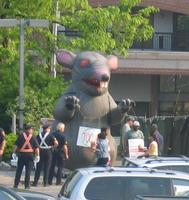 Just seeing the picture makes me laugh (Click for big)
The giant inflatable rat was practically in our kitchen! OK, he's actually at the construction site across the street... but still. Must be springtime!
(Intrigued? Here is an explanation of why unions use an inflatable rat, and more inflatable rat pictures)
Posted by shannon at 4:17 PM | Comments (6) | For related posts: For Me!, La Gringa Habla, Smooches!
April 13, 2005
Slow Learner
One of the perks of living with a tech geek is that I hear about new gadgets, gizmos and services a little bit before it hits the maistream. I've learned that if Jason talks excitedly about something, chances are I'll be using it and loving it within a few months. So it was with digital music players, text messaging, Wi-Fi, aggregators, and -- most recently -- Flickr.
After a few weeks of hearing about Flickr, I finally spent some time getting to know it. When I learned I could subscribe to different tags on Bloglines, I went a little crazy and signed up for a whole bunch. They fall roughly into three categories:
For the memories: St. Andrew's, Ecuador, Quito
For ideas and inspiration: knitting, yarn
For honeymoon dreaming: Seville, Granada, Andalucia, Alhambra
So, what strikes your fancy?
Posted by shannon at 12:04 PM | Comments (1) | For related posts: La Gringa Habla
February 9, 2005
The City of Brotherly Heartbreak
I spent the better part of last week coaching Lucy on the Eagles cheer, in preparation for our Superbowl party. "E-A-G-L-E-S," I'd spell, and she'd chime in with "Eagles!" (Although she actually pronounces it, in proper Philly fashion, "Iggles!")

It was adorable Saturday. Super-cute on Superbowl Sunday. But then the Eagles lost, and Lucy keeps forlornly chanting "E-A-G-L-E-S! Iggles!" I think every time she does it, it's like a knife in her poor father's heart.

I imagine that all those who consider themselves Iggles fans have their own stories of despair this week. Mine stems from being an Eagles fan in Boston.
Every morning, from the time I get in the shower until the time I arrive at my office, I listen to the radio. On Monday, I had two radio options: the morning talk shows, which were all about how great the Patriots are* and the local NPR affiliate which was starting their Valentine's Day fund drive by offering a dozen roses for every listener that pledged $125. Just when I thought it couldn't get worse, the NPR talking heads suggested that listeners who pledged might want to consider sending their roses to Donovan McNabb in gratitude. For a news junkie/Philly girl, these were lean times.
*Lest you think I'm unfairly biased, I know that the Patriots are a great team. They just happened to beat my team, so I wasn't all that eager to listen to wall-to-wall coverage of their greatness.
Posted by shannon at 7:04 PM | Comments (1) | For related posts: La Gringa Habla