« I'm Wondering... | Main | Wiped Out »
March 2, 2006
Sock Daze
I got a camera phone. Guess what my first public picture was.
Taken with my normal camera.
I love knitting, and I especially love baby girl knitting. But you can forgive me if I was less-than-overjoyed about this project, since it was the third deadline-knitting project I've worked on in the last week. (Score: two deadlines made [the sweater above and this one], one missed.) When I finished this little number I looked at Jason and said, "all I want to do is sit down and knit mindlessly on a sock for a while."
Lucky for me, I had materials on-hand. When we were in New York last weekend for a birthday celebration, I managed to carve out an hour to explore Knitty City. It's a small store, but well laid out and friendly so you don't feel squashed or unwelcome. (This is a nice contrast to the other yarn store on the UWS. If you know what I mean.) I was greeted but then left blissfully alone to browse and fondle yarn. Help was readily available to those who needed it, though. The owners are a married couple, and I watched him help a customer struggling with the swift and ball winder (they'll wind your yarn, or you can do it yourself!) and later listened to her gently guide a novice knitter to a better color combination without the customer even realizing how narrowly she'd escaped color disaster. They were quite a team.
The two non-sock yarn brands that stand out in my memory are Lily Chin and Cascade, but I spent most of my time in front of their sock yarn selection. There was ArtYarns Supermerino, lots of Regia (including some Nations!), Trekking, Opal, Cascade Fixation... the variety was quite good.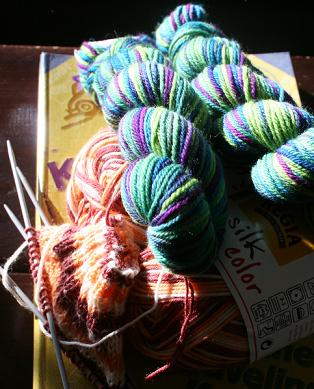 Armed and ready for sock knitting!
My need to touch all yarn under consideration for purchase is well documented, and I must say that when I grabbed a ball of Regia Silk Color I was blown away by how soft and smooth it was. Suddenly, two balls jumped into my basket -- all on their own, I swear! Two skeins of Supermerino in this colorway -- which I may use for my Sockapaloooza pal, all depending on finding a pattern -- leapt in right after them.
Speaking of Sockapaloooza, I haven't uttered a word about it since I signed up! I didn't totally neglect it during the Olympics, I promise. My pal has indicated that lace or cables would be good, and since my socks have heretofore been limited to plain stockinette or ribbing (if I'm feeling adventurous), I've invested in Nancy Bush's Knitting on the Road to broaden my horizons a bit.
But for now, just for today, I'll take my horizons just where they are thankyouverymuch. Me and my aching fingers are going to go round and round on a Regia Silk sock and not worry about deadlines or medals or shipping cutoffs for at least 24 hours.
See you on the flip side!
P.S. -- Have you seen the new Rowan magazine? I like it!
Posted by shannon at March 2, 2006 4:56 PM | For related posts: Miscellaneous Small Projects, Sockapaloooza, Socks
Comments