February 6, 2006
Moving Right Along...
In the spirit of getting the knitting and blogging plate "very, very clean" (as Colleen would say) in time for the Olympics to start on Friday, here's something I can move to the Finished Projects file!
I actually finished Clapotis before Christmas, but didn't get around to blocking it until recently. (This didn't stop me from wearing it as a scarf in the interim, of course.) I'd like to go on record saying that Clapotis is like lace when it comes to finishing -- it looks good when it's done, but looks awesome once it's blocked.
Posted by shannon at 12:01 PM | Comments (4) | For related posts: For Me!, Pinnacle Clapotis
November 18, 2005
The Pinnacle of Knitting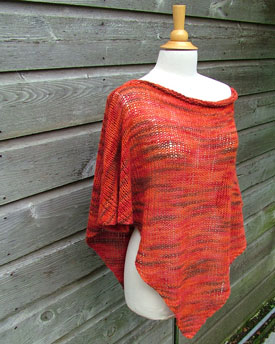 Morehouse Merino's Pinnacle Poncho
When we were at Jason's sister's place in the country last July, my mother and I made a trip to the Morehouse Merino store. When she caught me staring longingly at the Pinnacle Poncho kit she asked if I wanted one. I told her that I'd always wanted one, but I wanted it in the colorway shown in the picture. Unfortunately, when I discovered the poncho pattern at Rhinebeck the year before, they didn't have that colorway at their stalls at the fairgrounds or at their store.
"You mean like this?" she said, holding up a kit with the perfect colorway match. She bought it for me as a "honeymoon present" under the condition that I not start knitting it until the honeymoon. And so began three more months of gazing longingly at it, this time in the comfort of my own home.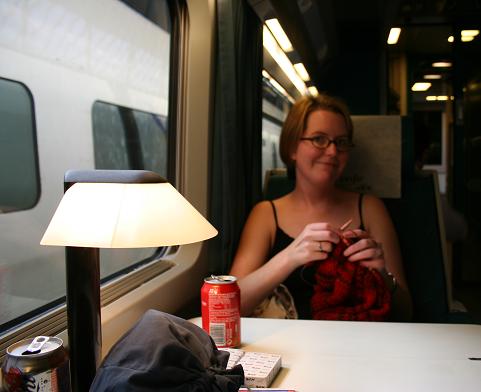 Knitting on the bullet train to Madrid
Needless to say, it was the first thing I started knitting on the honeymoon. It was speedy knitting -- worsted weight yarn on US11s goes pretty quickly! I finished up on the train between Seville and Madrid, and slipped it on in our hotel room as soon as we checked in. It was an important knitting moment, the culmination of over a year of lusting after this poncho.
Given the buildup, I should have known better. It looked B.A.D. on me. Too long, not flattering around the neck, too much fabric over the arms. Yuck. Not wanting to pollute my good honeymoon mood with hateful thoughts toward a knitted object, I quickly shoved it to the bottom of my knitting bag and didn't think about it for the rest of the trip.
On the flight back to Boston, an idea came to me, and by the time I unpacked that bag at home, I already knew what I was going to use the yarn for. And I think with just one picture, you're going to figure it out too! (If not, go here.)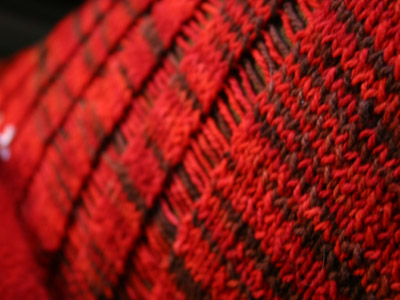 Boogie gets in on the act
What a great pattern! We're flying off to Cali tonight and this is coming with me on the plane. Have a great weekend!
Posted by shannon at 4:32 PM | Comments (1) | For related posts: For Me!, Pinnacle Clapotis