December 29, 2005
Christmas 2005: Last Things First, Vol. II
Welcome to the second installation of Christmas gifts by Gringa, better known as...
Robbie Cleans Up
'It's Christmas. Spoil me, please!'
As the newest member of the clan, it's only right that Robbie made a killing for Christmas this year. When we made our 8-hour visit to New York on the 27th, his mom told us that they hadn't even had time to finish opening his gifts yet. Not to miss out on the fun, we added to his haul with a couple toys, and -- of course -- some knitted goods!
Robbie's mom Lauren loves sea turtles, and when she was expecting Robbie she painted his nursery blue and gave it a sea creatures theme. A few weeks after Robbie was born, I was flipping through a Patternworks catalog and found a felted turtle kit*. I'd long wanted to try felting, but since wool in most forms doesn't feel pleasant to me (see: wool allergies) I could never bring myself to make and felt a handbag that was meant to be carried close to the body. I know, I'm weird. Anyway, this was a perfect opportunity to felt something and to give a gift that I was sure would be well-received. And would you just look at these guys?
After felting, you just add some stuffing to make them squeezable and eyes to give them some personality. The pattern recommends buttons or googlie eyes, but since these turtles will be hands-on toys I decided to embroider the eyes to minimize the choking hazard. I knew they were a hit when Lauren threatened to keep one of them for herself!
Finally, I gave Robbie his definitely-not-a-Christmas gift. Remember when I swore that his blocks were definitely NOT coming back to Massachusetts with me from Thanksgiving? I busted my butt to get all of the pieces knit and blocked, and sewed them all together in time but the foam blocks that I'd had cut at the fabric store were crooked. It's difficult to get straight lines on such small pieces with a foam cutter, but these were particularly bad. And since Lauren had shown such genuine enthusiasm for these blocks since well before Robbie came along, I just couldn't have them being crooked. So they came back to Boston with me after all, and I got new (straight) foam cut. Almost five months to the day after he was born, I finally gave the little guy his blocks... and he promptly tried to shove the R block into his mouth. There's no greater compliment than that!

*It's actually a Felted Turtle & Starfish kit!
Posted by shannon at 2:54 PM | Comments (5) | For related posts: Christmas Knitting 2005, For Robbie, Robbie's Blocks
November 23, 2005
Bad Tia!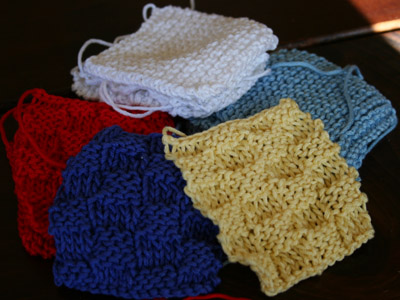 Oy.
The morning after we got married, I interrupted Jason in the middle of a sentence to say: "Hey! I have nieces and nephews!"* I then proceeded to do what I christened The Nieces and Nephews Dance. Seriously, "my nieces and nephews" comes in a close second after "my husband" in terms of my favorite things to say now that I'm married. So, with all of this excitement, you'd think that I'd be further along on Robbie's blocks.
When I made blocks for Henry two and half years ago, Lauren made me promise that I'd make them for her babies. Of course, I agreed. When I made Sydney's earlier this year, she was already pregnant with Robbie and she reminded me of our deal. She loaned me a piece of his nursery bedding to pick yarn colors months ago. But then the wedding came, I got sidetracked, and here it is November and Robbie's about to celebrate his four-month birthday and the kid still. has. no. blocks. What kind of Tia am I?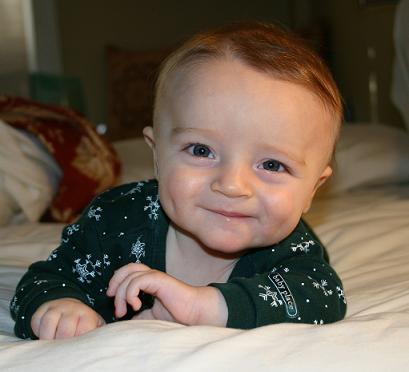 Can I have my blocks? Please, Tia?
I set a self-imposed deadline of this weekend. It's going to be close, but I suspect seeing this little face is going to keep me very motivated. Have a wonderful Thanksgiving, if you celebrate it!

*I'm an only child, so the only way I was going to get nieces and nephews was by marriage. I refer here specifically to legally-recognized nieces and nephews, since I've been Tia for quite a while now. ;)
Posted by shannon at 4:41 PM | Comments (2) | For related posts: For Robbie, Robbie's Blocks