« | Main | ...When You Pry It Out of My Cold, Dead Hands »
January 13, 2005
Deja Vu, All Over Again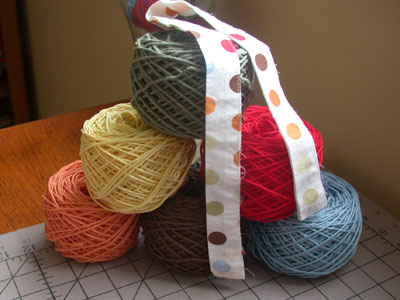 Her wardrobe crisis now behind her, I'd say that Sydney needs some baby blocks! I picked out the yarn colors and wound the yarn over the weekend, and I've already started making process on the squares. I always forget how fast they go.
The yarn is Tahki Cotton Classic except the sage green, which is Rowan Handknit DK. I nabbed the fabric swatch from Syd's grandma (Jason's mom), who was hemming curtains for the nursery last time we were visiting. Made color selection much easier!
Posted by shannon at January 13, 2005 1:45 PM | For related posts: For Sydney, Syd's Baby Blocks
Comments
Great picture! That fabric swatch is so cool. Hey! I want curtains like that :-)
Posted by: Colleen at January 13, 2005 8:50 PM
Hey, got here from the link on Alison's blog. I just read your post about the yarn/knitting article in your wedding magazine. I'm getting married in June and I was right there with you on not knitting anything or decorating with yarn for the wedding until...I looked at prices for garters and got the crazy idea to knit a nice maybe lacey one instead. Just thought I'd throw the idea out there for you in case you're planning on getting a garter too. And congrats on being engaged!
Posted by: Sarah G. at January 14, 2005 11:24 AM
Wow, I loved those baby blocks! The colors you picked out will be lovely.
Posted by: General Ginger at January 14, 2005 12:30 PM
Those blocks are DARLING!
Posted by: karen at January 14, 2005 12:32 PM