« Two Baby Sweaters, Coming Up... | Main | Having My Cake »
June 9, 2005
Christmas in June!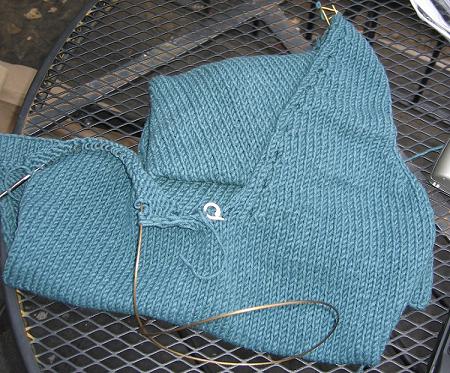 Just in time for the warm weather, it's Smooch!
First, a confession. In addition to the unsuccessful Smooch that I wrote about here, there was another one that I never wrote about at all. I tried again with Classic Elite Spotlight in red (the same used for the Emergency Preemie Christmas Sweater) I picked up at the Wild & Woolly sale this time last year. It, um, didn't work out. Once seamed and finished, the tank was both too loose and too short. More damning, I discovered that while I appreciated the lacy detailing at the bottom as a knitter, I did NOT appreciate it as a wearer -- yuck.
At some point after I failed at Smooch the second time, I mentioned to Alison that the only way I would try the pattern again was if I found the requisite five balls of All Season's Cotton in deep marine. But since it had been discontinued, I figured my smooching days were behind me. Wrong! Alison spotted exactly five deep marine balls in the sale bin at A Good Yarn, and gave them to me for Christmas! Leave it to another knitter to understand that nothing but just-the-right-yarn in the just-the-right-color will do.
As soon as I was sure the snow was really, truly gone I got started. This time I'm being more careful about gauge, style, and fit. I constantly measure the pieces, both with a measuring tape and against the last version (which I found balled up in my stash basket, right where I stuffed it when I realized it didn't fit!). I skipped the scalloped edging and lace pattern at the bottom in favor of a simple hem. I'm also trying something new to combat stretched-out stitches at the V-neck divide (which always happens to me whether I use stitch holders or scrap yarn to hold the resting stitches). I once read that casting on an extra stitch for the middle of the V would allow you to pull those stretched-out stitches tight after blocking. Then you can tack the still-live extra stitch down on the wrong side. You can see my extra stitch on the stitch marker in this picture.
So far, so good!
Now for something totally unrelated. When I was living in New York and at grad school in Columbia, I learned that the arrival of springtime meant that labor actions couldn't be far behind. At least once a year, usually around April, I'd walk out of class on a sunny morning to find a handful of picketing workers and a giant inflatable rat. The first time it happened, I asked Jason (who had been at Columbia for 11 years by then) why there was an enormous air-filled rodent on campus. "Springtime is here!" he responded. Apparently, this has been going on for years.
I can't really put my finger on why, but the rat always cracks me up. Don't ask me to explain, because I can't. Occasionally, we catch a glimpse of the rat on an NYC-based television show and I howl with laughter. One morning the rat was positioned down the street from my office building and I nearly drove off the rode in a fit of giggles. So you can imagine the levity that ensued when I woke up this morning, and gazed upon this through our back window: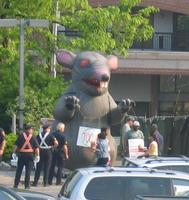 Just seeing the picture makes me laugh (Click for big)
The giant inflatable rat was practically in our kitchen! OK, he's actually at the construction site across the street... but still. Must be springtime!
(Intrigued? Here is an explanation of why unions use an inflatable rat, and more inflatable rat pictures)
Posted by shannon at June 9, 2005 4:17 PM | For related posts: For Me!, La Gringa Habla, Smooches!
Comments
Could you give a little more info on the extra stitch to avoid the stretched-out V-neck syndrome? I'm having the same problem with the honeymoon cami.
Posted by: Sarah at June 9, 2005 5:54 PM
The best thing I noticed about that picture: the four police officers. What other people don't know is that the traffic intersection just to the left of the picture frame is godawful in the morning; these four officers are standing there staring at the rat, and doing nothing about the dozen Massholes that park in the middle of the intersection during every red light, blocking traffic in all directions.
Posted by: Jason at June 9, 2005 10:32 PM
The best is when you walk around NYC and see multiple rats on your way to work. I always wondered what it took to get the Giant Rat Erector job - it must be pretty prestigious. All you do is drive around, unroll the rat and turn on the fan. Now *that* is easy living.
Posted by: plemeljr at June 10, 2005 11:27 AM
oh my gosh, the rent-a-rat! i giggle every time i see those things. someone should make a blog of rat sightings in nyc. those rats really get around. :)
Posted by: melissa j at June 13, 2005 8:40 AM
Never saw one of those rats before. Freaky to see that out your window!
Love the Smooch though. ;0)
Posted by: alison at June 13, 2005 10:46 AM
Your work is just beautiful.
And I am also very familar with ratone grande - good grief he is all over town this summer.
Look forward to your next post.
May all your stitches come true.
Posted by: Frances at June 20, 2005 8:13 PM