« January 2003 | Main | March 2003 »
February 19, 2003
All Twisted Up
I woke up this morning to find a comment on this entry about my sweater. Janet from Big Sky Knitting pointed out that it looked like my stitches were twisted.
Initial reaction: What's she talking about?! My stitches are PERFECT!
Secondary reaction: Well, just in case -- lemme look at them more carefully.
Tertiary reaction: Damnit. My stitches are twisted.
Janet was onto something when she asked if I feed yarn from my left or right hand. As you can see in the left-hand column, I knit continental style -- in other words, I feed with my left hand. I can only imagine that knitting this way is more conducive to making this type of mistake.
I tucked my knitting tail between my legs and skulked over to StitchGuide to look at the knitting video. I am embarassed -- nay, ashamed! -- to admit that I've been doing the knit stitch wrong for quite some time. At least since I started this sweater.
Jason and I are driving to Boston tomorrow night, so I'm going to grab some worsted weight yarn and needles and re-teach myself (and then re-train my hand muscles to do it on autopilot) on the drive.
I thought very briefly about ripping out the whole sweater and starting over again. But I just finished the second sleeve, and all I have left is the collar, the blocking, and the sewing. So I'm just going to leave the twisted stitches and call it "texture".
Gah. I feel like such a rookie.
Posted by shannon at 11:06 PM | Comments (7) | For related posts: Cream Cabled Sweater
February 13, 2003
Jill's Scarf

Now that she's received it, I can post about it! I promised Jillay a scarf around her birthday (in November, ack!) and I finally got it finished. It's embarrassing that it took me this long but Jill -- ever patient -- tolerated my tardiness without a peep. Happy Birthday, Jillay!
To see the pattern, etc, click 'more'...
The scarf is knit in Lion Brand Chenille Thick and Quick in Dusty Blue. I used size 11 needles, and cast on 16 stitches. The checkerboard pattern was created this way:
Row 1: K4, P4, K4, P4
Rows 2-4: as Row 1
Row 5: P4, K4, P4, K4
Rows 6-8: as Row 2
Repeat.
Posted by shannon at 12:42 AM | For related posts: Miscellaneous Small Projects
February 10, 2003
My First Sweater!
I've mentioned the Knit It! magazine that Jason bought me at the end of December. I decided that I would use one of the patterns in it to make my first "real" knitting project -- a cabled sweater! Since I'm not sure how it's going to turn out, I decided that it would only be fair to make it for myself. I wouldn't want to subject anybody to my first ever knitted garmet, right? This makes me a good friend, right?
It's a simple pattern (called Woman's Quick Cable Sweater, number 26 in the magazine), and it's knitted with Lion Brand's Wool-Ease in Wheat using #11 needles. The picture is of the back, which I finished this weekend. I'm about 30 rows into the front. Whee!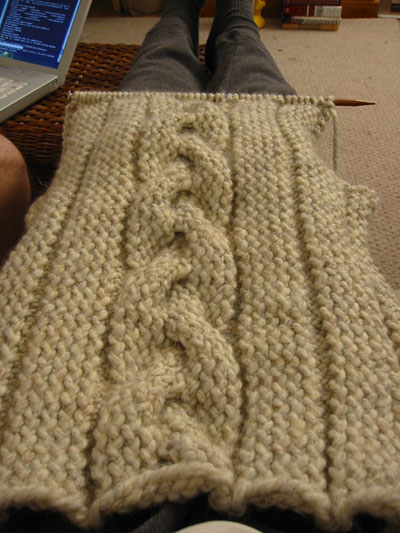 Posted by shannon at 12:06 AM | Comments (1) | For related posts: Cream Cabled Sweater
February 9, 2003
Crazy Cat Lady
I was working on my sweater (pictures and description to come shortly), and Boogie just had to get in on the act. As any cat should, he resents any time I spend doing anything other than paying attention to him. Witness the results: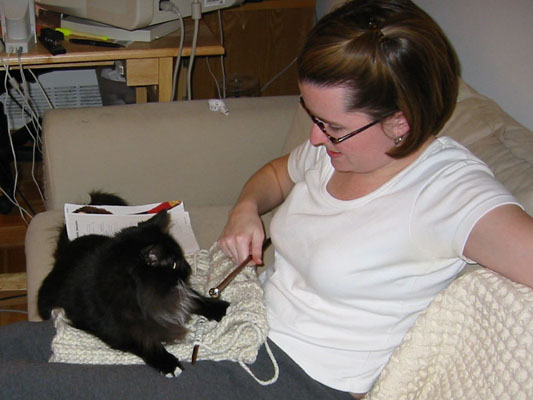 "Boogie, you're not making this very easy."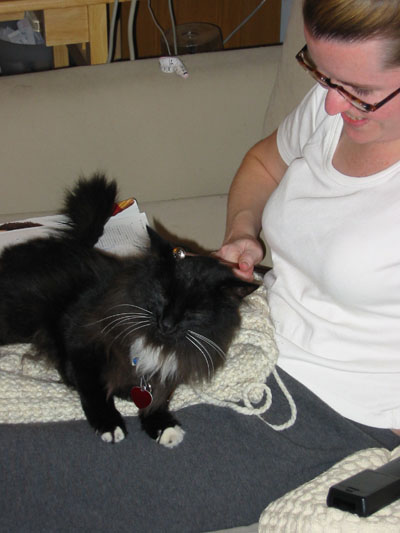 "Maybe if I scratch your head a little, you'll behave."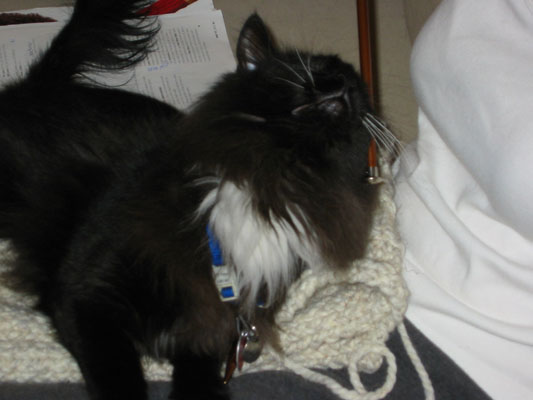 "Yeah, Mama. That's the spot."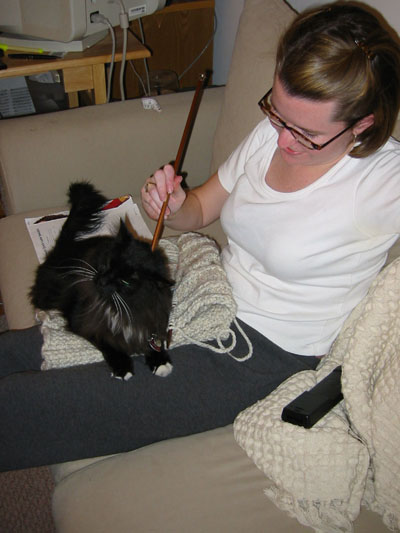 "Ooooh, the pointy end is gooooood."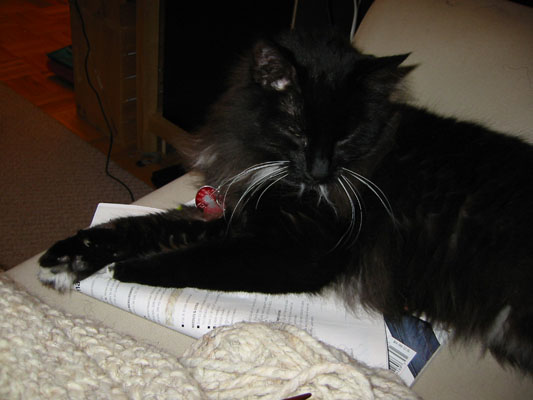 "You kick me off of your lap, I lay on your pattern. So there."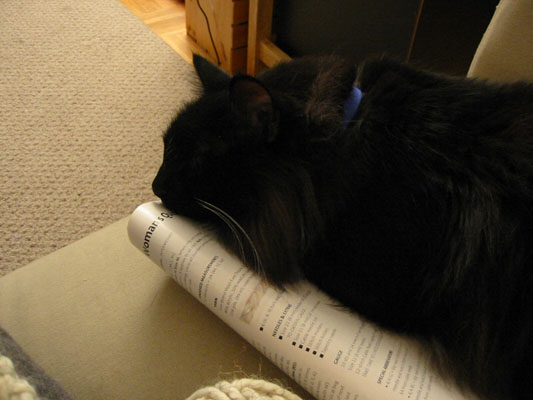 "I'm here for the long haul. You will learn to ignore me at your peril."
Posted by shannon at 11:45 PM | Comments (2) | For related posts: Cream Cabled Sweater
February 3, 2003
Jason's Matching Hat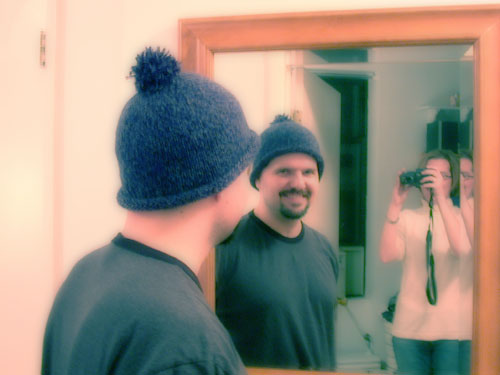 When my mother taught me to knit last May, she provided me with the yarn and needles from a LYS in my hometown. The very first thing that I made with that yarn -- a soft wool acrylic blend of black, blue and white -- and #10 needles was a scarf for Jason.
Part of my Christmas knitting haul was the yarn and supplies that my mother bought for me using money from my grandmother. She didn't want to chance a guess on what yarn and tools I needed, so a few days after Christmas we went to that same LYS and she turned me loose.
Almost as we were leaving my mother and I asked the woman who owns the shop if she remembered the yarn my mother bought for me in May, and if she still had any. After some thinking, and then some searching in the back of the store, she found it.
I bought a few skeins for two reasons -- first, I'm pretty sure that first scarf is going to require some repair and/or patching at some point in the future. You see, when I first started knitting I didn't know about changing skeins at the end of a row (so I changed in the middle), or weaving in ends (so I just tied knots and cut the ends off). Second, I wanted to make Jason a matching hat for his scarf.
It's a simple roll-brim hat knitted on the round with a pom-pom (obviously). I finished most of it while traveling back and forth to Delaware and Washington over my break. Normally, I'm absolutely terrible at keeping secrets, but I managed on this one. Though this picture isn't of the moment of surprise, I think you can still tell he likes it. :)
(In fact, he likes it so much that he did the retouching on the above picture for me!)
Posted by shannon at 12:09 AM | Comments (2) | For related posts: For Jason, Miscellaneous Small Projects