« June 2004 | Main | August 2004 »
July 28, 2004
I'm Relaxed Just Looking at Her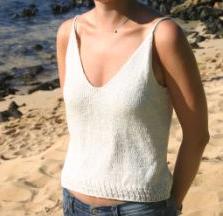 Jason's brother and (brand new!) sister-in-law had been back from their Hawaiian honeymoon no more than three days when an e-mail full of pictures landed in my inbox last night. Both are avid photographers, and the e-mail said that they are still sorting through their hundreds of pictures in an attempt to make a "best of" album to share with us on Ofoto. But Lauren -- knowing that I'm a spaz and dying to see them -- was kind enough to pull out a few pictures of her in the Honeymoon Cami I made her and send them to me!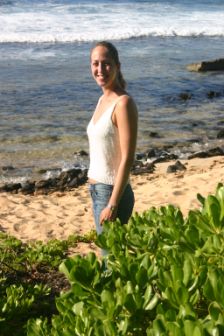 Doesn't she look incredibly relaxed?! I can't wait to see the rest of their pictures. If they are anything like these, I think I'm going to wallpaper my office with them in an effort to reach some kind of Zen-like state of relaxation while at my desk.
More views: View of the back, Scenic view
Posted by shannon at 11:52 AM | Comments (2) | For related posts: Honeymoon Cami
July 25, 2004
Francisca Bonita
Frustrated by my ability to correctly complete a project in the last few months, I decided to take on something more straightforward. This is Francisca*.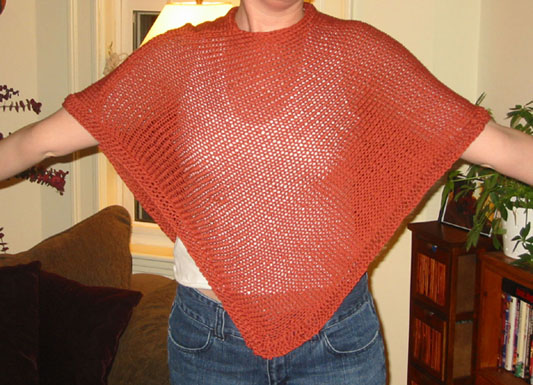 [normal view]
[side view]
The yarn is Reynolds Cabaret in Terra Cotta, which I found on sale (yay!). After mulling it over, I bought five skeins; two for each of the halves of the poncho and one for fringe. I knit two rectangles and sewed them together -- voila, it's a poncho! (As you can see, I ultimately decided against the fringe and went with a garter stitch edging instead. The yarn didn't lend itself to fringe [it frays when cut], and it just seemed too fussy for me.)
Jason and I are going to a wedding on Nantucket next weekend, and I think it will be perfect to throw on when it gets chilly. This was my first poncho, and I can assure you that it won't be my last!
*Why Francisca? Every time I hear the word "poncho" I think of the name Pancho, which is a nickname for Francisco. I thought of naming this project Francisco, but it turned out to be quite feminine so I went with Francisca instead. (Of course that makes her nickname Pancha rather than Pancho, but this process of naming projects is an imperfect art.)
Posted by shannon at 12:45 AM | Comments (3) | For related posts: Miscellaneous Small Projects