« May 2004 | Main | July 2004 »
June 29, 2004
Goin' to the Chapel...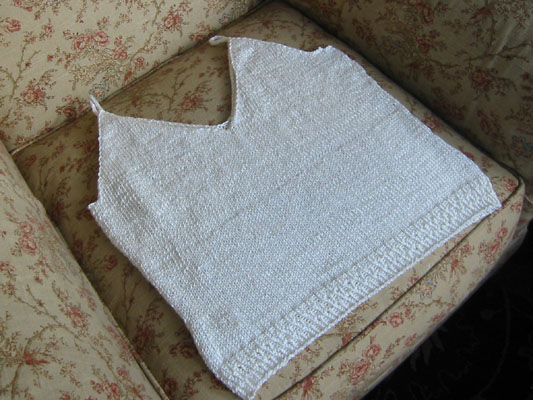 Jason's brother's fiancee was unfortunately not around during the Christmas in which I knit something for every member of the family, so I decided to knit her something for their honeymoon next month. When the Spring issue of Knitty included a tank called the Honeymoon Cami I took it to be a sign... and away I went!
Not so fast. First, gauge problems. So I re-wrote the pattern. Then, math problems. Followed by curly yarn problems, confusion on the pattern problems, sizing problems and an encore performance of gauge problems. I'm really not going to bore you with the details.
It's in (or on the way to) the bride-to-be's hands as I write, and my fingers are crossed that it fits. If not, well, there's still 12 days before she goes to the chapel... I can try something else!
Posted by shannon at 5:31 PM | Comments (3) | For related posts: Honeymoon Cami
June 8, 2004
Ex-Smooch
I've definitely noticed a trend -- when my knitting isn't going well, my blogging is next-to non-existent. I just logged into Movable Type, and found this draft entry exactly as I left it on May 5. Fortunately (or unfortunately, depending how you look at it), I have made no further progress on this project since the picture below was taken -- so I don't even need to delay publishing this post!
Short story: Silky Smooch is no more. The gauge of the Silk Cotton was just "off" enough to throw the pattern into chaos, and my attempts to knit it with smaller needles was murder on the joints of my hands and arms. Of course, I ripped it.
I cast on for the ChicKami after taking care to do the math carefully and re-write the pattern for the gauge best suited to the yarn. You can see how far I got (below), until somebody pointed out that the yarn might be too warm for the summer. The more I thought about it, the more I realized what a good point she had -- what would be less attractive than a pretty knitted tank with sweat marks?!?
So here it sits, waiting for a decision. In the meantime, I've moved on to other (not necessarily more successful) pursuits. More on that soon, I hope.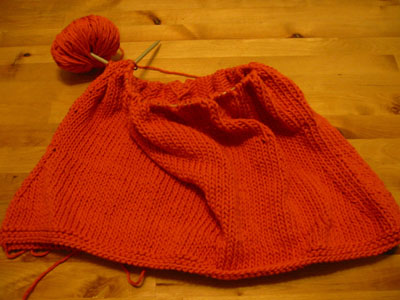 Posted by shannon at 1:25 PM | For related posts: For Me!, Smooches!