« | Main | Two for One »
March 28, 2005
Faithful
I must admit, my experiment in planning made a world of difference when it came time to finish the New Old Faithful cardigan. With one minor exception, it went very smoothly.
I finished knitting the last piece (the back), steam blocked it and started seaming. Side seams went quickly and smoothly, and then it was time to do the shoulders. I got out my three needle bind-off tools and... uh-oh. There are more stitches on one side than the other!
I'd like to pause here for a moment and remind you of something I mentioned a few months back:

...let me say a few words about my knitting instincts. They are not what you would call "good". In fact, they are usually dead W-R-O-N-G.
Ready for some evidence? Here ya go. I assumed that the discrepancy between the number of stitches on the front pieces and the back pieces was a pattern error. So I re-knit the fronts so that they ended up with the "correct" number of stitches. Then Alison pointed out to me that there was supposed to be a facing attached along the back of the neck, which meant that the extra stitches were likely its starting and ending points. Oh. Right.
Never mind that I've been through this before with Cherry Mango, Blueberry Mango and Mango Negro. Note to self: an uneven number of stitches on the front and back pieces of a shoulder usually means that the extra stitches are to be used for the collar or facing.
I re-re-knit the fronts and fashioned a facing. It really makes a big difference in making the cardigan look "finished".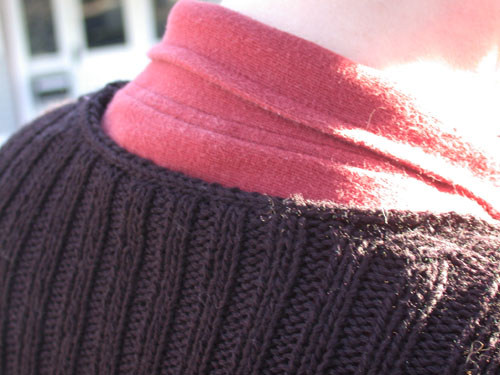 For a description of how I did the facing, see the "more" section.
With all the parts finished, I eagerly slipped it on. The fit was great, and the buttons were interesting without being distracting.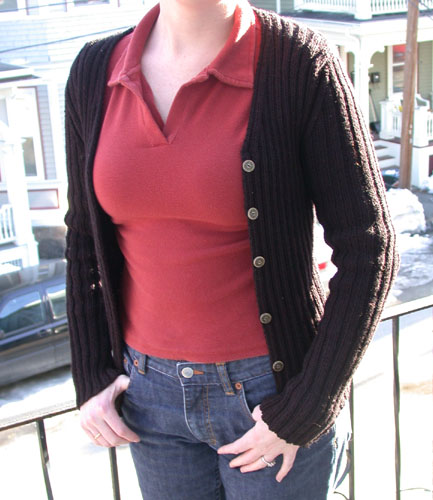 All done!
Just as I was having visions of wearing it regularly at the office, the itching began. First it was the back of my neck, then my wrists joined in the fun. That I am allergic to wool is not new, but this yarn is only 50% wool -- it shouldn't be so bothersome! Apparently, texture matters: this yarn is rough and a bit rope-y, which I think makes it more irritating.
Tragic, no? So what am I going to do? I have a two-stage plan. First, I'm going to give it a good washing and hope that it softens up. Failing that, I'm going to line the neck and cuffs with matching fabric since those are the areas that seem to be most irritated by the wool. I'm thinking some wide satin ribbon might do the trick. (Got better ideas? Leave 'em in the comments.) I'm determined to make this sweater wearable, dang it!
Facing
I'd never done a facing before, so I kind of winged it. After using the three-needle bind-off on the shoulders, I put the three stitches left on the neck-side of the right front piece back on the needle. I started working with the RS facing me, and at the end of the first row I added one stitch for a total of four. With these four stitches, I followed the K2P2 ribbing pattern established. After I had about five inches of facing, I began seaming it to the back piece starting at the right shoulder (where I'd started knitting). I'd knit a bit and then seam a bit -- it helped me get the tension of the facing just right, and insured that I didn't make it too long. When I reached the left shoulder (which also had three stitches left over on the neck side of the front after seaming the shoulder), I decreased back down to three stitches on the facing and kitchener stitched the facing the the left front. I seamed the last few inches of the facing to the back and Voila! We have a facing!
Posted by shannon at March 28, 2005 2:54 PM | For related posts: Black Cardigan
Comments
I think your ideas about dealing with the wool are good. What a fantastic cardigan! You are going to be wearing that *all* the time. It looks very flattering on you.
Posted by: Colleen at March 28, 2005 8:38 PM
I tend to use polarfleece when dealing with wool, as it gives a little with the wool, but that's just me :) I lined the huge bucket hat for my dad with fleece, and it gave nicely when he put it on.
That aside, I adore that cardi, it looks really really nice on you :)
Posted by: Amber at March 29, 2005 4:19 PM
I have heard before that washing your wool with shampoo and even using a conditioner might soften it up. Ultimately, the diameter of the fibers is what determines how irritating it can be, so any amount of washing or conditioner may not help :-( Lining with fleece would surely make it very cozy but it is an "open" piece so that would make the fleece very visible. Maybe you can just add facing in fleece at the neck and sleeves? Then if it's still itching you, you could crochet some softer novelty-type yarn over the wool at the neck and sleeves, making it almost look shearling-like.
Good luck!
Posted by: Shetha at March 30, 2005 11:53 AM
The Old Faithful Cardigan turned out great. Sorry about the irritation factor of the yarn. I made a purple raglan pullover out of questionable fiber that I love, but it itches me at the wrists. I have to wear a long-sleeve shirt with it to keep it from irritating me to death. However, I'm not alleric to wool, but this yarn was very, very scratchy. I did wash mine in shampoo and it did help it some, but it's still pretty scratchy. Not sure about your 50/50 wool and other, so it may help. Definitely give it a bath.
Posted by: Wanda at April 1, 2005 1:45 PM