March 28, 2005
Faithful
I must admit, my experiment in planning made a world of difference when it came time to finish the New Old Faithful cardigan. With one minor exception, it went very smoothly.
I finished knitting the last piece (the back), steam blocked it and started seaming. Side seams went quickly and smoothly, and then it was time to do the shoulders. I got out my three needle bind-off tools and... uh-oh. There are more stitches on one side than the other!
I'd like to pause here for a moment and remind you of something I mentioned a few months back:

...let me say a few words about my knitting instincts. They are not what you would call "good". In fact, they are usually dead W-R-O-N-G.
Ready for some evidence? Here ya go. I assumed that the discrepancy between the number of stitches on the front pieces and the back pieces was a pattern error. So I re-knit the fronts so that they ended up with the "correct" number of stitches. Then Alison pointed out to me that there was supposed to be a facing attached along the back of the neck, which meant that the extra stitches were likely its starting and ending points. Oh. Right.
Never mind that I've been through this before with Cherry Mango, Blueberry Mango and Mango Negro. Note to self: an uneven number of stitches on the front and back pieces of a shoulder usually means that the extra stitches are to be used for the collar or facing.
I re-re-knit the fronts and fashioned a facing. It really makes a big difference in making the cardigan look "finished".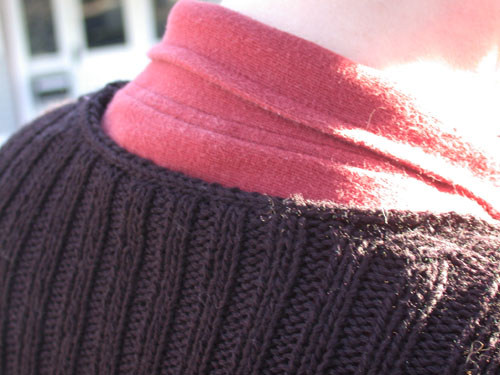 For a description of how I did the facing, see the "more" section.
With all the parts finished, I eagerly slipped it on. The fit was great, and the buttons were interesting without being distracting.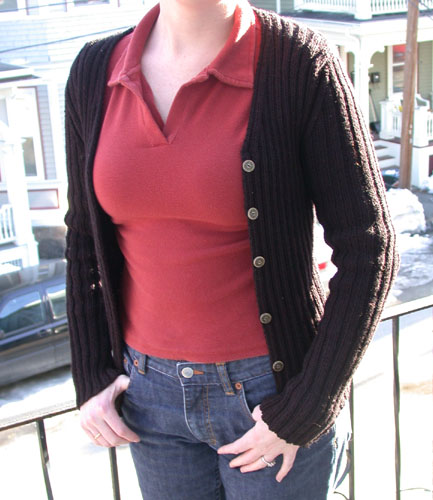 All done!
Just as I was having visions of wearing it regularly at the office, the itching began. First it was the back of my neck, then my wrists joined in the fun. That I am allergic to wool is not new, but this yarn is only 50% wool -- it shouldn't be so bothersome! Apparently, texture matters: this yarn is rough and a bit rope-y, which I think makes it more irritating.
Tragic, no? So what am I going to do? I have a two-stage plan. First, I'm going to give it a good washing and hope that it softens up. Failing that, I'm going to line the neck and cuffs with matching fabric since those are the areas that seem to be most irritated by the wool. I'm thinking some wide satin ribbon might do the trick. (Got better ideas? Leave 'em in the comments.) I'm determined to make this sweater wearable, dang it!
Facing
I'd never done a facing before, so I kind of winged it. After using the three-needle bind-off on the shoulders, I put the three stitches left on the neck-side of the right front piece back on the needle. I started working with the RS facing me, and at the end of the first row I added one stitch for a total of four. With these four stitches, I followed the K2P2 ribbing pattern established. After I had about five inches of facing, I began seaming it to the back piece starting at the right shoulder (where I'd started knitting). I'd knit a bit and then seam a bit -- it helped me get the tension of the facing just right, and insured that I didn't make it too long. When I reached the left shoulder (which also had three stitches left over on the neck side of the front after seaming the shoulder), I decreased back down to three stitches on the facing and kitchener stitched the facing the the left front. I seamed the last few inches of the facing to the back and Voila! We have a facing!
Posted by shannon at 2:54 PM | Comments (4) | For related posts: Black Cardigan
February 10, 2005
Out of Order
We all have our quirks, and one of mine is a resistance to planning ahead when it's avoidable. Knitting a sweater usually goes like this: Wind one skein of yarn into a ball, start knitting. When finished with first ball, wind another skein into a ball and continue knitting. Repeat until all pieces are finished. Block all pieces. Wait for pieces to dry. Seam all pieces. Remember I need buttons. Go buy buttons. Attach buttons.
There's nothing wrong with it, per se, but the system is wracked with inefficiencies. Why not wind all the skeins at one time? Why let the first few finished pieces sit there, balled-up in a pile, when they could be blocking? (And imagine the heartache I would avoid if by blocking the first piece before going on to the next, I discovered gauge problems early!) And why wait to buy buttons when I usually end up buying them from the exact same place I got the yarn?
The lack of a schematic and crazy gauge instructions in the pattern had me on heightened alert for problems as I started the black cardi. It's not been easy knitting, either: the combination of "sticky" yarn and equally sticky bamboo needles leads to tired, achy hands and arms, even with frequent breaks. By the time I started shaping the armholes on the first piece, I vowed that I would block and measure it to make sure that my gauge was OK before knitting even one stitch on the next.
Long story short: I'm well on my way to my first well-planned sweater.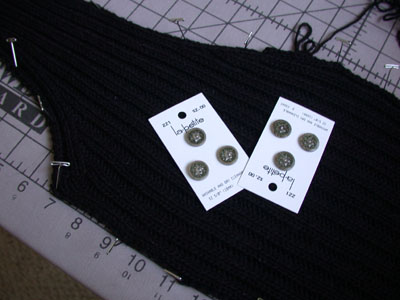 Measures up just right when blocked. Whew!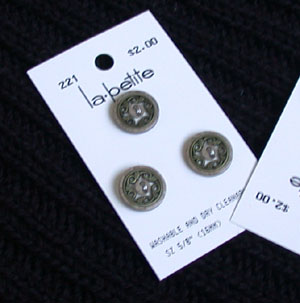 I even have the buttons!
Posted by shannon at 11:43 AM | Comments (5) | For related posts: Black Cardigan
February 9, 2005
A New Old Faithful
Is there any item of clothing more essential to a woman who works in an office than the black cardigan? I think not. Because despite the fact that we have mastered space travel, invented telephones that take pictures, and can treat many of the diseases that ravaged generations past, we remain slaves to the most intractable challenge of all: regulating temperatures in an office building.
I've been on a utilitarian kick of late, trying to knit things that I will actually use rather than being sucked in by pretty pattern pictures or tempting Knit-Alongs. So when I received the 1,000 Sweaters book for Christmas, I started planning the ultimate in utilitarian knitting: the office cardigan in black. I spied a great deal on a bag full of Marks & Katten Bom Ull at the Wild & Woolly sale in January, and Alison and Colleen enabled me agreed that it would make a good cardi.
I knew that the gauge would take a little time and concentration to get just right (the Bom Ull is a bit heavier than called for, and I am by nature a loose knitter), so I took my time. It didn't help that the book doesn't include schematics and only provides numbers for length and bust measurements (even for the sleeves!). Oh, and gauge is only given in stockinette.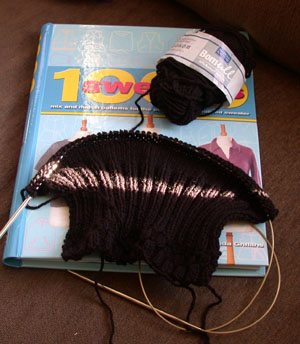 That's one big swatch!
After trying several different needle sizes, I decided to use 5s and knit down a size to correct for the discrepancy. I'm hoping the all-over rib will provide me with a little wiggle room if my calculations aren't just right!
Posted by shannon at 11:46 AM | For related posts: Black Cardigan