« October 2002 | Main | December 2002 »
November 25, 2002
Perfect in Pink, Indeed
I have written extensively about my best friend's baby, and how I am sure that she is the Cutest Baby Ever. (See here: 1,2,3,4)
There is now, for the first time in the history of gringa.org, photographic evidence of her absolute perfection, in the knitting blog.
Posted by shannon at 12:44 PM | Comments (1) | For related posts:
November 24, 2002
Perfect in Pink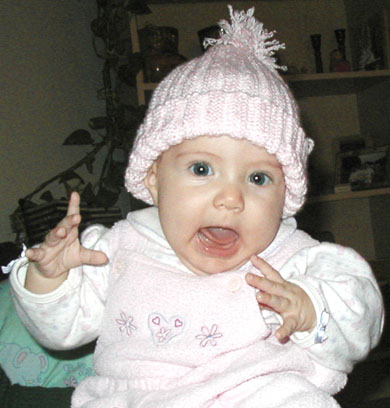 This is a project that I finished ages ago -- I didn't take a picture of it before I sent it off so I never mentioned it here. I used this pattern*, and a pretty pink yarn.
Most importantly, this is a picture of the oft-mentioned Bulis (a.k.a., the Cutest Baby Ever), who is making her first photographic appearance here in gringa-land. Being this far away from her for this long makes my heart hurt.
*This link wasn't working tonight, so I went to the cached version, and copied the pattern into the "more" section of this post.
Tea Cozy Hat
A Free pattern from The Knitting Fairy
Sizes: preemie (newborn, 6 months, 1 year)
Materials:
150 yards (150 yards, 300 yards, 300 yards) sport weight yarn
US #5 needle
Tapestry needle
Gauge:
6 sts = 1 inch on #5 needles
Hat:
CO 36 (42,48,54) sts LOOSELY, leaving a 12 inch tail
Row 1: Knit
Row 2: Purl
Row 3: Knit
Repeat rows 1-3 until piece measures 11 (14,16,18) inches slightly stretched.
Bind off loosely.
Whip stitch cast on and bind off edges together.
Thread tail onto tapestry needle and gather top tightly and secure tail.
Weave in ends.
Add a pom-pom or other topper to really make your hat unique!
We at the Knitting Fairy hope you have enjoyed working with this free pattern. You are welcome to copy and distribute it to your friends so long as this copyright notice remains attached.
Copyright 2000, The Knitting Fairy.
The Knitting Fairy / JTI
P.O. Box 540279
Grand Prairie, Tx 75054-0279
www.knittingfairy.com
Posted by shannon at 10:10 PM | Comments (1) | For related posts: Baby Hats, For Juli
Free patterns!
Knitting compelled me to do something that I've wanted to do for ages: get a library card so that I can use the New York Public Library. See, this is what happened. I really wanted to make one of the Christmas Tree hats (they can be seen here, compliments of Amy) for the Bulis Baby to wear for the holiday season, and I also wanted to make some cute knitted baby blocks as her Christmas present. The problem was that I don't have the books that contain the patterns, and I'm a little short on funds.
On a whim, I checked the New York Public Library's card catalog on line, and both of the books that I needed (Too Cute! by Debby Ware and Vogue Knitting on the Go: Baby Gifts by Trish Malcolm, ed.) were in there!
The very next day, I went to the library and got my card. Then I went online and requested that both of those books be sent to my neighborhood branch, and that I be notified by e-mail when they arrive. According my "Patron Info" page on the library's site, both of the books are "In Transit".
Isn't technology great?
(Note: A few hours ago I went online and reserved Vogue Knitting: The Ultimate Knitting Book as well. I'm out of control.)
Posted by shannon at 5:48 PM | For related posts: Knit Gringa, Knit!
November 18, 2002
Caught In the Act
Knitting provides a perfect study break when I'm toiling away at home. When I knit, I can simultanesouly rest my frazzled brain and let my subconscious keep working on some schoolwork-related complexity.
This semester, I've often wanted to bring my knitting to school to provide that sort of meditative study-break. You see, right now I have really long days with huge breaks in the middle -- often four or more hours between next classes. I usually stay at school and study during that time, and there are times where I would kill for 10 minutes of mindless relaxation.
The primary reason is that I'm afraid that I'll give into the siren song of knitting and won't study at all. The other reason has to do with the environment of school -- the general feeling is that if you are in the school building, you should be working. It would feel... weird to knit here. [Keep in mind that other than school, I'll knit just about anywhere.]
Today, while in the middle of a four-hour gap between classes, I was sitting glassy-eyed in the main hall of the library. I couldn't decide if I should read more for my War, Peace and Strategy class, or if I should write more of my Intelligence and Foreign Policy paper. After rubbing my eyes and blinking for a few minutes, I looked across the vast library and could have sworn that I saw a woman sitting, and knitting. I put my glasses back on to double check. Sure enough, surrounded by her books, backpack and winter coat -- she was knitting a small blue swatch.
I was green with envy.
Posted by shannon at 5:50 PM | For related posts: Knit Gringa, Knit!
November 16, 2002
Seed stitch
On my current project, at the suggestion of the yarn-store-lady, I'm using a seed stitch.
I can report that she was right, it really is a great reversible stitch. But for the love of the Knitting Goddess, is it the most boring thing I've ever done.
Posted by shannon at 12:59 AM | For related posts: Christmas Scarves
November 12, 2002
Christmas is Coming!
Things are going to be a little slower around here since I'm knitting a lot of things right now for people who read my site, and might stumble into their Christmas presents! I do want to record one thing for myself, though...
In order to make a newborn Roll Brim Baby hat on a #6 circular needle with worsted weight yarn, use this pattern:
Cast on 56 stitches, and join.
K all stitches, all rows.
When the work measures 4.5 - 5 inches (with brim unrolled), move work to double-pointed needles and begin decreasing:
K6, K2TOG, repeat around
K5, K2TOG, repeat around
K4, K2TOG, repeat around
K3, K2TOG, repeat around
K2, K2TOG, repeat around
K1, K2TOG, repeat around
K2TOG, repeat around
You will have 7 stitches remaining. Continue knitting until this "tail" is long enough to tie into the top-knot. Bind off, and weave in ends.
Posted by shannon at 11:46 PM | For related posts: Baby Hats
November 7, 2002
Soft Scarf


Finished another project! This is a scarf for Jason's mom -- it's made from Lion Brand Homespun Yarn, and the color is Mediterranean -- it's really very soft. I used #11 needles.
In the end, I ended up doing a really simple scarf: I cast on 30 stitches and then knit like a fiend. No purling, no fancy pattern, nothing -- just k30 all the way.
Originally, I cast on 35 stitches and was alternating rows of knitting with rows of purling. But the end of the scarf was rolling badly and the size of the needles combined with the slipperiness of the yarn made purling a little bit of a pain. Plus, the scarf was too wide and I was running out of yarn too fast. So I pulled it all out and started again. It turned out to be a good decision -- I had enough yarn (I bought two skeins, and I have some leftover) and it was much easier.
Did I mention the softness? I have a skein in browns that I bought to make a hat for myself -- I can't wait! Any pattern suggestions for an adult hat made from bulky yarn?
Posted by shannon at 10:29 PM | Comments (1) | For related posts: Christmas Scarves, For Shirley