« November 2003 | Main | February 2004 »
January 17, 2004
Proof!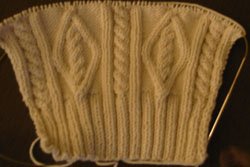 Proof that I really am knitting! I had to rip out part of the left side panel and correct the decreases, but that didn't take as long as I thought it would. Now I'm working on the first sleeve.
I can see the light at the end of the tunnel!
Posted by shannon at 6:15 PM | Comments (2) | For related posts: Cable Hoodie
January 4, 2004
Pictures!
This weekend, Jason and I went to his sister's house in Dutchess County, NY to meet up with his family and throw his Dad a big ol' surprise party for his 60th birthday. My parents came up from New Jersey for the festivities, and they both wore their Christmas sweaters! And I remembered to take pictures this time!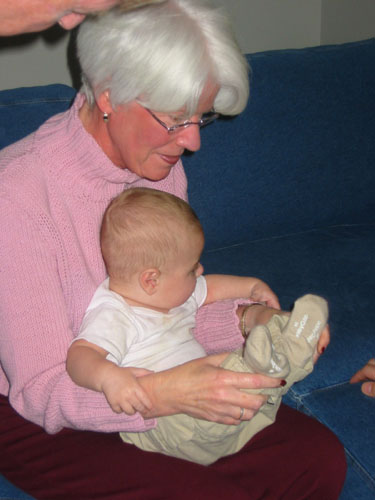 Mom in her Cherry Mango sweater with Jason's nephew Henry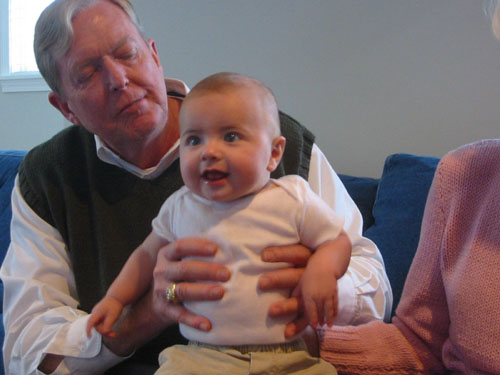 Dad in his Strike Vest, also with Jason's nephew Henry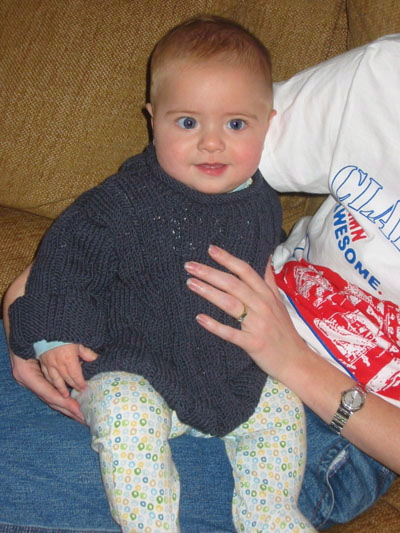 Baby Henry in his Christmas sweater, finished after the New Year -- yikes!*.
*You might remember that I had finished this sweater in plenty of time for Christmas, but after seeing Henry in early December I realized it was way too small and needed to be totally re-knit. I didn't have time to wash the yarn before re-knitting, so the sweater desperately needs to be blocked. I finished the sweater late last night, so I didn't have time to block it before we left but Jason's sister promised she would do it! Also, I made it big on purpose so that he could wear it for longer. And really, what's cuter than a baby in a sweater with the sleeves rolled up?
Posted by shannon at 7:31 PM | Comments (1) | For related posts: Cherry Mango, For Mom
January 1, 2004
Happy Ending
You all remember the many trials and tribulations of the Calmer Cap. I finally finished it, and my mother delivered it to Jillay and snapped this picture: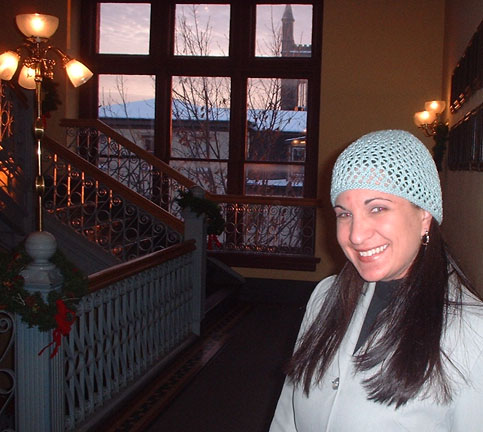 Oh, and this gift exchange and picture-taking took place right after Jillay was CALLED TO THE NEW JERSEY BAR! Woohoo, Jillay -- congratulations, I'm so proud of you!
Posted by shannon at 10:19 PM | Comments (2) | For related posts: Miscellaneous Small Projects
Hello?
Here I am!
As the holidays approached, I got into a time crunch that too often meant that I could knit or I could blog. I suppose I probably could have squeezed a few posts in here and there, but bad habits quickly become hard to break.
My end-of-2003 slackage notwithstanding, I'm back now! The Cherry Mango for Mom was a huge hit -- she wore it at our traditional Christmas Day Orphan's Brunch. Starting when I was little, my family has invited other family friends who do not have extended family in the area, to spend part of Christmas Day at our house. It has typically included a core group of about five or six other families, all of whom have children around my age. It was initally a Christmas Day Orphan's Breakfast since we little people would have the grown-ups out of bed at the crack of dawn and all of the presents opened not long after that. As we've grown up (and let our parents sleep in), the whole thing has gotten pushed back to noon, and now it's a brunch. ANYWAY, my mom wore her pink sweater and got tons of compliments -- which kept me blushing most of the afternoon.
Though I never blogged about it, I also made the Strike Vest for my dad. I used the Rowan Wool Cotton in Deepest Olive, and I (like Alison) made the V-neck version. Because my dad is a big, barrel-chested Scot, I had to add some stitches to the XXL size to make it broad enough. It's possible that I over-did it a little bit, but there are just too many stitches in that dang vest for me to even consider ripping. My dad loved it -- I was really worried that he wouldn't like it, but he kept asking everybody on Christmas day if they had "seen my vest?" He made sure that I sewed one of my "Hand Made by Shannon" labels into it, too. Awww....
Remember Henry's cute little sweater and socks (another picture here)? There's good news and bad news. The good news is that Henry (and his parents) came to visit a few weeks before Christmas. The bad news is that I took one look at baby Henry and realized that the sweater was going to be much too small. It was about a week before Christmas. when I started ripping! I realized that part of the problem is that my gauge had been off, so I went up a sweater size and a needle size. It wasn't done in time for Christmas but the good news is that it will be done before I see him this weekend. (Bad news? I'll be sacrificing the socks and harvesting the yarn from them in order to finish it. *sigh*)
So there's the wrap-up of the most important Christmas knitting projects. The hand-knit dishcloths were also a hit with the older woman who rents me a parking space (and, I recently learned, is/was a knitter!) and I still have one left-over Christmas scarf to finish. Then I'm getting back to something for ME ME ME!
Posted by shannon at 2:55 PM | Comments (2) | For related posts: Knit Gringa, Knit!